If your high school was anything like mine, you got your big report cards at the end of each semester, plus two progress reports in between, at the end of the first and third quarters. With Friday night's win, the Lakers are now 14-6, 20 games into an 82-game season, about as close to a quarter of the way through as can be. Used to be I'd try to beat the our neighborhood postman home, in an effort to intercept any bad news before my parents popped open the mailbox.
Well, there's none of that chicanery where Internet report cards are concerned.
How do the Lakers stack up? Time to find out who's in trouble, and who gets his marks posted on the fridge at home.
GRADES
(Note: Players are graded against their own capabilities and expectations. Kobe Bryant, for example, is held to a different standard than Theo Ratliff. And I consider "C" to be average. None of this gradeflation nonsense.)
COACH
Phil Jackson: For the most part, he's managed minutes well, and shown great flexibility in his lineups along with a willingness to sit established players down the stretch in favor of deserving reserves. Note the amount of games Derek Fisher and Ron Artest have finished on the bench in favor of important minutes for Shannon Brown, Matt Barnes, and Steve Blake. No playing favorites. Defensively, the Lakers have slipped some from last season, though it's hard to pin exactly how much of that is based on coaching. Overall, I like the tone Jackson has set this year, diffusing early talk of his "last stand" without ignoring it.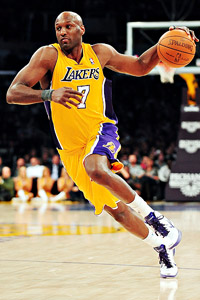 Gary A. Vasquez/US Presswire
Lamar Odom has been a rock for the Lakers this season. A productive- and consistent- rock.
My only major criticism: Something needed to be done faster to cut down on Gasol's minutes. If signing another player wasn't in the cards, Jackson needed to suck it up and play Derrick Caracter more, even if it hurt the on-court product, which it almost certainly would. He's talked about doing it a lot, but in practice it hasn't happened. Would three or four more minutes for the rookie have prevented Gasol's hammy problem? Who knows, but it couldn't have hurt.
GRADE: B+/A-
STARTERS
Lamar Odom: As a long time supporter of Odom's value, I've frequently recommended those who lament his inconsistency focus on the big picture, appreciating what L.O. does rather than what he doesn't. This season, there's been no need to defend him at all. Odom has played arguably the best basketball of his career, averaging 15.3 points, 10.3 rebounds, and 3.5 assists a night while shooting nearly 58 percent. After slacking a little last season, this year Odom has been a +/- force, is tied for eighth in the NBA in double-doubles, and more than anything, has been consistent. Only three games with single digit scoring, no game with fewer than seven rebounds, 18 with eight or more.
He has managed to distinguish himself at an All-Star level on a team with Bryant and Pau Gasol, no easy task.
GRADE: A
Pau Gasol: For 14 games, Gasol was almost absurdly good, to the point some were wondering if he could break out of Kobe's shadow and become an MVP candidate. Such thinking was a little too aggressive, but when a guy puts up the numbers he produced- like the "perfect game" Nov. 21 vs. Golden State, where Gasol was 10-of-10 from the floor and hit all eight of his freebies for 28 points- it's hard not to go there. Then came a mini-slump, a five game stretch including his four lowest scoring games of the season, and a precipitous drop in field goal percentage. Why he fell off isn't hard to diagnose- before Friday's 27 minute rest fest he'd piled up a ton of minutes and earned a balky left hammy for his troubles.
Still, though the numbers were even more garish 10 days ago, Gasol leads the league in double-doubles, and is averaging 20.2 points, 11.6 rebounds, 4.1 assists, and 2.1 blocks a night. Plus, the disparity in his team's play when Gasol is on the floor vs. when he's not is incredible. He's struggled a little against size here and there, but overall it's hard to ding him for such a small number of genuinely poor games.
GRADE: A-
Kobe Bryant: He spent most of early November encouraging the media not to ask him incessantly about his surgically repaired right knee, but we didn't cooperate. So he changed strategies, posting a few games making him look awfully healed in which he orchestrated the action on the floor, kept everyone involved, and generally greased the wheels of an incredibly productive Lakers offense. Like Gasol, though, Bryant's run has waned over more games. He was effective and efficient Friday against the Kings (everyone who played was, more or less), but heading into the game had been mired in a fairly deep shooting slump, dragging his overall shooting numbers below, in some cases well below, his career norms. On the other hand, he's getting to the FT line more this season than last (a good sign), has an assist rate right in line with career norms, and his PER is as high as it's been since '06-'07.
Besides, numbers don't always tell the story of Kobe's play, but measured against the appropriately high standard of his own ability, he hasn't been overwhelming. Still good, but slower after a strong start. The good news is the Lakers don't need him to be hyper-dominant to be successful.
GRADE: B/B+
Derek Fisher: Compared to other point guards for elite teams, Fisher doesn't stack up. Of course, his value to the Lakers is a different animal entirely. Last year, Fisher was pilloried for his defense, when it was really his offense tending to hurt the Lakers. This year, his overall field goal percentage is still low (41.1 percent) but an improvement from last season (38 percent). More importantly, he's hitting over 47 percent on his three's, indicating what most of us already know: He should stick to spot up shooting, and avoid the dribble drive.
The reality is Fisher doesn't have to be statistically dominant to be effective. He won't be, and can't, really, given his age, skill set, and (most importantly) teammates. Defensively, can he shut down opposing PG's one on one? No, but not many guards can and Fisher has often done great work positionally, filling lanes and forcing turnovers in space.
GRADE: B-, thanks to the good three point shooting.
Ron Artest: Off the floor, he continues to endear himself to fans. On it, he remains an enigma. Last year, Artest's arrival seemed to throw Odom off kilter. This year, Artest seems to have been made shaky by the improvement of Shannon Brown and the arrival of Matt Barnes. His minutes are down so some drop in raw numbers is expected, but most of his advanced numbers are down, too.
Honestly, though, it's the other side of the ball that matters with Artest. Offensively, if he's not hurting things, the Lakers don't need him to actively help. Defensively, Artest hasn't been the force of nature he often was last season. Not that he's been bad, but Artest hasn't logged any of those signature shutdown games where he seems to influence the outcome by himself.
He's been more a non-entity than anything, which is not what Artest is supposed to be.
GRADE: C/C-
RESERVES
Shannon Brown: He wasn't going to shoot fifty-something percent from beyond the arc all season, so it's no surprise his ultra-hot jumper has cooled a little (Brown has missed 13 of his last 15 three's). Still, he gets major credit for the incredible boost he provided over the first 15 games-plus. It's not just a question of better shooting, but improved decision making. Brown is more confident with the ball, dribbles more with purpose and direction, and is just as explosive on the run as ever. On a team with plenty of stars, Brown has L.A.'s third highest efficiency rating. Impressive.
It's hard to argue he's been anything but outstanding, all things considered.
GRADE: A-
Matt Barnes: I'll say it again: I completely underestimated how well Barnes would fit in with the Lakers. He's always been a good, not great player, but there's not question his skill set is a perfect match. He has positional versatility, able to function as a power forward when the Lakers go small yet still defend opposing point guards (for example). Barnes moves extremely well (and willingly) without the ball, making him a great target in an offense rewarding that sort of thing, and a great threat on the offensive glass. The hand-in-glove fit is manifested in Barnes' metrics, which are as high as they've ever been in his career.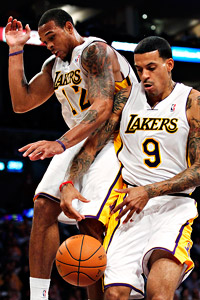 Lori Shepler/AP Photo
Matt Barnes and Shannon Brown have been a major boost to the Lakers this season.
I thought the Lakers were getting the luxury of depth when they signed him, but Barnes has been far, far more.
GRADE: A-
Steve Blake: As advertised, I'd say. He's been very effective as a spot up shooter (47.7 percent from downtown), moves the ball well, and functions well within the offense. My biggest gripe? I wish he'd look more often for his own shot or to penetrate on the dribble. He's certainly capable of showing more aggressiveness offensively, though with guys like Brown and Barnes around him, the need to be a focal point of the second unit's scoring hasn't really been there. There are only so many numbers to go around. Blake seems to have willingly given some of his away, though while hardly a high volume player, Blake has already hit a few big shots.
GRADE: B-
Theo Ratliff: Didn't seem like all that much when he was healthy and on the floor, but despite playing short minutes his presence has been missed in the most literal sense. Offensively, he's occasionally made D.J. Mbenga look almost artistic, but showed the same weakside shot blocking ability he's had over a very long NBA career. He doesn't have to be great, just available. Unfortunately, for the next couple weeks, he's not. Ouch.
GRADE: C-/Inc.
Luke Walton: Unlike some Lakers fans, I actually understand Walton's utility. In spot minutes, he's able to fill a specific niche: The guy who can come in and grease the offense when it needs greasing. A grease man, if you will. And (small sample size, no question) when he's on the floor, Walton assists on about 20 percent of the buckets the Lakers produce, an extremely high figure. He's also shooting 11 percent. Reconcile those numbers how you'd like, as well as the injury problems limiting his ability to dress for games earlier in the year.
GRADE: D+/Inc.
Sasha Vujacic: His struggles combined with the team's increased depth this year have severely limited Sasha's minutes this season, something not figuring to change anytime soon. Nor has he ever been a guy responding well to spot minutes. To his credit, Sasha isn't making any noise about his lack of P.T., though the flip side is not all that many people are asking him about it.
In his defense, when he does play Vujacic is hitting triples at a very respectable 42.3 percent. That's his major selling point as a player, so the number is nice to see. Of course, he's only shot seven of them, thanks to the limited minutes. He's played so little, a grade is hard to form.
GRADE: C-
Devin Ebanks: On a lesser team, he'd have earned himself minutes. The Trevor Ariza comparisons are ubiquitous (and accurate) but I get the impression Ebanks watches Barnes a lot, too. The kid doesn't stop moving on the floor, allowing him to make an impact in the rare moments he gets to play.
GRADE: C+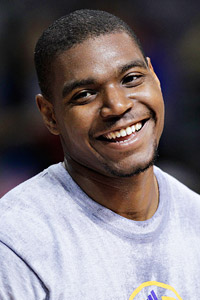 AP Photo/Paul Sancya
The Lakers need to get Andrew Bynum out of workout clothes and into uniform.
Derrick Caracter: He's been on the floor more than Ebanks- still not a ton- but hasn't been quite as successful. Basically, and understandably, Caracter is moving about three times faster than he should on the floor, rushing everything, impacting his shot, and leading to fouls. It's no surprise to see D.C. leading the team with 8.9 personals per 36 minutes. It's never a good thing when you can't reach the 20 minute mark of your 36 minute extrapolations, so to speak. At the same time, none of his struggles are for lack of effort. He mixes it up underneath, does what he can to hit the glass, and has displayed signs of offensive skill that should appear more regularly once he calms down a little. Friday's game, in which he scored 10 points, including a couple jumpers and a slick move inside on Samuel Dalembert, was a nice start.
GRADE: C-
Andrew Bynum: Hurry back, big man.
GRADE: Inc.
THE TEAM
The Lakers: A year ago, the Lakers were 17-3 through 20 games, en route to a 23-4 that had people similarly giddy to this year's 8-0 start. Last season, the criticism was the Lakers played an incredibly home heavy schedule. This season, it's a soft schedule . (Actually, that was a criticism in '09-'10 as well.) A year ago, the Lakers played early games without Gasol. This year, no Bynum.
Given last year's record, it's hard to say the Lakers are better off now, particularly on the defensive end, where the performance has certainly slipped. However, they're deeper, and the offense is genuinely better, the four game losing streak notwithstanding. While maybe they haven't played as well through the first 20 games, I think they're actually set up for a stronger push as the year goes on.
14-6 ought to be 16-4, or thereabouts, but overall there's still not all that much to complain about. They'll need to do a little work to make up some of the games they've given away, though.
GRADE: B+