There's a certain redundancy in calling the Clippers a bad team. Almost without exception, the red, white, and blue have been so down for so long, the "bad" part is assumed. Like a Xerox is a photocopy, or Kleenex is tissue. "Clippers," at least in non-barber circles, could be its own term for failure.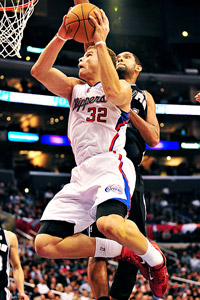 Gary A. Vasquez/US Presswire
Blake Griffin has shown himself to be something of a force of nature, one of the most unique players the league has seen in a long time.
To some degree, there was optimism heading into this season, as Blake Griffin was added to a lineup featuring Eric Gordon, Chris Kaman, and Baron Davis, along with some decent role players like Ryan Gomes and Craig Smith. Certainly they'd improve over their 29 win season last year, and if everything broke right, might even contend for a playoff spot (or at least a .500 record). Not saying I bought it, but the sentiment was out there, at least among some.
Instead, things turned sour fast. Davis was hurt early- shocker, I know- as was Kaman, and the Clipper ship took on water, despite incredibly exciting play from Griffin, and the continued ascendancy of Gordon. It was so bad, late in November on our Saturday radio show, when the Clips were about to fall to 1-13 that night against the Knicks, I openly wondered if the franchise had reached a sort of rock bottom. Which is saying something, since rock bottom seems to happen all the time.
But while the season is most certainly lost in terms of postseason hopes, to their credit the Clippers have found some stability of late, winning four of eight including home victories over New Orleans and San Antonio, and a narrow loss on the road in Denver. They'd like nothing more than to slay one more giant tonight when the Lakers switch benches and don their purple road unis at Staples.
To get a better perspective on the game, I hit up ClipperBlog's Breene Murphy for some insight...
1. The Clippers are starting a rookie point guard, instead of B.D. What's the difference on the floor between a Baron-led Clippers offense, and the Eric Bledsoe version?
The Clips are still operating within a pretty simple Vinny Del Negro pick and roll offense but there are acute differences between the offense when Baron or Bledsoe are on the floor.
Truthfully, it's more of a difference between a Bledsoe-Gordon led offense and a Baron led offense. When Bledsoe is in the game, VDN lets Gordon handle the ball a lot, which is one of the reasons for Gordon's spike in assists this year. I think this has had an adverse effect on Gordon's three point shot but has also been an impetus for him to go to the rim more (9.3 FTA).
That said, Bledsoe does a nice job running the offense, especially for a 19 year old rookie that didn't play point guard in his lone season in college (due to the presence of John Wall). He is at his best on the fast break, he'll give any player a run for their money on speed with the ball and he's an above average finisher. Even in the half-court, he uses his speed to blow by opponents and get open looks for his teammates, although he has to learn to use his speed so he doesn't just probe and dribble out. He's cutting down on unforced turnovers from over-penetration (still has significant problems) but the probing often forces the Clippers into re-initiating the offense with 12-14 seconds. This is not enough time to run the offense and the Clips will look for a bail out play from Blake, Gordon or Bledsoe instead of really passing the ball.
This is where Baron excels. While he's slower, he still has one of the best eyes for passing in the league and the offense does a better job of rotating the ball from weak to strong side early in the clock. He uses the Blake pick much better and he his kick-outs to Butler, Gomes and Gordon get them the ball in a better position than Bledsoe's passing and allows them to shoot better from behind the arc. Also, Baron throws much better lobs to Blake and DeAndre [Jordan].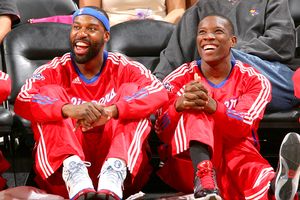 Rocky Widner/Getty Images
Dear Clippers, Please keep giving PT to the PG on the right, even if it means the one on the left gets upset Sincerely, Brian.
Still, Baron is a terrible shooter and since coming back from injury, the Clippers have seen him become more and more comfortable taking his own shot. Not a trend that the Clippers want to see as Baron is one of the worst shooters in the NBA. There are only five players in the league with a worse true shooting percentage (Troy Murphy, Damon Jones, Jeremy Lin, Jawad Williams and Kyrylo Fesenko). So there are large problems with either point guard and big positives. Good news is that both Bledsoe's problems and Baron's are correctable. Although Baron hasn't ever shown the desire to improve his shot/take better shots, so no one expects him to change.
Bledsoe could, though.
2. The only real tangible excitement around this team is with Blake Griffin. Offensively, we've seen the explosiveness and the dunks. What has surprised you about that half of his game? Defensively, how do you expect a matchup between him and Lamar Odom to play out?
First, I want to clear something up. The only real tangible national excitement around this team is not Blake Griffin. For those following the Clippers, Eric Gordon's emergence as a potential All Star has been inspiring. Since the FIBA Championships, he's been on a tear, averaging 24 points, 4.5 assists and, most impressive, 9.3 free throw attempts. He's finally using his speed, strength and herky-jerky dribble to attack the basket. The result? He's evolved into the Clippers undisputed closer. He scored 13 fourth quarter points against the Kings and 9 in the last 3 minutes to lead the Clippers to victory. And in Utah, on a last second possession, needing 2 to tie, he sliced through the packed paint for a slam dunk to even the score. And he hasn't even found his 3 point shot yet. Good reason for excitement.
As for Blake, he's been transcendently exciting, I mean, he's changed [Knicks center] TimofeyMozgov from a proper noun into a verb. It's definitely more than dunks, though. He can pass and while it's not refined, he has an effective set of post moves (right hook, fade-away over his left shoulder, a spin move and an adequate jumper). The most surprising though, is his ability to handle the ball on the break. My favorite highlight of Blake this year was in the Knicks game when he was on the break, with Danilo Gallinari guarding him closely. Instead of doing what most power forwards would do and pass it off to a wing and re-establish the play, Blake pushes to the basket harder, forcing Gallo to commit and then he does a spin move and tomahawks the ball through the hoop. Incredible.
And none of that would be possible if it weren't for his handles.
However, this ability among power forwards is rare, not singular. Lamar Odom is more than adept at leading his own break, too. This is worrisome for the Clippers because not only is Blake is a below average defender in general, but he's even worse on the fast break (former Laker Brian Cook is usually his defensive replacement, although Cook is suspended for the Clips/Laker game). Blake can lapse into running back on defense without paying attention and with Lamar's handles and propensity for the driving lefty swoop, Blake could get burned. The only saving grace on defense will be Blake's rebounding ability.
While the majority of the league has struggled to contain Blake on offense, he has struggled against longer, taller defenders. Tyson Chandler, Brook Lopez and Tim Duncan have had varying degrees of success against Blake. Lamar isn't built like those guys, but Pau is. I suspect that Blake will still have some impressive moments, because he's so much more athletic than Lamar, but it could get interesting if Pau switches over or doubles off of DeAndre.
Note: His initial reply to the question was certainly fair enough. My wording wasn't specific enough. To the outside world, the only tangible positives revolve around Griffin, because he's the only player making an impact on the national scene. Gordon, though, is a quick rising player who, I agree, could be a star. The combination of a low key personality and losing team hasn''t let it happen yet.
And as Breene's ClipperBlog cohort Jordan Heimer noted in an email, the Clippers are essentially fielding an under-23 team right now. Big minutes for Gordon, Griffin, Al-Farouq Aminu, DeAndre Jordan, and Bledsoe. So there are things to look forward to. How forward, though, is an open question.
3. The record doesn't seem much different. What has changed for the Clippers from the Mike Dunleavy to the Vinny Del Negro era?
Energy. Hope. An organizational philosophy. Blake Griffin.
The Clippers record is terrible but they are more fun to watch than most of the teams in the league because of the effort of the young guys. The reason they are losing games has more to do with efficiency and chemistry, in a "the teammates are all new, where are they going to be" way and not the "the players don't like each other" way. They turn the ball over, shoot poorly from the free-throw line (ahem, Blake, ahem, DeAndre) and they have no idea what they are doing collectively on defense. But those are all characteristic of young players, and that should be expected with a team that has no starters older than 22. They do play hard though, and that effort often pays off in spectacular dunks not just for Blake but for Eric Gordon, DeAndre and Al-Farouq Aminu.
That young starting five, after a horrendous opening to the season, is starting to gel. They are 4-1 in their last five at home and are starting to find a semblance of cohesion while planting the seed of hope for the future. The road is still a nightmare, but that is normal for a young team (the Wizards have struggled on the road, too). But the wins at home have been strong, they've beat the Spurs and the Hornets recently, as well as the Thunder earlier in the year. Those wins have displayed the promise of the team.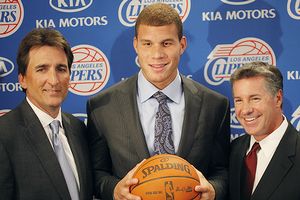 AP Photo/Damian Dovarganes
From a front office standpoint, Neil Olshey (right) has made some sensible moves to shape the LAC's future.
An underrated surprise has been the heady decisions of the front office this summer. Maybe it's because the management isn't as fractured between Sterling's crew and Dunleavy's, because I suspect that the Clippers would not have drafted and signed free agents as well even a year ago. The unifying factor: bringing in character guys as well as good players. I feared, as I'm sure many others did, that the Clips would blow their cap space on an overpaid free agent a lá Rudy Gay or Joe Johnson, but such was not the case. Sure, they needed more than Ryan Gomes, Randy Foye and Rasual Butler to help the team, but they didn't need another large contract, like Baron's, that would prevent them from keeping their young core together in the future.
None of the signees have bad contracts like Josh Childress or Drew Gooden. The biggest one was 3 years, $12 million to Ryan Gomes. Even if they don't work out (and they haven't so far), it's not crippling.
Again, all of this comes back to Blake. I think the beauty of a player like him is that he's simple and unifying. There is no worry about him clashing with coaches or players. He works his butt off and he's so talented. It is so easy to want to build around him with players that fit (like Kevin Durant), because he, along with Gordon, is the future.