Derek Fisher is a pretty serious guy, particularly when it comes to people pointing out those (generally age related) deficiencies in his game. So it wasn't surprising, after winning Wednesday's game against the Clippers with a last second drive past rookie Eric Bledsoe, he poked one of the most prominent "Fisher sucks!" criticisms with a pointy, game-winning, hero stick.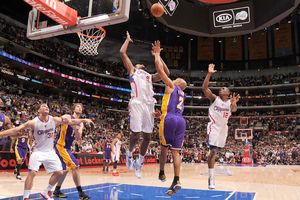 Noah Graham/Getty Images
You just can't keep Derek Fisher out of the paint.
"I've been in that situation before," he said, interjecting into his own very well-detailed breakdown of how the play developed. "Many of you have documented how easily guys get around me at the top of the floor. When you're in the middle of the floor, and a guy can go left or right regardless of what hand he is, it's a very tough spot to be in. I'm not as fast as they come, obviously, and I can get around a guy if I have the ball on the top of the floor, in the middle like that."
After every game, we get complaints about Fisher's inability to stay in front of "quick point guards," and how the quick ones consistently tie the Lakers in knots. But it's not really quick point guards who hurt the Lakers, but good ones, and most of the good ones are quick. The reason has less to do with Fisher's relative lack of agility than the team's shortcomings defending the pick and roll and in transition. (Fisher, it should be noted, is one of the team's more effective players at disrupting the opposition's break, whether by taking a charge or dropping to the right level to break up a pass.) I once asked Aaron Brooks, as quick as any player in the league, if he was quick enough to guard himself. He said no. Brooks can't guard Brooks, Rajon Rondo can't guard Rajon Rondo, and so on.
Many aren't quick enough to guard Fisher, especially off a screen, or even in the open floor, as Wednesday's final sequence demonstrated. He's not (last night's stunner notwithstanding) a quality finisher near the bucket, but the guy gets into the paint all the time. More than many fans would like. And he's almost certainly the slowest starting PG in the NBA.
The point isn't that Fisher is some all-world defender who just as strong on the ball as his strongest colleagues, just that this particular criticism is overblown. He has weaknesses defensively along with strengths, but it's as a collective where the Lakers succeed or fail keeping points off the board and Fisher's understanding of those mechanics are his greatest asset as a defender. If he were such a destructive force, there's no way the Lakers could have posted such strong defensive numbers over the last two seasons. In reality, when he hurts the team Fisher almost always does so on offense, whether with questionable attacks of the rack, the more than occasional P.U.J.I.T. (pull up jumper in transition), or what has over the course of his career been a low shooting percentage.
But he certainly makes big shots, no question. Nor is he afraid to stick up for himself, and did so Wednesday after a moment of strength and triumph, meaning he doesn't just have ice water in his veins, but an impeccable sense of timing. Maybe his inspirational speeches aren't the only reason teammates believe he could have a career in higher office?