It's been about two weeks since the Lakers (wait for it...) took the Bulls by the horns (was it worth it?) at Staples Center, earning a hard fought 98-91 win.
Among the highlights for the Lakers:
A strong game from Kobe Bryant, who exerted more and more control over the game as it went along, proved stats (20 points on 8-for-18 shooting, plus five dimes against four turnovers) don't always tell the story.

A big second-half push from the bench.

One of the best defensive performances of the season for the Lakers. While the Bulls aren't a high scoring bunch, the Lakers certainly held them well under their average for offensive efficiency and allowed only 18 points in the fourth quarter.
Big picture, the matchup doesn't change all that much. Carlos Boozer is back in the lineup for Chicago, but it's not like the Lakers aren't familiar with his work, having played the Jazz in what seems like each of the last 25 playoffs. Little picture, there are still plenty of interesting things to examine. Here's what to watch...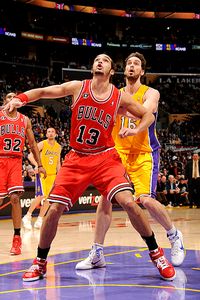 Andrew D. Bernstein/NBAE/Getty Images
Playing against Joakim Noah is just no fun.
1. Pau Gasol's Traveling Exhaustion Show. While we wait (im)patiently for Andrew Bynum to hit the court, Gasol continues to be run through the ringer. Wednesday against the Clippers, he even lost his seldom-used backup when Derrick Caracter left the game with an ankle injury. No surprise he suffered one of his worst games of the year. "We've been concerned," Derek Fisher said after about Gasol's workload. "It's not a when do you get concerned. That was yesterday, last week, weeks ago. We can't ask him to carry that type of load night in and night out and expect him to be able to dominate the paint offensively and defensively; rebound; block shots; rotate; get up and help on the pick-and-roll; bang and play one-on-one offensively; and score baskets. It's a lot to ask of anyone."
It won't get easier Friday night. Joakim Noah is, on so many levels, an oddity, but as far as Gasol is concerned it's not Noah's unusual personality that's a problem but his incredible Energizer Bunny motor and defensive ability. He's a rarity among big men in the NBA, happily sucking up minutes like a Hoover and never seeming worse for wear. In short, he's a major pain in the rear to play against, requiring much more activity than the average pivot. Add in Taj Gibson, still averaging over 20 minutes a night since Boozer's return, and Chicago has a frontcourt with all the soothing qualities of a coarse sandpaper rubdown.
The Bulls did a nice job harassing Gasol in late November, showing him multiple looks while limiting him to 12 points on 30 percent shooting. While the numbers could improve, Gasol's night is likely to be just as uncomfortable.
2. Carlos Boozer. Honestly, I'm not a big fan. As Phil Jackson noted earlier this season, when the Lakers and Jazz tussled in the playoffs it was rarely Boozer but instead Paul Millsap who did the damage out of that spot. Boozer is a bad defender who rarely seems to rise to the occasion. But he does add a new wrinkle to the matchup, no question. To find out how he's changed things for the Bulls, I hit up our man in the Windy City, ESPNChicago's Nick Friedell:
"With Boozer in the lineup, the Bulls finally have the back to the basket scorer they've been missing for years. The veteran forward gives the team a consistent second scoring option to go alongside Derrick Rose and his presence on the floor spaces out the floor for Rose and co. to operate. Boozer is also a very good passer and has already worked well at times with Joakim Noah.

Offense has never been much of an issue for Boozer, though. The biggest problem for the Bulls with him back on the court is that they are not as good defensively. It looks like he is a step behind everybody still and it's going to take a while for him to pick up all of Tom Thibodeau's schemes. Even then, he won't be as good as Taj Gibson was on defense, but the Bulls will happily take that trade for the time being, given the offensive boost Boozer can provide"
3. Context. If you believe Jackson when he said this is his "last stand," Friday's game becomes his final in Chicago as a head coach, barring a meeting of these teams in the NBA Finals. That it's Dec. 10 mitigates some of what would be a more-heavily-anticipated event (you may have heard Jackson had some success earlier in his career with the Bulls, no thanks to this outfit), but I'm still pretty curious how the whole thing will be received. As we learned talking to Friedell before the first game, Chicagoans still think of P.J. as their guy. Jackson is noncommittal when it comes to comparing the success of one half of his career to the other. He isn't an overtly sentimental guy, either.
Still, it's a significant start to a through line likely to grow stronger whether Jackson likes it or not. "Hey Phil, how does it feel to be (insert location here) for the last time?" "Hey Phil, it's your last _________. What do you think about that?"
It's unlikely he'll enjoy this sort of thing, but it's going to become an ever-increasing part of the gig.
Jackson isn't the only person with an emotional stake in Friday's game. Shannon Brown, who grew up in Maywood, Ill., about 10 miles west of downtown Chicago, always gets charged up to play in front of his friends and family (of which I believe there will be many at the game). In Game 1 of this year's Lakers/Bulls series, Brown was outstanding, with 21 points (including five triples), 4 boards, 3 dimes, a steal and a block in a season high 28 minutes of play.
Part of what has made Brown so good this year is a better-developed sense of control over his game. He's letting shots and opportunities come to him, displaying greater understanding of the offense and his role inside it. Brown told me Wednesday things on the court have slowed down considerably for him. The challenge Friday will be to avoid speeding things back up.