On its face, I'd label this game the second of a generally easy road trip (the "road" element aside, of course). However, Sunday's contest against the Nets theoretically served as the "soft underbelly" kickoff, and the Lakers didn't cooperate. Thus, presumptions would be out of line. I still expect a victory when the dust settles, but as for any specifics while dust remains airborne your guess is as good as mine right now. Here are a few items to watch once the ball is jumped: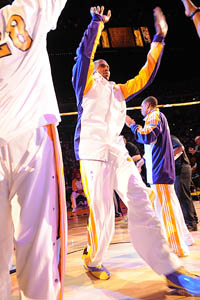 Andrew D. Bernstein/NBAE/Getty Images
Everyone will be excited to high-five Andrew Bynum during a lineup introduction.
Andrew Bynum's return
On the heels of a day spent hanging out with Barack Obama, Andrew Bynum told the assembled media he'll "definitely" suit up against the Wizards. The timing couldn't be better, between the Lakers' recent malaise and Pau Gasol on the verge of needing an IV between dead balls. I suspect Bynum will remain a starter as planned and predict he'll log minutes somewhere in the low-mid 20's over the next few games.
As Brian and I discussed on the most recent podcast, Bynum shouldn't be viewed as "Instant panacea: Just add 7-footer." Execution and success on both sides of the ball have been sketchy. Ron Artest has grown increasingly absent of shooting touch and offensive certainty. He has had a consistent lack of focus over 48 minutes and on down the line. Every core player has dirty hands to some degree during the last few weeks of underachievement, and that same collective is needed to right the ship.
Plus, Bynum hasn't stepped on the court since Game 7 of last year's Finals, a long time to gather cobwebs. Mind you, Bynum could look brilliant, since the opposition is currently battling for sole possession of the 14th seed in the East. But I tend to be a realist with an open mind for pleasant surprises, so rather than obsess over how good Bynum looks out of the gate I'll be focused more on signs of good things to be built upon:
Did rebounds seem to bounce the Lakers' way more often, because Bynum snagged the loose ball or he bodied up a Wizards' player within proximity of the rock? Did the rim feel more protected, even on just 25-35 percent of defensive stands? Were points a little easier to come by, particularly ones of the putback variety. Do we get a glimpse as to how Lamar Odom will mesh as a full-time Killer B(L)ee? And most importantly, did El Spaniard have a little more vida in his step?
The guy has been running on fumes for the last few weeks and exhibited downright crabby body language against the Nets, as contact worthy of a whistle went uncalled. Bynum's presence equals an immediate weight lifted from Gasol's shoulders, if for no other reason than he's another 7-footer in the mix. (Think how much better Gasol played with Theo Ratliff on hand eight consistent minutes per night.) Even if Bynum plays just 12-15 minutes at the outset, I think Gasol will enjoy an immediate uptick in production, efficiency and energy. Attention paid toward Bynum down low should allow Gasol more freedom as an offensive conduit, which could result in a smoother offense for everyone. And defensively, not having to conserve his fouls as carefully should lead to a more aggressive brand of lockdown.
Shorthanded Wizards
According to Michael Lee of the Washington Post, Andray Blatche (knee) and John Wall (shoulder) will miss tonight's game. Inside and out, the duo will be missed. Famously awful a defender as he may be, Blatche is a source of scoring, rebounding and interior size, all factors the Wiz could be hard-pressed to duplicate. In the meantime, Wall is the lifeblood of an offense often flirting with D.O.A. status as is. They score just 98 points per contest, and when it comes to offensive efficiency they're the seventh-worst team in the league. On a desperately related note, Wall accounts for nearly half of the team's paltry 20.5 assists.
Remove the rook from the equation and with all due respect to whatever herculean efforts Gilbert Arenas may attempt to muster, the water could be quite rough.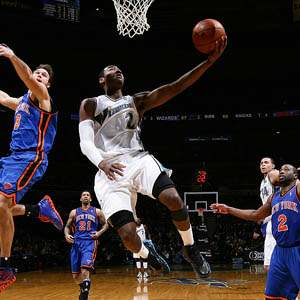 Ned Dishman/NBAE/Getty Images
If John Wall can't play, the Wizards should look different. And by "different" we mean "worse."
Of course, the Wizards, still winless on the road, made their Staples Center showing considerably more difficult than expected or deserved. And for their part, the Lakers haven't exactly balled like two-time defending champs these days. So if it's all the same, what say we play the game like Wall and Blatche aren't merely available, but members of a good team?
Sasha Vujacic or Devin Ebanks
I'm not quite sure which guy will be deactivated in Bynum's place. Vujacic could get the nod out of respect to veteran status, but Ebanks' second quarter run in the Garden State could represent his leapfrogging of the Machine in the pecking order. Whichever guy gets the firm nod as the team's 12th man -- until Ratliff comes back, if nothing else -- I'll be very curious to see how he performs during extended minutes. Or more importantly, that he performs during extended minutes. For that matter, I'm curious to see how Luke Walton and Derrick Caracter perform in those same extended minutes, since it's important all three get some garbage time run.
Beyond this being a game the Lakers should win handily on talent alone, they'll be playing in Indiana 24 hours later. Back-to-backs are rarely easy, much less against a greatly improved Pacers squad with a L.A. win on its resume. The Lakers will need whatever energy possibly conserved for the rematch, particularly knowing Bynum might require cautious handling in consecutive games. The Lakers can't afford to piddle away the luxury of a fourth quarter with starters on ice. Beyond whatever disappointment over the performance, it's simply not practical.