When they arrived at Staples Center on Nov. 28th, the Indiana Pacers didn't seem like much at 7-7. But they'd won five of nine, and among the losses were extremely competitive games against Orlando and Oklahoma City. By the time they left, 95-92 win in hand, the Pacers had opened some eyes.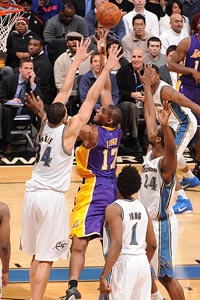 Andrew D. Bernstein/NBAE/Getty Images
Andrew Bynum is likely to draw a crowd again Wednesday night in Indiana.
Kobe Bryant, for example, said after they were "no question" a playoff team in the Eastern Conference. Faint praise, perhaps, considering the eight seed in the E.C. is currently three games under .500, but it's fair to say the Pacers are a lot more competitive than many figured they'd be when the season started.
Then again, maybe not. Indiana seemed poised for a run after knocking off the Lakers, but after following their win in L.A. with another in Sacramento (join the club), Jim O'Brien's gang has lost five of seven. All told, the picture for tonight's game is a little muddy. While the Lakers earned themselves plenty of rest in Tuesday's win over Washington, they're still on the wrong side of a back to back and had to fly the wrong direction out of D.C. given they'll be in Philly Friday. Indiana has proven they can beat the Lakers, but is hardly on a roll.
Here's what to watch...
1. Andrew Bynum, back to back! Tuesday, Bynum made his season debut in Washington, scoring seven points in about 17 minutes of burn. He grabbed four rebounds and blocked two shots. After, Bynum said he felt fine and didn't expect to be restricted against the Pacers. Phil Jackson indicated that would be the case, as well.
Washington, though, isn't a strong team up front and was thinned out by the absence of Andray Blatche and (for all intents and purposes) Yi Jianlian. In that sense it was a nice game for Bynum to get his sea legs. The Pacers aren't necessarily dominant near the basket, either, but present a better challenge. Bynum is likely to get at least some minutes matched up against the much improved (until recently, at least-- see below) Roy Hibbert, and Indiana also has attacking players like Danny Granger and Darren Collison who can break down a defense and force bigs to rotate in support.
With John Wall on the sidelines Tuesday, Washington was short a penetrating guard.
How many minutes he logs while any of those guys are on the floor is an open question, but to the extent he does they'll be a challenge.
To expect Bynum to dominate immediately isn't fair, or even necessary. He doesn't have to be awesome, just effective (and more than anything, available). If Bynum responds well physically to Tuesday's debut and builds on it Wednesday, it'll be a strong positive sign for the Lakers.
2. Danny Granger. He missed Indiana's game Monday night with the Bulls in Chicago thanks to an ankle injury, and to say the least the results were stark. The Pacers managed only 73 points, losing by 19. Sure, the Bulls are among the scrappier defensive teams in basketball and are now riding a six game win streak, but 73 points is 73 points. As a team, Indiana shot 35,7 percent, including 15.8 percent from downtown. Without Granger, the Pacers lack a focal point to their offense. Hibbert has evolved into a legit center, Mike Dunleavy is a nice role player, Collison can score (but has struggled adjusting to O'Brien's system-- again, see below), Brandon Rush is, at least in theory, a talented scorer, and so on. None change how a defense operates in the way an All-Star like Granger does.
Fortunately for the Pacers, Indy Star beat writer Mike Wells reports Granger will suit up Wednesday night. That doesn't mean the Lakers can't still press the advantage. Ron Artest has shown signs of life defensively over the last few games, and tends to thrive in games in which he has a clear, uncomplicated defensive assignment. Guard ____, and... go! If there's any blood in the proverbial water, Artest is likely to take advantage. In Los Angeles, Artest helped limit Granger to a reasonable seven-for-16 shooting night, and more importantly kept him off the free throw line. If he can slow Granger again, the Pacers- already a below average squad in terms of offensive efficiency- become much weaker. On the other side, the Lakers need to attack him. It's much harder to play defense on a tender wheel than it is to try and score.
Make Granger test the ankle, and press whatever advantage is available.
3. Pau Gasol. In Bynum's first game back, Pau nearly posted a triple-double, and was his normal, efficient, multi-dimensional self in barely 30 minutes of burn. Was it a coincidence he seemed so comfortable? Phil Jackson said so after Tuesday's game, and the Wizards are pretty awful even at their best, and were depleted Tuesday night. But it's hard to believe Bynum's return had no influence on Gasol's effectiveness. The blowout helps, but 17 minutes from Bynum shaves court time off Gasol's leger. Physically, he benefits, but as Andy mentioned during last night's Lakers Late Night show, Gasol gains mentally as well. It's liberating not to worry about minutes to that degree, and whether there will be enough left in the tank to be as effective in the fourth as the first, because the likelihood of a 45 minute game isn't as strong, and a string of them is almost nil.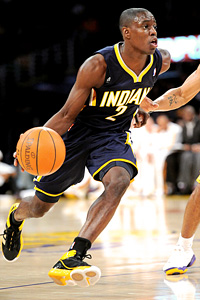 Jayne Kamin-Oncea/US Presswire
He arrived in Indiana with a lot of promise, but Darren Collison has struggled to fit in with Jim O'Brien's system.
He can play aggressively on both sides of the ball, because a foul isn't the worst thing in the world.
The same challenges Bynum faces Wednesday apply to Gasol as well. Playing against Hibbert, supporting penetration from Granger or Collison, and so on. The Pacers may not be elite, but they're certainly better than Washington. What the Lakers should be able to do with their frontcourt intact isn't a secret- Bynum has missed games, but he's played in a lot of them, too- and if Gasol is able to string together another Gasol-ian stat line Wednesday a return to normalcy should feel a lot closer for Lakers fans.
For a little more insight into the Pacers, I hit up Jared Wade of the TrueHoop network's Eight Points, Nine Seconds:
1. What has happened to Indiana since they beat the Lakers on the 28th? The Pacers had been playing well coming in, beat the champs, and seemed poised to make a little run. Hasn't really happened. Why?
Since they upset LA in Staples on November 28, the Pacers are 3-5. They have not looked sharp aside from the night they blew out Toronto, but three of the losses came in Utah, Atlanta and Chicago and all five have come of the road. Just watching the team this year, it's evident they are markedly improved from past seasons, but they still are not at the point where they can be expected to beat top-tier teams on the road — or anyone really. That said, they have reached a level where every home game is certainly winnable. I don't expect a win over the Lakers, but it wouldn't surprise me either.
Aside from just tempered expectations, Roy Hibbert hasn't been good for about two weeks. He has only had one double-double and no 20 point games since that victory in LA. Worse than stats, he just hasn't looked good, struggling to maintain position down or make crisp post moves like he was earlier in the season. He does play better against guys like Andrew Bynum than guys like Al Horford, who torched him the other night, so this game could be a nice return to form.
2. Like most people who have Darren Collison on a fantasy team, I've noticed his numbers have fluctuated, even when healthy, after what looked like an encouraging start. How has DC fit in with Jim O'Brien's system?
It hasn't been seamless. I think he's struggling to balance his duties as a half-court offense initiator with his abilities to freelance and score. For Indy's offense to even be mediocre, there needs to be good ball movement and if he isn't making good decisions with the ball early — which often require him to give up the rock — things can get stagnant. He is still getting a feel for when to just swing the ball to the wing, when to feed Hibbert in the high post and when to force penetration. At times he looks uncomfortable, just sort of rigidly picking one rather than relying on instinct and feel.
On defense is where he has actually hurt the team though. His pick-and-roll execution — and even effort — is often laughable. He just drops way under the screen and, despite the fact that he's among the quickest players in the league, is either unable or unwilling to jump back and press the ball-handler. It puts a lot of pressure on the hedging big man and has led to a lot of defensive breakdowns.
All this helps to explain why Coach Jim O'Brien has yanked him around somewhat minute-wise. TJ Ford has actually closed out several games as Collison rides pine — something he did for the entire fourth quarter the other night while his team was getting smacked around by the Hawks. This resulted in Darren questioning the coach's rotation publicly. Hopefully, it will just blow over and Collison will continue to better learn what he is supposed to be doing out there, but is definitely something to watch and has the potential to get a little messy.