The Lakers have looked awfully good in two games since Andrew Bynum returned to the lineup after offseason knee surgery, as Pau Gasol seems to have had new life breathed into him. Good thing, too, because the Lakers have some stiff challenges coming in the weeks and months ahead.
Still, there's work to be done in the here and now, starting tonight in Philadelphia, known first as the hometown of ESPNLA's own Dave McMenamin, but also cheese steaks, the Liberty Bell, and Kobe Bryant.
Oh, and the Sixers, too. Philly carries an underwhelming 10-15 record into tonight's game, but like many of these road tussles through the Eastern Conference, the apparent badness of the opponent is at least somewhat misleading. The Sixers have been wretched on the road (2-10), but are 8-5 at home including wins in seven of their last eight at Wells Fargo Center*, the only blemish being a last second, one point loss to the highly credible Boston Celtics. All seven of the wins were by nine points or more.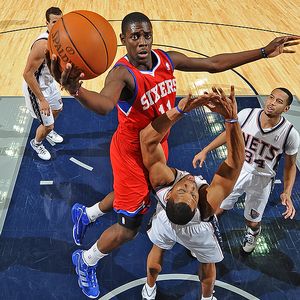 David Dow/NBAE/Getty Images
Local lad Jrue Holiday has elevated his game for the Sixers this season, a point I emphasize symbolically with this photo.
The Sixers have a lot of talent, from Jrue Holiday to Andre Iguodala to the newly revitalized Elton Brand and Thaddeus Young. Philly is 5-2 since adding sharpshooter Jodie Meeks to the starting lineup, in no small part because Meeks has hit half of the triples he's attempted over that time.
The moral of the story: Don't screw around with these guys. To get a little more insight into how tonight's game might play out, I hit up Carey Smith over at Philadunkia to answer a few questions about his hometown squad:
1) Jrue Holiday is obviously a player of interest around these parts, and seems to have made some strides this season. Do the numbers tell the story? Where has he improved, and where does he still need work?
The numbers tell part of the story as his stats have certainly improved, but the big thing in my opinion for Holiday is that adapting to the system Doug Collins has installed has made him a better player. There was no system under Eddie Jordan and when he finally got in the lineup last year, Holiday just went out and played every night. Some times with spectacular results, other nights not so great. It took about 10 games or so and at times it's still a work in progress, but Holiday is so much better this year because he has some direction from a good coach and he has bought in to what Collins wants done offensively.
While he has taken great strides forward across the board in 2010-11, the one thing I would say that Holiday needs to improve on is his decision making on the fast break. On the break he still has a tendency make mistakes -- getting caught in between moves or driving the ball too deep or simply throwing the ball away. Most nights the Sixers want to get out and run on opponents, so these issues can be costly. Once he gets this ironed out, he's going to be scary good.
2) What's up with Andre Iguodala? From the outside looking in, he seems to have fallen off substantially.
I feel like I am answering this question a lot lately from people outside of Philadelphia. For me the noticeable difference has been that 'Dre was not himself early on this season. Coming of his experience with Team USA, he looked tired, banged up and at times frustrated with his own play. After a self induced 10 day lay-off for a soar Achilles, in my opinion, AI9 is now playing some of the best ball of his career. Yes, his scoring is down, but he has elevated ever other portion of his game. Most notably he has laid off the habit he developed last year of jacking three's all night and has become the vocal leader of this team on the court.
Plus to be honest in the last 10 games, we have not needed him to get 20-25 points a night. With Elton Brand's resurgence, the explosion of Jodie Meeks, Thad Young's great play and unexpected contributions from Spence Hawes, the Sixers have had plenty of scoring recently and it has allowed AI9 to let the game come to him instead of forcing the issue.
3) How do the Sixers handle teams with size, the sort L.A. will be bringing in Friday night? Can they match up effectively? How does Elton Brand's improved play this year fit into that equation?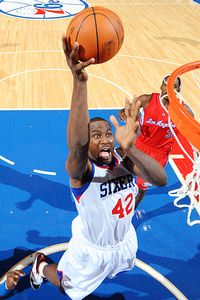 Jesse D. Garrabrandt/NBAE/Getty Images
Elton Brand has re-discovered much of his mojo this season, but asking him to body up L.A.'s bigs is probably too much.
The short answer is we don't. Bigs have killed the 76ers so badly all season long that it inspired us we to write a post on it a while back. It's been pretty ugly so far this season inside for the 7-6. Hopefully now that Hawes is in playing shape he can slow the freight train down a little bit, but I doubt it will happen, so expect Odom, Gasol and Bynum to have a field day against us Friday night.
I have to give EB a lot of credit, with Hawes struggling and Marreese Speights a non-factor this season, Brand has spent a lot of time guarding other team's 5's (too much time actually) and he has done a respectable job. However I am not sure his body can handle an entire season where he spends the bulk of his minutes guarding centers, so we need to find another solution quickly. We recently suggested multiple trade scenarios that would land the Sixers another big, but Rod Thorn has yet to execute any of our ideas
4) The Lakers, rightly, will be favored in the game, but the Sixers have been a decent(er) team at home. Who could be Philly's X-Factor as they try to pull the upset?
Tonight I think it will be Jodie Meeks. I know Hawes has been playing out his mind lately (17 ppg. & 8 rpg. per night in his last two games), but against the LAL big three I don't see him doing much. So I'll go with Meeks. He's the 3-point threat this team has lacked since Kyle Korver was traded in December of 2007 and he's had a huge impact on this team. His scoring has been a tremendous addition but it's the fact that he has opened up the floor for the Sixers slashers that has been the most beneficial to this lineup.
The Sixers played the LAL tight on both occasions in 2009-10 (8.5 point scoring differential average) and if it wasn't for non-foul call against Kobe (he smacked Allen Iverson in the head from behind on a jumper at a critical moment in the game), we would have won here in Philly. Overall this is a much better Sixers team then the one that gave the LAL a run for the money twice last year. So if Meeks can get going early that will allow 'Dre, Thad, Louis and Holiday to get some good looks as the game moves along and if that happens I think we stand a good chance at pulling off an upset over the a road weary Kobe and Co.
*Until we're all sure the economy is on solid footing, banks should not be allowed to purchase naming rights for arenas and stadiums. They disappear so fast now it's impossible to keep track of what these buildings are called.
Thanks to Carey for his participation. For my comments about the Lakers for Philadunkia, click here.