It's a standard mantra for coaches: To win in this league, you need to go out and play 48 minutes of solid basketball.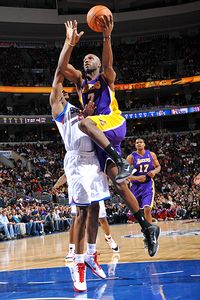 Win McNamee/Getty Images
Lamar Odom scored 28 points and added eight rebounds in a dominating performance against the Sixers Friday night.
To whatever extent such words are true, the Lakers absolutely took a torch to them Friday night in Philadelphia, working through three sloppy quarters before laying the hammer down on the 76ers and pulling away over the final 12 minutes. While it was hardly a work of high (or middle, or low) art, it was a win, L.A.'s fourth in a row after opening the road portion of the road trip with a loss to the Bulls in Chicago.
Given the Medusa-like quality of the night's proceedings, I suspect many of you weren't able to look directly at the game. And since watching television in the reflection of a highly polished bronze shield is hardly practical, it might be necessary to fill in some gaps. With that in mind, here's how it broke down ...
THREE UP:
1. Lamar Odom: On a night when Kobe Bryant and Pau Gasol combined to shoot nine-of-25 from the floor for a fully pedestrian 28 points (many of which came for Gasol late, when the game was already decided), Odom flat out rescued the Lakers. He was 11-of-18 from the field for 28 points, plus eight rebounds, three assists, a steal and -- this is important, as you'll see below -- only one turnover in a game-high 42 minutes of play. In the second (nine points) and fourth (13) he was the engine driving L.A.'s attack. No shock the Lakers as a team scored 61 points in those two quarters, and 32 in the first and third. Best of all, Odom did his damage primarily by attacking the rim, either off the dribble or with good post position.
"Lamar really kind of settled us in," coach Phil Jackson told reporters after the game. To say the least.
Particularly encouraging was how well Odom played with the second unit. It's with those guys where, quite soon, he'll be getting even more run than he does now.
2. Matt Barnes: In 28 minutes 21 seconds of playing time -- a couple of minutes off his season high -- Barnes, like Odom, was a catalyst for positive happenings for the Lakers. He scored 15 points on five-of-eight from the floor, plus 10 boards, two assists, and two steals. He's a perfect tonic on nights when offense is hard to come by, because Barnes does the one thing that doesn't require a pristine handle or dead-eye shooting: He moves. "We don't have things set in stone. We play basketball. The idea is to always take the direct line in basketball which means if you're open you go to the basket," Jackson said. "Matt's very efficient at doing that. There are some times we ask him why he didn't space [out the offense] but you can see why he does it, because his cuts are rewarded. He does a good job of it."
Nine of Barnes' points came in the fourth, when he, Odom, and Steve Blake carried the Lakers, scoring all but eight of the team's 35 points. He also hit the team's first 3-pointer -- a bomb from the right corner -- after they'd missed each of their first 12 tries.
3. Defense: Overall, the Sixers were limited to 37.5 percent shooting, and hit only three of 21 shots from downtown. The Lakers didn't give up 25 points in a quarter all night, and twice held Philly to under 20, including the decisive fourth frame. When they locked the home team into a half-court offense, the Lakers were almost always effective.
When Philly did score, it generally didn't have much to do with defense, but turnovers (see below).
THREE DOWN (aside from off nights for the team's two stars):
1. Turnovers: If the Lakers hold on to the ball, they win this game by 25, maybe more. Instead, they turned it over 13 times through the first three quarters (14 overall), accounting for 22 of Philly's 63 points to that point. Some of the giveaways were particularly egregious. Derek Fisher, who had a rough game, seemed almost to hand the ball to Jrue Holiday in the first quarter. There were missed connections between Gasol and Bryant, loose outlets, and a pass thrown by Andrew Bynum from the post to the backcourt when he couldn't negotiate a double team in the post.
The damage was particularly bad early, and it's no surprise Philly's offense went dead in the fourth, when the Lakers only turned the ball over once.
Just to drive the point home, the Sixers managed to turn that error into points.
2. Shannon Brown: Largely a bystander to the success of Blake and Barnes off the bench, Brown didn't score, missing all four of his shots from the floor, adding only one assist to an otherwise donut heavy stat line. One play in particular screamed "Old Shannon," when in the second half Brown took the ball on the break into three Sixers, forcing a shot and giving away a possession at a time when the game was still close. It was probably the worst decision he's made with the ball this season.
In the end, his mates picked him up -- as they did Gasol and Bryant, both of whom delivered largely subpar performances -- which is encouraging. Shannon has returned the favor more than once this year.
3. Fisher: His first quarter in particular was not exactly a Dear Diary moment. I mentioned the bad TO given up to Holiday, but adding insult to injury was the next trip, in which Holiday blocked Fish's jumper and (no surprise) helped turn it into points at the other end.
In the end, he managed to make the final line look ok (4-10, eight points) but overall it was a tough night, particularly early. In that, he fit right in with all but a handful of his teammates.