A couple years ago, the New Orleans Hornets were a team on the rise , winning 56 games and reaching the Western Conference Semi-Finals. Behind Chris Paul and David West, Byron Scott seemed to be building a serious contender. Then the wheels turned wobbly before finally coming off the wagon last year, when the win total plummeted to 37. Scott was canned after nine games, Paul got hurt, and it was all downhill from there.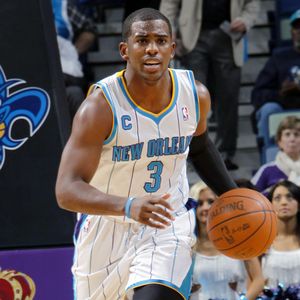 Layne Murdoch/NBAE/Getty Images
Chris Paul is healthy, and has the Hornets back on the playoff ladder.
This season, New Orleans got off to a surprisingly hot start, but have since slipped. With each loss the rumors swirling about Paul's future grow, only enhanced by ownership problems so dire the NBA bought the team to help preserve its value.
Not a good sign for the future of basketball in the Big Easy.
The Hornets remain dangerous, if for no other reason than CP3's incredible skill. While his numbers aren't quite as stratospheric this season as they were in his uber-dominant '07-'08 and '08-'09 campaigns, he's still posting 16.5 points and 9.9 assists a night in a modest 34.8 minutes, and leads the league in PER (aided both by a 46.4 percent and 91 percent marks from downtown and the strip, respectively).
At this point, though, would it matter if New Orleans was a rec league team? Losers of three straight, including demoralizing losses to Miami Saturday and San Antonio Tuesday night, the Lakers are totally rudderless right now. The defense has been spotty, and- particularly against quality competition- the offense has fallen off a cliff. However they can manage it, the Lakers need to finish 48 minutes with more points than the other guys. The process of returning to form won't be instant, but it can start in New Orleans.
For a better handle on what's happening with the Hornets, I reached out to Hornets 24/7 and Joe Gerrity for some insight.
1. New Orleans got off to that red hot 11-1 start, but has been a sub-.500 team since. What went wrong, and which stretch is more reflective of where the team really is?
I know this is a tired old cliche, but they what their record says they are. at 18-13 they are on pace to finish with 47.6 wins, just a hair higher than the 47 I predicted preseason. They have quality wins to go along with mind boggling losses. Really, this is what most Hornets fans expected from the team. You have Chris Paul, David West, and ... and ... Nothing against Trevor Ariza, but he's not the player Peja Stojakovic was in 2007-2008. Emeka Okafor has been solid on both ends of the floor so far, but even on his best day he's far from the game changing defender that Tyson Chandler was.
Unless they make a move to bring on a solid third big man to back up Okafor and West, or another star, this team won't be more than first round playoff fodder. Thanks to [new general manager] Dell Demps they have the assets (a $ 9.7 million dollar trade exception and a few younger players) so that they could potentially land such a player. Unfortunately the NBA owns the team and it's unlikely the owners will be willing to pay the luxury tax so that the league owned team (already a playoff contender) can improve. It's too bad, because it wouldn't be complicated to drastically better the team.
2. What has the Jarrett Jack deal done for the Hornets? For CP3 in particular?
Paul and Jack seem to be really good friends, and I mean that not in the "Hey, we're only the same team and friendly in the locker room" kind of way. I went to the preview of the CP3.IV shoe and Jarret Jack was there on the sidelines chilling with Chris Paul. That kind of relationship off the court is obviously a factor in Paul's happiness in New Orleans. On the court he's the second best guard the team has, and right away adds an entirely new dynamic to the team's offense. Much like Paul and Jannero Pargo used to shred defenses in a dual point guard backcourt I would expect that once Paul and Jack get a little more familiarized, they will do the same.
Layne Murdoch/NBAE/Getty Images
I'm willing to be this one went in, but overall Trevor Ariza has struggled mightily with his shot in New Orleans.
3. Defensively, the Hornets have been among the stingiest teams the NBA has to offer, at least in terms of efficiency. What accounts for that?
Monty Williams came in and gave this team a defensive identity, something it really hasn't had since Chandler was healthy in 2007-2008. In particular, he emphasizes team rebounding, and as a result the Hornets are ranked second in defensive rebounding this season. Overall they have gone from 26th to 8th in terms of percentage of total rebounds grabbed. WIlliams also has West and Okafor working much better together inside. It was painful to watch last year, as the Hornets gave up 34% of their shots in the paint. This year they are down to a more respectable 25%.
4. Trevor Ariza is still a popular figure around L.A., but (as he did last year with Houston) is struggling mightily with his shot. How would you assess his performance for the Hornets thus far?
On defense I'm content, but on offense he's just not doing the things that good players do. To start off on a good note, he's performed well in the clutch, nailing a couple of big three pointers. Unfortunately that's the only nice thing I have to say about his offensive game. His shot selection is awful so far, and his shooting isn't any better. Once he decides to score he just puts his head down and rarely, if ever, changes his mind. It's too bad, because he does a few things well. If he stuck to driving when there's a clear lane, and cutting hard to the rim without the ball, he would be a much more efficient member of the offensive unit. What he needs to do in my mind is develop a three point shot (AKA shoot 400 a day until further notice). As it is I would say that I'm slightly disappointed, but not entirely unhappy about the trade that brought him to New Orleans. Darren Collison would have contributed less, and Ariza's defense is good enough where I can excuse the subpar offense at times. Also, he adequately fills an otherwise gaping hole [at small forward]. There's no other option on the roster.
Bonus: From the outside looking in, what's your take on the Lakers?
Oh to have the problems of the Lakers.
Phil+Kobe+Pau+Veterans= Serious contender. The only thing that seems to matter is whether or not Bynum will be available for the playoffs, and if so, will he be in shape to perform at the level expected from him. If the answer to both of those is yes, the Lakers are undoubtedly still the favorites to win the title.
That said, a healthy New Orleans team led by Paul should put a little fear in the hearts of Lakers fans come playoff time. He's a guy who seems to make life tough for Los Angeles. Relatively, that is.