The Lakers aren't just mired in a three-game losing streak. As Brian noted earlier, this particular skid is chock full of disturbing numbers. But really, this nadir is the tip of the iceberg for a team trending downward over the last few weeks. In losses or even wins, the Lakers haven't looked sharp and appear increasingly out of sorts.
With that in mind, I thought it was worth taking a look at some lingering issues as to why the train appears to have gone off the rails. The problems are correctable -- although the team is officially on the clock -- but these are some of the trouble spots:
Pau Gasol's inconsistency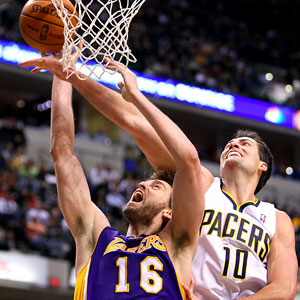 Michael Hickey/US Presswire
Gasol hasn't been dominating around the
rim with ease this season.
It's been a strange season for Gasol. Over the first 10 or so games, he was regarded as a potential MVP candidate. Then Theo Ratliff joined Andrew Bynum on the shelf, which left Pau on the verge of collapse from playing 40-plus minutes most nights. Bynum is back but Gasol remains out of sorts, with performances ranging from outstanding (in Chicago) to worse than the stat sheet would indicate (Christmas Day).
Phil Jackson's cryptic comments about Gasol's indecisiveness and "soft" releases make it difficult to know if his problem is mental, physical or both. (Jackson declined my request to elaborate.) Still, Jackson's statement that Pau's game "has to be effective for us to be consistently good" couldn't be more correct. More than anybody, including Kobe Bryant, Gasol is the difference between the Lakers being good or borderline unbeatable. Beyond the numbers, it's his skills as a triangular conduit, which are even tougher to combat than Bryant's. (Plus, running the offense through Pau makes life easier for Kobe, which in turn makes 24 deadlier.)
For the Lakers to reestablish their identity, Gasol needs to rediscover his.
Not enough from Ron Artest
Artest's mercurial personality often bleeds onto the court, affecting his decisions and consistency. Last season with the Lakers, however, provided the winning formula: a whirlwind impact on defense while negotiating the bumps. This season, despite moments shutting down opponents including Michael Beasley, Danny Granger and Blake Griffin, Artest hasn't been a game-changing force.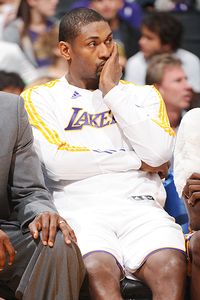 Andrew D. Bernstein/NBAE/Getty Images
Artest has been sitting down the stretch too often for his or the Lakers' liking.
In the meantime, his offense has fallen off a cliff. December has been particularly miserable: 6.2 ppg; 38 percent shooting from the field; 28.6 percent from behind the arc; 60 percent at the stripe. Even taking into account his reduced minutes (26 nightly), these are paltry numbers and big reasons he can't get extended fourth-quarter playing time. And with all sincere respect to Matt Barnes' unexpectedly strong play, if Artest can't regularly close, the Lakers will suffer.
Not enough from Derek Fisher
People gripe about Fisher's inability to stick to lightning point guards, but it's an overblown concern. He finds plenty of other ways to contribute defensively, whether drawing charges or his uncanny ability to break up plays.
The bigger issue is how little Fisher contributes with the ball in his hands. Like Artest, December hasn't treated Fisher kindly. He's shooting just 33 percent from the field and 29 percent behind the stripe, requiring nearly seven shots for six points (rounded up). Fisher's always been a streaky shooter and, quite frankly, last year's regular season wasn't very good, either. In his career twilight, he's around primarily for leadership and clutch playoff shots. A few biggies have already dropped, so I have no doubt a few more tricks reside up his sleeve. But with various teammates floundering, riding out Fisher's expected lulls hurts more.
Not enough from Steve Blake
After seasons of watching Jordan Farmar in score-first mode, we now have Blake operating like a point guard in the truest sense. The success experienced by Shannon Brown and Barnes is due in considerable part to Blake quietly running the show.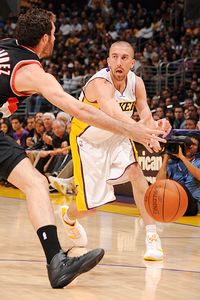 Andrew D. Bernstein/NBAE/Getty Images
Blake's passing has been great, but he needs to shoot more often and more successfully.
A little too quietly.
Blake is averaging just 5.1 points and less than five shots. Worse, his rare launches have turned decreasingly fruitful. His December drop has flown under the radar, but the slump is dramatic in a vacuum and plays a role in this team's recent struggle to put up points. Blake's overall presence is positive, but a few more points each night would make him a bigger part of the solution.
Kobe Bryant's solution sometimes remains doing it all, which rarely works
The latest example came during the San Antonio loss. In what felt like an extension of his Saturday promise to get tough, Kobe tried to beat the Spurs as Lone Wolf McQuade. He made four quick shots, then clanged a boatload. Thirteen misses in a row at one point, and most of the bricks were forced. The approach made it impossible for any rhythm to develop with him on the court. Jackson's response when asked how Bryant's teammates likely felt about him firing away was pretty damning:
"You better ask them. I don't know. I wasn't out there with them. I had to sit on the bench and watch it. If I was playing, I probably wouldn't pass him the ball the next time."
To Bryant's credit, he took the blame, but it's more important he take a lesson. If an increased team-wide onus is the objective, doing all the work is counterproductive. Not to mention harmful. Kobe in solo mode typically equals the Lakers at their worst, a fact cemented on several occasions throughout the years. Bryant likely did more Tuesday to alienate his teammates than inspire or lead them.
Phil Jackson hasn't kept the Lakers on the same page
At times, the Lakers' problem has been a lack of focus. Or a lack of urgency. Or a lack of execution. Or a lack of cohesion. We've seen Fisher rail about a "disrespectful" effort during a win against Minnesota. Kobe called out his teammates as indifferent. Composure was lost down the stretch of the last two games.
Some of the blame for this spiraling situation must be shouldered by Jackson.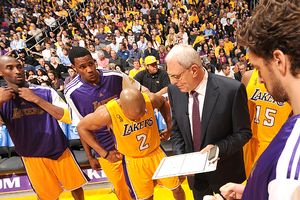 Andrew D. Bernstein/Getty Images
What Phil says to this team off the court will matter as much as on it.
I believe a coach's job is more about the long view. The in-game adjustments matter, but at this level, particularly for a championship-caliber team, a coach's true impact comes in managing the season. The ability to keep his players motivated, focused and on the same page. Jackson has typically been a master at taking a team's temperature and acting accordingly.
Over the last 31 games, I'm not so sure.
For example, when a team already lacks focus, maybe it's not the smartest idea to describe Christmas competition as a chore. Did his statements spark the loss? I have no idea, but it's hard to view the message as timely or constructive.
If the calm exhibited by this Lakers core has been generally credited as an extension of Jackson's mindset, it's only fair the absence of that calm fall at his feet. This will be a test of his skills.
These were my thoughts about the purple and gold blues from an individual perspective. For a look at issues plaguing the Lakers as a unit, I turned to 710 ESPN's Dave Miller, a former assistant coach for the Hornets and several NCAA teams. Here's what has caught his coaching eye the most:
Effort lacking
Last week's losses to the Bucks and the Heat really bothered me because I didn't see a competitive nature at Staples Center. You have to win your games at home, whether you're the back-to-back champions or the New Jersey Nets. There's gotta be something that says, "We're gonna win at home." Everybody has to share that mindset.
The lack of team defense
I've seen individual defense get better, but right now, I'm not seeing the second line of defense. You've got to defend the paint. When Dwyane Wade comes down for a dunk, someone's gotta knock him out. Nothing dirty or flagrant. But he should be thinking, "I ain't going in there anymore." ...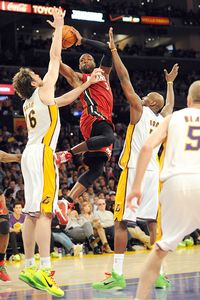 Jayne Kamin-Oncea/US Presswire
According to Coach Miller, this should not have been a recurring scene.
I also don't see people on a string. I don't see people talking. Five guys and 10 eyeballs are needed to corral an elite point guard. It's like that song by Ludacris, "When I move, you move." That's what team defense is. If one guy's not playing within the framework, late on the rotation, or not defending the pick and roll, the defense falls apart. Four players appear involved in the pick and roll to the novice. But there's also the weakside defender that's gotta bump the roll and hope somebody gets his man. When somebody doesn't do their job, a contested shot becomes a wide-open shot.
Finally, it bothers me when I don't see people getting as excited taking a charge or having a shot clock violation as they do when Shannon [Brown] dunks. Championship teams are built on defense.
Too much freelancing, not enough passing
When the Lakers started out 8-0, the ball was moving to the second side of the offense. Against the elite defensive teams like the Heat or the Celtics, I don't care if you're Kobe Bryant, Michael Jordan and Dwyane Wade rolled into one body, you can't beat strong side defense. When you have the ball on the strong side, 10 eyeballs are zeroed in on you. You've got to move the ball and move it to the weakside or the pinch post. You've got to put the defense at the disadvantage. ...
The definition of a good shot is not one that goes in. It's a shot teammates know you're going to take. When you take a shot within the offense, everybody know what's going on. Your bigs now do their work early on the offensive glass and get position to be able to rebound. ...
You have to trust the system. Stick within the framework of what won a championship.