One win doesn't exactly clean up the mess made by the Lakers during a three game losing streak including embarrassing losses not just to top shelf contenders like Miami and San Antonio, but a middling Milwaukee squad as well. Still, Wednesday's victory over the Hornets in New Orleans did back a lot of fans off the ledge, and did plenty of good for the team's psyche as well.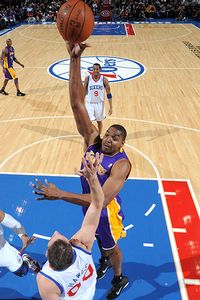 Jesse D. Garrabrandt/NBAE/Getty Images
When the Lakers went to Philly, Andrew Bynum was still on the bench. Now he's back in the starting lineup, for the second time this season.
Friday they're back at it against a Philly squad they beat two weeks ago during the long road trip, but are in position to take nothing for granted, which is probably a good thing.
Here's what to watch...
1. Philadelphia isn't a 13-19 team.
Technically, of course, they are. Keep in mind, though, they started 3-13, so the Sixers arrive at Staples a vastly improved team winning 10 of their last 16, in important news relative to Friday's game, are no longer pushovers on the road. Over the first six games of what will become an eight game trip, the Sixers have a respectable three wins, including games in Orlando, Denver and Phoenix, and a very narrow loss last week in Boston.
The Lakers are definitely the better team, but as it was a couple weeks ago when the Lakers played the Sixers in Philly, this isn't a team to be trifled with.
One reason is balance. Without anyone posting more than Jrue Holiday's 14.8, Philly sports seven guys averaging 8.9 points or better during December. By contrast, the Lakers have four. While it means Philly could be short a defined go-to guy should the game come down to the final seconds (I'd still put a body on Andre Iguodala, just to be safe), it also makes it tough to key on any one player. The Sixers don't exactly pile up points, but will force the Lakers to be honest defensively.
Again, probably a good thing.
2. Andrew Bynum Starts, Part Deux.
Wednesday in New Orleans, the Lakers managed something rarely seen in this day of ubiquitous media, athlete Twitter feeds, and nearly instant dissemination of information: They took everyone by surprise. With the team on the skids, Phil Jackson pulled the cord on the Andrew Bynum chute, sticking him back in the starting lineup earlier than most expected, especially based on Bynum's own forecasts. "We knew we were gonna have to make this move eventually, getting Drew out there on the floor," Jackson said Thursday. Nothing like three straight 15-plus point losses to jimmy a timetable, right? Jackson said he expected a "getting to know you" period, but was pleased at how well Bynum played, and the response of the team generally. As well he should have been, since Bynum had a great game, scoring 18 points on eight-of-12 from the floor, and the Lakers torched the Hornets.
It's always the second game that's more interesting, though. The Sixers won't be surprised by Bynum's presence, Bynum won't have the extra boost of adrenaline coming from suddenly finding himself in the starting lineup (though starting for the first time this season on L.A.'s home floor should help), and for the first time he'll have to play after piling up more than 30 minutes of playing time.
How will Bynum, and more specifically his legs, respond?
Plus, the challenge defensively will be different. Wednesday, Bynum bodied up Emeka Okafor, whose range extends about eight feet from the rim. Maybe. Friday, the Sixers will trot out Spencer Hawes, who gets more shots from 10 feet and beyond (extending to the three point line) than he does near the rim. Bynum will have to be more mobile, and prepared to move quickly from the perimeter to basket, and back again. Even if he picks up Elton Brand from time time, he'll still have to stick a guy with enough range to test Bynum's mobility.
3. So About That Meeting...
Many of the same principles making Bynum's second start perhaps more interesting than his first also apply to the team's second game following the pregame confab before taking the floor against New Orleans. That session wasn't, as my brother put it, "Festivus," (i.e. an airing of grievances), but a reminder to get back to the basics. Like U2 going back to something with cool guitar riffs after Zooropa and Pop.
"Just going back to the basics," Pau Gasol said of the meeting's agenda. "The principles of our defense, our offense. What we need to do in order for this system to work. Team unity is what it comes down to. When you have so many great pieces, so many great talents on one team, so many great individuals, you gotta get them to play together to be successful. Once you do that, the results are gonna come."
Back at home against a (theoretically) lesser opponent, can the Lakers maintain similar discipline? What happens if they hit a stretch where three or four possessions in a row get stalled? Will they backslide? Turn to Kobe and say, "Here, you do it?" (Conversely, will Kobe turn to them and say, "Here, let me do it?") Or will they take those opportunities to get a little more elemental in their approach, displaying a commitment and discipline relative to the principles Gasol described?
In the first meeting against the Sixers, the Lakers were very strong on the defensive end, but played poorly on offense for three quarters before blowing up in the fourth for 35 points. Turnovers were a serious issue. Friday, they'll be looking for a more balanced effort. Jackson says the team understands championship caliber play on a night in, night out basis won't instantly happen, and one great game doesn't mean the Lakers are "fixed," but they, like everyone watching, will look for signs the train is finally on that track for good.