Let's make one thing clear: There is absolutely no reason Friday night's game should have come down to a Lou Williams 3-pointer with under five seconds to play.
Maybe the Lakers hoped to kick off their 2011 before finishing all the business of 2010?
In the end, the Staples faithful got their free tacos ... but they won't taste as good as free tacos should. Here's how it broke down:
Three Up: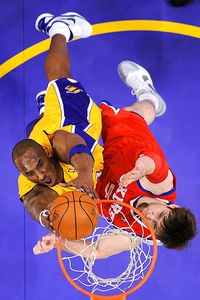 AP Photo/Mark J. Terrill
Whether it was the power dunk or mid-range fadeaway, Kobe Bryant was able to find any shot he wanted against what was generally single coverage from the Sixers.
1. Kobe Bryant. He had it going tonight, no question, and did most of his damage heading to the basket, whether catching in the post and victimizing (at different points) Jodie Meeks or Philly rookie Evan Turner or working off the high screen to create penetration. On some nights, the opposition will throw the kitchen sink at Bryant in an effort to force the ball from his hands. Tonight, though, Doug Collins generally chose to play it straight, perhaps hoping to turn Bryant into a volume shooter. Didn't work, as Bryant was able to pile up a host of quality looks, often against fairly helpless defenders. In the first half, Bryant scored his first bucket on a nearly uncontested finger roll driving the lane. Later, he'd posterize Andres Nocioni with a hard two-handed jam, again taking advantage of a lane parting before him like Moses at the Red Sea.
I realize Charles Barkley keeps saying Bryant isn't the same guy he used to be, but he's not exactly geriatric. Gotta stop the ball, people!
In the second half, when the Sixers made the game much closer than it should have been, Bryant was able to continue getting good shots from places he likes to shoot. Mid-range jumpers, working the pull up. Bryant did have a few moments in the first half when his game got a little showy -- an ill-advised three and some unnecessarily fancy ballhandling, and a fourth quarter TO with 1:30 to play helped the Sixers tie the score, but he more than made up for it on the next trip with a strong drive on Turner, pulling up for a big baseline jumper, then icing the game with two late free throws. The final line was a very controlled 33 points on 13-of-24 from the field.
I asked Kobe if he was surprised the Sixers played him so straight. "Different teams have different principles," he said. "Some come all out and double, some try to zone up. Tonight, they had guys there. They were waiting on penetration, or kind of just playing a zone. But when my mid-range jumper is going, you've gotta come get me." I get the pick-your-poison dilemma teams face against the Lakers, particularly one like Philly, undersized and particularly vulnerable when they sell out on one player... but how on earth do you leave Evan Turner alone on Kobe Bryant on a critical trip in the final minute?
That's just not fair to the kid.
2. Pau Gasol. It was a good night for stars. Gasol got going early with a series of mid-range jumpers, taking advantage of a Philadelphia defense at times so concerned about L.A.'s size inside they refused to move more than eight or nine feet away from the basket. Later, Gasol would start using his skills closer to the bucket, either exploiting Elton Brand on the block or using his quickness to beat Spencer Hawes off the dribble. The Lakers managed as well to use him, which isn't always the case. In the second quarter, Gasol was able to extinguish a Philly run (there would be others) with a nice move on Brand inside when the double didn't come, and on the next trip found Shannon Brown under the basket when the Sixers brought the extra man.
Gasol was extremely effective from the mid-post, setting up teammates and facilitating the offense. Defensively, he was part of the problem the Lakers had as a team as the game went along, but came up with a huge block on Thaddeus Young in the final minute to help preserve the win.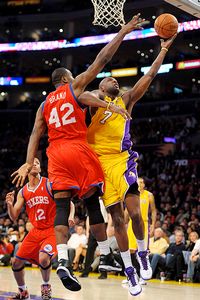 Kirby Lee/Image of Sport/US Presswire
Lamar Odom was extremely effective for the Lakers Friday night, particularly taking the ball inside.
In a stretch of games where consistency has been an issue, it was very encouraging to see him post a particularly Gasolian line- Twenty points on nine-for-12 shooting, plus eight rebounds (five offensive).
3. Lamar Odom. I thought about going with Andrew Bynum, who in his second start of the season hauled in 15 rebounds in about 30 minutes of work. given the mantra thrown at him by the coaching staff -- "defense, rebounding... defense, rebounding" -- to see him aggressively attack the glass on a night where he had a decided size advantage was nice. But it's hard to ignore the efforts of Odom, who again came off the bench and sparked the Lakers, finishing with 18 points on eight-for-13 from the field, plus seven rebounds and four assists.
Odom was aggressive attacking off the dribble, particularly on the break (semi- or otherwise). He had a couple of those classic L.O. moments, stretching out for the old school finger roll like something out of a Sports Illustrated poster I had on my wall in 1983.
We say it all the time: When Odom is very good, the Lakers are very hard to beat. They tested the theory tonight, but once again it managed to prove true.
There were other things to like, from a 45-35 rebounding advantage to a 50-34 advantage in the paint to a quietly effective game from Ron Artest. As mentioned above, this was a game they should have been able to put away far earlier than they did.
Three Down:
1. Turnovers. It wasn't the sheer number -- 15 team giveaways isn't great but won't set off alarm bells -- but the damage they did. Philadelphia turned those opportunities into 19 points, and that's basically what kept them in the game. A stretch of the fourth quarter provides a perfect illustration. After Odom dropped a nice layup inside off a Matt Barnes feed, the Lakers had what seemed like a comfortable 11-point cushion. From there, it got ugly. A terrible possession nearly saw them throw the ball away before the Sixers earned a shot-clock violation. At the other end, Williams drilled a three. Barnes has the ball stolen by Turner, turning into free throws for Jrue Holiday at the other end. Another turnover for Barnes ends with Young and two tries at the line.
Suddenly, 11 points was down to three, and it was a ballgame.
As I mentioned before the game, the Sixers, while a bad team record wise (they're now 13-20) aren't a bad team these days on the floor. Give them a nudge in the right direction, and the Sixers are dangerous. The Lakers obliged.
2. No Knockout Blow. "There were too many mistakes," Phil Jackson said after the game. The Lakers started strong, holding Philly under 20 points in the first quarter, but that was the high point. While they were able through the first three quarters to push back when the Sixers made runs and generally kept the game at a comfortable seven-to-10 point margin, the Lakers didn't bury them, and certainly could have with more attention to the defensive side of things. Rotations were slow, switches weren't crisp, penetration was far too easy. Communication seemed strong on offense, but not at the other end.
With a sustained stretch of defense in the middle quarters, the Lakers could have put this game away. Instead, it nearly went away.
3. Derek Fisher. At the end of the first quarter, every Laker not named Derek Fisher combined to shoot 12-for-18. Fish wore a donut in five tries. He'd miss two more jumpers before it was done, and in his last game of 2010 didn't register a field goal. He did log four assists, but an oh-fer in seven tries makes one cringe, and he (like everyone else) struggled to prevent Philly's perimeter players from penetrating off the dribble.
Much more to come.