Happy days will come again for Lakers fans, or at least that's the hope, perhaps starting as early as Tuesday night's game against Detroit. But they're not here, now. Having suffered three of the worst home losses in the Pau Gasol era over their last four games at Staples, the Lakers were back on the floor Monday with a serious to-do list. Some of the fixes are pretty obvious- clean up the turnovers, cut down on transition opportunities, and depending on how much you buy the complacency thing, try a little harder.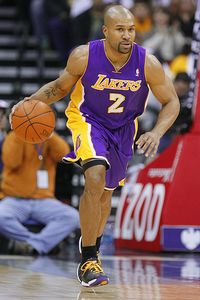 Jim O'Connor/US Presswire
The Lakers have been a bad team outside the paint of late, in part because of a slumping Derek Fisher.
But there are some systemic problems with the Lakers that, while not completely divorced from, are not necessarily related directly to effort. With a Magic Johnson-sized assist from the folks at ESPN Stats and Info, here are five numbers illustrating some of L.A.'s more pressing issues:
1. -26.67 (Efficiency differential out of the paint over the last six games): We all know the Lakers suffer when they don't effectively exploit natural advantages on the post, whether with Pau Gasol, Andrew Bynum, Lamar Odom, or Kobe Bryant, but it's not all about what happens in the lane. The Lakers are getting absolutely housed outside the paint, from an efficiency standpoint. Five of the team's seven worst showings outside the paint relative to the opposition have come in their last six games, and the trio of lopsided home losses have been particularly horrid. -35 vs. Milwaukee, -32 vs. Miami, and -37 Sunday against the Grizzlies.
Via HoopsStats, the Lakers have played 16 games where they've lost the efficiency battle outside the paint, and lost 10. In the 18 games they've come out ahead, L.A. has 17 wins. The Lakers must become more productive from mid-range and the perimeter. Which leads to...
2. 29.8 percent (Lakers' three point shooting over their last six games): Early in the year, the Lakers were launching and landing triples like something out of a video game, one of two things was clear. A) the organization had sold its soul to the Steve Kerr Distance Shooting Gods or B) the percentages were unsustainable. I'll go with B (though reports of Mitch Kupchak and Phil Jackson sprinkling rose water on ball racks and old Bulls footage before placing them on an alter behind the facility in El Segundo can't be dismissed).
Except it's one thing to stop making upwards of half your threes as a team, and entirely another to drop below 30 percent. Over their last six games, the Lakers haven't managed to crack the 35 percent mark once. No wonder only one time over that stretch- in New Orleans- have the Lakers passed their season mark for offensive efficiency of 108.1 points per 100 trips. Four times they haven't cracked 93. The Lakers have won consecutive titles without being a great three point shooting team, but they can't be a horrible one, either. Not exactly a straight line to, but still not disconnected from...
3. -11.4 (efficiency differential for Lakers point guards): This is sticky territory, because The Point Guard Problem is now so ingrained in the consciousness of Lakers fans, it often gets misinterpreted. The line is basically this: Derek Fisher gets destroys the Lakers because he can't defend quick point guards. This part of the problem is totally overblown. When Fisher hurts the Lakers, it tends to be at the other end. Last season, Lakers point guards finished 30th in efficiency differential by position. Until the NBA comes up with a 31st team, it's hard to be worse. Except this year, L.A.'s PG's are still 30th, but instead of a -7.9 figure the combination (more or less) of Fisher and Steve Blake is -11.4.
John Hollinger pointed out a few of their problems in his Per Diem column the other day. Too many turnovers, not enough production, particularly inside the arc. Unfortunately, both have slipped from downtown, as well. Fisher's splits have taken an ugly turn, from 47 percent in November to 29.6 in December. Blake has dropped from 41.7 percent to to 33.3 percent. If the combination can't be a reliable spot up shooting threat, the team's offense suffers greatly.
4. 92.2 (average number of possessions per game over their last 10): Via Stats and Info, the figure drops to 91 over the last six vs. 94.8 over their previous 28. Compare it all to the first 10 games, when the Lakers averaged 98.9 possessions a night. Chalk up some of the disparity to scheduling (L.A. played almost exclusively high speed teams in the early going), but not all of it. For the Lakers, it's not about getting up and down the floor like the Seven Seconds or Less Suns, but letting the team's skill work for them by using the break when it's available and getting into the offense faster than the defense can set up. Earlier in the year, when the offense was humming along at a much better clip, they were quick even when they didn't run, using their skill and versatility to push pace and enter their offense faster. In the process, they created cross matches, forced defenses to adjust faster, and gained cleaner looks whether the shot came early or late in the clock.
Blame some of it on problems at the other end, since the Lakers aren't consistently playing enough good defense to effectively speed up a game, but over the course of the season they've become a progressively slower group. This would be among the easiest adjustments for the coaching staff to make in an effort to help the Lakers get back on track. Pick up the pace.
5. .397 (Ron Artest's shooting percentage): Last season, Artest wasn't exactly a stalwart offensively (though until hand injuries became a problem, he was among their more consistent outside shooters), but rose up defensively to alter games by impacting the best players on the opposition. This year, he's been worse on both sides of the floor. At 34.2 percent, he's not a reliable option from beyond the arc, and overall he's under 40 percent. He struggles to play inside despite serious size and strength because he can't elevate, leaving him about as vulnerable to weakside shot blockers as baby chickens are to foxes.
His per 36 minute numbers are almost uniformly down, too, from scoring to assists to rebounds to free throws attempted. Add his lack of production to the problems with the point guard, and suddenly the Lakers are too often playing five on three. They can get away with it when Artest is performing as a shut down defender, but right now he's not. So what do they do with him?
The good news is many of the problems are inter-related. Address team defense, and transition offense improves. Pick up the pace, and better shots are likely to follow, with rising percentages from the perimeter. Whatever corrections will have to come, though, against quality competition. At .536, the Lakers have the second toughest schedule in the NBA, measured by opponent's winning percentage.