The Lakers recently made mincemeat of the Hornets down in the Big Easy. They're also showing signs of life after a malaise giving pause to players, coaches, fans and media alike. A victory this evening would represent a nice continuation of the trend on both counts. Here are a few things to keep an eye on after the ball is jumped.
Pau Gasol
Another day, another opportunity to spend wondering what the heck is up with El Spaniard?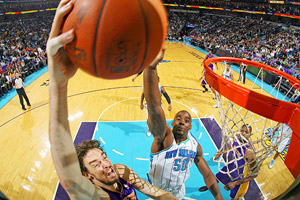 Chris Graythen/Getty Images
Pau needs to duplicate a recent strong
showing against N'Awlins.
These are not the greatest of times for Pau Gasol, decidedly earthbound after a ferocious start. There have been spikes (most recently Tuesday against the Pistons), but by and large, the last month and change has largely yielded performances below standards. His splits are trending decidedly downward, with an admittedly small sampling in January seriously alarming. (His increased turnover rate in this same month is also a "yikes!") The decline has been notable enough for Brian to pose the legitimate question of whether Gasol, currently third among forwards in voting, actually deserves an All-Star nod.
(For the record, as of today, I would be cool with Gasol making the team as a center. He's spent enough time at the spot and the cupboard beyond Andrew Bynum -- who missed a lot of games -- and Nene for legit candidates is pretty bare. But without a very strong close to the month, Lamar Odom, Kevin Love and Blake Griffin should all make the cut before Pau, and dudes like Luis Scola, Paul Millsap and a hard-charging-of-late LaMarcus Aldridge could even nudge him.)
In the meantime, the speculation game runs rampant with Pau. Is there an undisclosed physical issue, which could explain his lack of aggressiveness attacking or protecting the rim or his typical effectiveness as a conduit for the offense? Is he still gassed from the extra minutes picking up in Andrew Bynum's absence? Is there a problem off the court, which could explain a wandering mind and an often floating presence through games?
Is he unhappy with his role or a lack of touches? Unhappy with Phil Jackson, since Kobe did mention Gasol by name when citing the need to understand how PJ coaches through the media. Unhappy with FX's decision not to renew Terriers? (Oh, wait. That's what I'm unhappy about.)
Or maybe it's just a case of good old fashioned poor play. Nothing more, nothing less.
Whatever is the cause of this slump, the effect is being felt by the Lakers. This team's proficiency is arguably swayed in either direction by Gasol more than anybody on the roster, even those named "Kobe" or "Bryant." They may be on a two-game winning streak of quality victories, but bottom line, the defending champs will have an extremely difficult time keeping the O'Brien in L.A. without Gasol at peak efficiency. This funk must be snapped, and ASAP.
Gasol was among those killing it while the Hornets were stomped, but as Phil noted at Thursday's practice, David West in limited minutes due to a turned ankle helped the cause tremendously. Gasol will likely spend bigger minutes pitted against the two-time All-Star, and will have to step up his game on both ends of the floor.
Particularly if...
Lamar limited?
As I reported from yesterday's practice, Lamar Odom's hardwood collision against the Suns left his left shoulder considerably worse for the wear. He's expected to give it a go, but Jackson has already anticipated some limitations in effectiveness. (For a player as ridiculously south-pawed as LO, full range of motion with his left shoulder is pretty important.) Depending on what LO can offer, particularly if Bynum or Gasol experience foul trouble, will Jackson need to alter his strategy on some level?
Maybe going intermittently small with Ron Artest at the four (which isn't a horrible matchup against the 6' 9" West, by the way.) Going even smaller at times with Matt Barnes at power forward, if speed is needed more? Bigger minutes for Luke Walton? Would Derrick Caracter or even Joe Smith get dusted off?
All things being equal, status quo will rule the day. But this could be a day to expect the unexpected, so everyone better be on the toes.
Turnovers
The Lakers may have beaten down the Hornets in their house, but they nonetheless pushed their luck in the process by turning the ball over 20 times. That's generally not a way to win on the road. Frankly, it's not a way to win at home, where the Lakers actually been worse taking care of the ball (14.9 on the road vs. 13.2 on the road). Meanwhile, the Hornets sport the league's eighth-best opponent turnover rate to begin with. Chris Paul leads the league in steals (nearly three per contest) and Lakers fans won't be surprised to hear Trevor Ariza ranks a solid 15th.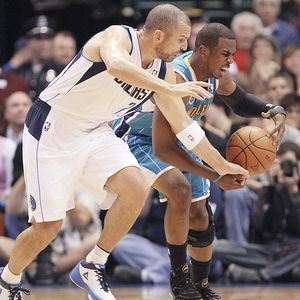 AP Photo/LM Otero
Beware Chris Paul and his sticky fingers!
Despite evidence to the contrary last week, the Hornets are among best defensive teams in the league. Only 991. points allowed per 100 possessions, good for fifth in the Association. Opponents shoot just 44. 4 percent (ninth in the league), and their defensive rebounding rate of 77.02 places them just behind Orlando for top dog status, meaning second chance opportunities may be scarce. In other words, putting points on the board could be a chore under the best of circumstances. The Lakers must avoid making the task even harder by coughing up the ball and wasting possessions.
And finally, D.J. Mbenga will receive his championship ring from last season before the game. Jackson guessed that team captains Kobe Bryant and Derek Fisher will present the jewelry to their former teammate.