The results are in for Matt Barnes' MRI, and they aren't good. He has a tear in the lateral meniscus of his right knee, and will require surgery. The procedure will be performed early next week, at which point the Lakers will have an idea about a timeline for his return.
(UPDATE: Barnes just tweeted: "I told you guys I'd keep u posted, I have a tear in my meniscus ill be out 8 weeks I have surgery scheduled early nxt week.." Bear in mind, the timetable offered by Barnes isn't definitive, particularly before the operation, but it probably reflects the estimation he was given. Hopefully, the doctor was guesstimating on the cautious side. AK)
Barnes left Friday's game against the Hornets in the second quarter and, for reasons that are certainly very clear at this point, didn't return.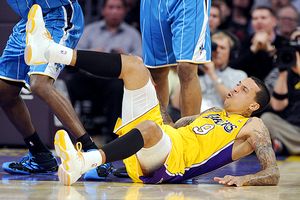 AP Photo/Mark J. Terrill
It didn't look good when he hit the floor, and it wasn't. Matt Barnes will undergo surgery early next week to repair a torn meniscus in his right knee.
The injury is significant for the Lakers. Last season, they had a serious hole at small forward, behind Ron Artest, to the point Kobe Bryant served as Ron Ron's primary backup. Phil Jackson said this morning before practice an extended absence from Barnes would mean more minutes at the three for Bryant, as well as increased playing time for Luke Walton and the return of Devin Ebanks from Bakersfield, where he's been playing with the D-League's Jam. (In a sign the Lakers may have braced for bad news, Jackson said Ebanks was on his way back even before Barnes' results were in.)
As a team, the Lakers lose a key member of the bench, along with a dose of quickness and athleticism. Not a positive development for a team relatively lacking in both, and sometimes requiring reminders to pick up the pace. Barnes' ability to effectively cut and hit the offensive glass has been a huge boost, whether playing with the starters or reserves. His flexibility as a defender offers Jackson more options to match up with a wider variety of opponents. Now, the Lakers likely return to a rotation closer to what they used last season. Kobe is obviously comfortable on the wing, and when I asked him today if he'd have any trouble picking up extra minutes right now, his reply was pretty plain:
"No."
And there you have it.
Many Lakers fans are dusting off their pitchforks, checking and then re-checking their torches for proper flammability in anticipation of more playing time for Walton, a perennial object of scorn. Still, he's a guy who knows the system, has utility as a facilitator of the offense, and for what it's worth is itching for a chance to contribute regularly. That said, Walton won't play nearly same number of minutes as Barnes, just more than he has to this point. Steve Blake and Shannon Brown will need to pick up the slack as bench scorers. (Particularly Blake, since it's neither fair nor wise to ask Brown to crank up his offense more than he has. When he presses for points, Brown's decision making suffers.)
In the end, the guy who faces the most pressure in Barnes' absence is Artest. His minutes, down from nearly 34 a night to just over 27 this season, are sure to rise, meaning the signs of life he's shown over the last three games will need to be something more than temporary. The Lakers had gained a killer security blanket to mask what has been a down year for Artest, thanks to Barnes. Now, should Artest underperform, the impact will be greater.
For Barnes, it's a particularly tough break. He'd been playing arguably the best ball of his career, and seemingly found a niche with the Lakers. Hopefully he won't be out all that long.