It's been a long time coming, but Lakers vs. Knicks finally has a little cachet again. New York, after a 3-8 start, now sits at 21-14, having won three straight, including a very strong win earlier this week against San Antonio at the Garden.
Those Spurs, I hear, are pretty good.
Nor are the Knicks all that lopsided, having actually won more games on the road (11) than at home. As is customary for a Mike D'Antoni squad, the Knicks play fast (averaging a robust 99.2 possessions a game, second in the NBA), pile up points (108.1 ppg, tops in the league), and do it with admirable efficiency (108.8 points per 100 possessions, good for third).
Defensively, call it either a work in progress or par for the course with a D'Antoni squad. Either way, they're in the bottom third in efficiency.
They're also not terribly bulky. Where the Knicks have an advantage with outside shooting and athleticism up and down the floor, the Lakers have more size than New York ought to be able to handle. "They're playing at a high level. Their offense is clicking right along, and seemed to go by the [Danilo] Gallinari injury [he'll miss the game with a bad knee] without a hitch. [Wilson] Chandler and [Raymond] Felton are playing really well, and the addition of [Amare] Stoudemire has obviously been a big boost," Phil Jackson said Saturday.
"We have to impose our will on the game. If they impose their game on our team, it's going to be a long night for us. They're going to score a lot of points."
Stoudemire, making an early argument for MVP, is the catalyst for everything the Knicks do, averaging 26.3 points, nine rebounds and 2.3 blocks per game. He's obviously a player with whom the Lakers are familiar, but the rebuilt Knicks as a group are more a mystery. To get a better handle on Spike Lee's crew, we spoke with Jared Zwerling, part of ESPNNewYork.com's coverage of the Knicks. For his full breakdown, click on the podcast link to your right.
Lovers of the (type-)written word, read on ...
What you need to know about the Knicks, courtesy of Jared Zwerling:
1. They're not a great defensive team, but the Knicks hawk the ball:
"It's their athleticism and length. They're leading the league in blocked shots, and that's just due to great reaction time and athleticism. They might be late on some of the back picks and cutting, but they're getting to the basket quickly and blocking shots. Ronny Turiaf's done a great job. Against the Pacers, it was a very tight game but Turiaf had six blocks in that game -- a great one on Darren Collison with about 30 seconds to go which really sealed the game for the Knicks -- so I would credit length and athleticism. But against very skillful, good half-court teams like the Lakers and Celtics, the Knicks struggle a little bit, and I think it's probably due to size, first of all. They're getting beat with bodies. Off penetration, I think the Knicks do a bit of a better job blocking shots off the guards, but against the big guys, that's really where the Knicks have a big hole."
2. Expect the Knicks to go small, rather than try to match L.A.'s size:
"They've been playing better smaller, but against the Lakers, Turiaf will work really well in that system. Against Andrew Bynum, obviously against Pau Gasol, his size will really help. I think in those kinds of games, you need a guy like Turiaf starting for your team. But Mike D'Antoni has said to the press and to all the fans that scoring efficiency is a very big concern for him. When he goes small they get that done. When he has a taller lineup, when [Timofey] Mozgov started the season and Chandler was coming off the bench, they weren't scoring as much and they were losing some games. He brought Chandler back into the starting five, and they got that jump into the scoring early. First-quarter scoring for the Knicks was a concern. ... They just weren't getting good jumps and the lead early in the first quarter, but now they are."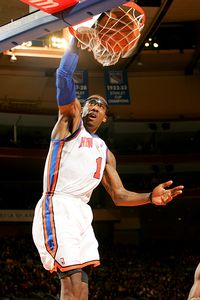 Jeyhoun Allebaugh/NBAE/Getty Images
Dunks are nice, but if the Knicks can spring Amare Stoudemire for some open jumpers, they could have some success Sunday vs. the Lakers.
3. Christmas Day could provide New York with a blueprint:
"The Heat did a great job of penetrating with [Dwyane] Wade and LeBron [James], and getting [Chris] Bosh that 15-foot jump shot, and that really hurt the Lakers. If the Knicks can get into the paint and get Amare in that little jump shot range, he can hit that. He's been hitting it. That's the biggest thing with Amare this year, is that his jump shot has been unbelievably improved. He works on it for 45 minutes after practice. If the Knicks can get penetration and kick it out to Amare for that 15-foot jump shot, I think that will really help them."
4. Pay attention to Landry Fields (he's more than the NBA's most versatile name, as Andy and I note in this week's show):
"He plays the whole field very well, no pun intended. He does it all, and he does it very silently. You look at the box score -- 10 points and maybe seven rebounds -- and you're like, that's so-so. But you really have to watch the game to understand Landry Fields. You can't just look at a box score and understand his game. He's a nuance kind of guy. He's very good at backdoor cutting, he's very good at offensive rebounds, and putting up the putback dunk. His timing is exquisite. His jump shot has to improve. His 3-point shooting has actually taken a back seat from the first half of the season and his shooting has to get better, especially in D'Antoni's system. But he does all the little things. He's a very underrated passer. ... He's a very smart guy."