The holidays have come and gone, but it's finally beginning to look a lot like Christmas for Lakers fans. L.A. has won four straight, most recently Sunday's thrashing of the Knicks, and six of seven overall, and look like a different team than the one taking it on the chin at home last week against the Grizzlies. More aware, more committed to tasks at hand.
Not to say the Lakers have hit their championship stride yet, but it appears they've finally started running.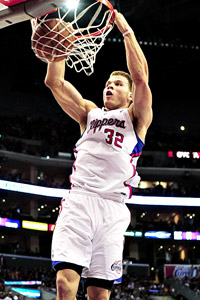 Stephen Dunn/Getty Images
Welcome to the (double-double) machine.
Still, while the Lakers are unquestionably playing better ball, the schedule maker has still been relatively kind during this winning stretch. Take away a legitimately dangerous Knicks team and you're left with home dates against the Sixers and Pistons, two against a New Orleans squad that isn't a pushover but is also 11-15 following an 11-1 start to the season, a game in sagging Phoenix. Not a run of pushovers, but hardly Murderer's Row, either.
Things will get tough fast, though, in the very near future, which is why this week's slate of games -- all against teams wallowing well under .500 -- is so important. The Lakers need to keep momentum heading into the teeth of their calendar, but also can't afford to give away any games against a shrinking pool of, to use Ron Artest's description of the Pistons, "under average" opponents. It's a busy week with four games, but by all rights the Lakers ought finish it with four wins.
Here's how it lays out:
GAME OF THE WEEK
Sunday at (as it were) the Clippers, 12:30 p.m. PT
Or, if you prefer, the L.A. Blake Griffins. With 23 points and 12 rebounds in the LAC's 105-91 win over Golden State Sunday afternoon, the top pick in last year's draft ran his streak of consecutive double-doubles to 23. On the season, Griffin is averaging almost 22 points and 13 rebounds, while shooting 52 percent from the floor and adding an impressive 3.3 assists. Forget "pretty good for a rookie," these are big numbers for anyone.
In the process, he's managed to do all sorts of amazing things:
1. Make anything Clipper-related relevant on a national level again. Usually cast in the Washington Generals role on the evening highlight shows, Griffin has single-handedly increased the number of positive LAC clips by a factor of about eleventy billion. He will be rookie of the year, he will almost surely win the slam dunk contest, and -- beyond the rookie/sophomore game, could very well make the All-Star team, too. People check in on the Clippers for reasons beyond lawsuits and draft lotteries.
2. He's made Baron Davis give a hoot. A great observation -- not mine, but Andy's. And he's right. In the last few seasons, the start of the new year was right about the time Baron would check out for good, despite rhetoric about being a leader, turning the franchise around, and so on. This year, whether because he realizes playing with Griffin could make him look relevant again (cynical view) or because he's actually excited again about playing ball (more positive take), or perhaps something in between, Davis' game has taken on new life.
And by that, I mean it actually has life.
3. He has the Clippers winning games again. After a 1-13 start so bad I wondered on our Saturday show if it represented a rock bottom for the Clippers as a franchise, which is saying something, the Clippers have played .500 ball. Over their last 10 games, they've been even better, with seven wins.
Actually, this part isn't all that shocking. A committed Davis, reasonably content to be the third-best player on his team, matched up with Griffin and the rapidly improving and already very good Eric Gordon is the core that had the Clippers mentioned as a dark horse candidate for a playoff spot before the season. DeAndre Jordan is rallying on the glass, notching five double-digit rebounding efforts in his last seven games, including a 20-board performance Jan. 5th in a win over the Nuggets. And so on.
Put it all together, and the Clippers represent a legitimate challenge for the Lakers, particularly in the wake of the first meeting between the teams, an ugly slugfest in which neither team seemed particularly sharp. It was, though, one of the better games for Ron Artest this year, who used his size to frustrate Griffin for those parts of the evening he wasn't strapped to the bench with foul trouble. And, of course, for Derek Fisher, who won it on a play I suspect had even his wife and kids afraid to look until the ball went through the hoop.
OTHER GAMES
Tuesday vs. Cleveland, 7:30 p.m. PT
Remember all the hype last season when the Cavs came to town? Now take that game, remove any possible reason for people to find it interesting, and you have what is: technically, L.A.'s chance to exact revenge on its home floor for last year's theft of yuletide cheer.
The Cavs open the week as, based on winning percentage, the worst team in the NBA. Eight victories against 29 losses, and scarily enough, almost all the success was front-loaded. At one point, the Cavs were a respectable 7-9, but post-LeBron pluck only gets a team so far. Since, Byron Scott's crew has lost 20 of 21. Anderson Varejao is out for the season, while Daniel Gibson and Anthony Parker missed Sunday's game in Phoenix because of injuries. When those guys play, the Cavs are still terrible. When they don't ... well, you get the picture.
Wednesday at Golden State, 7:30 p.m. PT
As it is against Phoenix and the Knicks, the Lakers hold such a natural advantage over the undersized Warriors that they ought to be able to handle whatever challenge Golden State throws at them. And while their record (15-22) may not be sterling, the Warriors win more games at home than they lose (9-6), and will be well rested after a Sunday afternoon loss to the Clippers.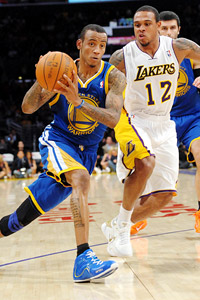 Jayne Kamin-Oncea/US Presswire
Monta Ellis has been lighting up the NBA for Golden State this season.
Interestingly enough, the Warriors still have a rep as a helter-skelter, up-and-down squad that doesn't play any defense. This isn't entirely true. Under Keith Smart, the Warriors average over five fewer possessions a game (95.2 vs. 100.4 a year ago), score over seven fewer points (1o1.7 vs. 108.8) and are about five points worse from an efficiency standpoint now than a season ago ... and still don't play any defense. GSW's defensive efficiency has actually slipped from 108.1 points allowed per 100 trips in the final year of Don Nelson to its current 110.9.
Still, with Monta Ellis, Steph Curry and Dorrell Wright -- averaging 16.5 points -- in the lineup, Golden State has the firepower to make any game interesting. This game, combined with Tuesday's tilt against the Cavs, amounts to a test of the Lakers' discipline. If, as they did against Phoenix and New York, they can control the pace of play, the Lakers will win. And they'll be better equipped to do so mentally and physically by taking care of business the night before against Cleveland.
Friday vs. New Jersey, 7:30 p.m. PT
Somewhere, someone could very well be cutting up a Jordan Farmar retrospective, as L.A.'s former PG returns for the first time to Staples Center since signing last summer with the Nets. He'll bring with him Sasha Vujacic, who has found in New Jersey the playing time he sought and couldn't get in Los Angeles. In 11 games since the trade, Sasha has averaged about 26.5 minutes a night, over five times what he was getting with the Lakers, averaging 10.6 points per game. His shooting percentages aren't good (38.7 overall, 36.7 from downtown), but Newark seems to dig his energy, and it's not like the Nets, at 10-27, suffer much with him in the lineup.
Hopefully he'll pick up his numbers as the season goes on and find a home somewhere next year. As much as we liked to tease Sasha -- and we really, really liked to tease Sasha -- he's a hard-working player who merits a chance to establish some value in the league.
As it was last season with Trevor Ariza, I suspect Farmar and Vujacic will be incredibly keyed up to play at Staples with an opportunity to shine. Wouldn't shock me to see both, and particularly Sasha, struggle as they press a little too much.
Finally, it's possible the Nets could look completely different by Friday, thanks to a potential trade in the works for Carmelo Anthony, but I'm still a little skeptical on the proposed deal. As ESPNNewYork.com's Chris Sheridan writes, there are still some very large, very important questions as yet unanswered about the how and why of Melo in Jersey. Wouldn't shock me at all to see the impending deal once again delayed for a few weeks.
PLAYER TO WATCH
Artest.
Matt Barnes estimates he'll miss around eight weeks after surgery Tuesday to repair a torn meniscus in his right knee. His absence changes things for a few guys -- Kobe Bryant will slide to the three from time to time and will likely see an uptick in his minutes, Shannon Brown will be asked to score a little more off the bench and Luke Walton will get a chance to contribute -- but the spotlight really goes back to Artest.
He's shown signs of life on both ends of the floor over the last week or so, but the Lakers won't be working with what has amounted to a safety net for Artest in the form of Barnes, meaning Ron's slump must truly end. Phil Jackson said before Sunday's game he thinks the challenge will suit Artest, helping focus him and improving his play in the process and leaving him a more consistent contributor.
We'll find out.