Whether evaluated based on the competition or their own level of play, this was easily the Lakers' best win of the season. A buzz permeated throughout Staples Center from the opening tip, and the defending champs proved themselves worthy of that din.
Three good
Laker frontcourt
Heading into most games, the Lakers boast a notable size advantage, and this game against the Knicks was no exception. Amare Stoudemire and Ronny Turiaf are New York's only bigs of note, and while the former is playing like an MVP and the latter plays his guts out, that doesn't make either guy bigger or taller. After the game, Pau Gasol noted the expectation of those two frequently paired to offer the most beef possible, but that wasn't the case. Still, the Lakers often negate their gargantuan stature and inexplicably opt to play outside-in rather than inside-out.
This wasn't one of those nights.
Andrew Bynum, Gasol and Lamar Odom combined for 51 points, absolutely overwhelming the opposition with length and bulk and contributing heavily to the team's 50 points in the paint.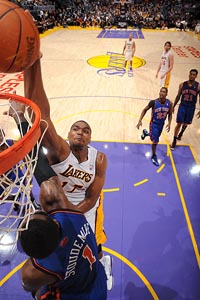 Andrew D. Bernstein/NBAE/Getty Images
Now that's a poster!
A matchup against Stoudemire qualified as a true "test" for Drew, still rounding his way into form after a long absence. He's looked progressively better -- particularly since reentering the starting lineup -- but has also never played against someone of Amare's caliber. Well, the night was decidedly "Drew 1, Amare zilch." Several of Bynum's 18 points were at Amare's expense, while Stoudemire required 24 shots to notch 23 points in part because Drew was a demon challenging them. The first half was especially miserable for Amare. Nine misses on 10 tries, with just five points for his troubles.
Had Drew's night not been cut short by a sketchy ejection (more on that later), the night might have turned even more pointedly lopsided.
Gasol nearly had a double-double before the first half ended and despite finishing just five-for-13 from the floor, this didn't feel like a continuation of Pau's recent struggles. He was active and assertive, earning 11 trips to the stripe and forcing the Knicks to account for him even when his touch wasn't spot on. He also pinpointed an alley-oop pass for Kobe from the three point line, reflective of how versatile his contributions can be while at the top of his focus.
In the meantime, Gasol's defensive impact was massive. Four blocks and a pair of steals, plus several altered shots.
As for Lamar Odom, 13 points, plus a game-high 18 boards to complement four assists. Just another quality effort towards what feels like an inaugural All-Star campaign in the making.
Defense
The Knicks entered this game as the most prolific team in the league. 108.1 points on average (created via a robust 47 percent shooting from the field), with a third best 108.8 offensive efficiency. Since overcoming a 3-8 start, they'd failed to reach 100 points on only five occasions, with the lowest total coming in at 90. To say the least, this is a high octane crew, and many a talented defensive unit fails to slow them.
Up to the challenge, the Lakers reminded everyone defensive prowess was in fact their calling card last season. To put it mildly, they wrecked the Knicks on that side of the ball.
For the first time since November 9, the Knicks were held below 90 points and only Landry Fields shot 50 percent or higher among with more than two attempts. The Knicks shot 36 and 32 percent from the field and the arc, respectively. (Heck, they only shot 68 percent from the line!) They were crushed on the glass 61-42, the first and third quarters mustering just one rebound apiece. Whether in transition, around the rim, or in the halfcourt, there were countless examples of Lakers playing "hair on fire" lockdown.
If this wasn't the best defensive performance we've seen from this team this season, I'd be hard-pressed to nominate two superior efforts.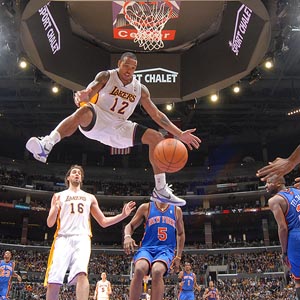 Andrew D. Bernstein/NBAE/Getty Images
Shannon's energy was infectious.
Shannon Brown
He burst of the first half gate with 10 points in under eight minutes, and his energy was a huge spark throughout the night. He rounded out the night with 16 points on eight shots (all sensibly selected, to my recollection), the biggest a twisting corner three just before the third quarter ended. The absurdly difficult basket erased whatever momentum might have come from Bill Walker's 24 second clock-beating trey on New York's final possession of the frame.
Brown's elevation also helped keep a frenzied crowd at their fever pitch. The altitude highlight came when Shannon ran a curl, then found nothing but tumbleweeds between him and the cup. The trampoline act was exactly what one would expect from an unfettered running start.
Three bad
First quarter turnovers
One reason the game was so tightly contested from the outset was the Lakers' carelessness with the rock at the outset. The Lakers didn't just turn the ball over seven times, which in an of itself is pretty ridiculous. They appeared at times incapable of lasting a possession without a gaffe. Within the first three and a half minutes, they'd already turned the ball over five times, and this wasn't a matter of the Knicks hawking the rock with unrivaled success. The Lakers were just sloppy in creating empty possessions. For their part, the visitors converted those seven mistakes into seven points, the chief reason the frame ended with the Knicks down just four (25-21) despite shooting just 34.8 percent.
To be sure, the Lakers were considerably more mindful with the ball as the game commenced, turning it over just six times over the next three frames. But the reason this game didn't begin the same blow out it ended originated here.
Leon Wood
When it comes to quick triggers, even The Sundance Kid never matched this ref's speed while giving Bynum the heave ho. Yes, Drew continued to protest a shooting foul against Stoudemire after the first technical was assessed, and his teammates were trying to shut him up. But here's the thing. It was a terrible call, as Bynum actually blocked S.T.A.T.'s shot and actually absorbed Amare's off-arm in the process. But more importantly, a split nano-second had passed between the first T and the second. In a very heated and emotional game -- seriously, let's hope for a Lakers-Knicks finals -- there has to be a certain amount of leeway for discussion.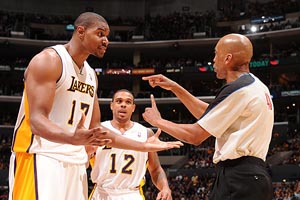 Andrew D. Bernstein/NBAE/Getty Images
Unfortunately, Drew, Leon Wood was in fact serious.
Unless Bynum said something not safe for work while working on the saltiest of pirate ships, there is a responsibility on the ref's part to keep his head as well, too. And according to Bynum after the game, that wasn't the case.
"Yeah, I've only got kicked out of one other game," said Drew in explaining himself. "I'm pretty surprised. You can watch the telecast. You can read my lips. I said, 'Are you serious?' He's a grown man. I don't know if I showed him up or not. I'm not sure.
"He wouldn't acknowledge me. I asked him a question, and he kind of put his head down like a bad lab or something."
FYI. By "lab," Bynum meant "Labradar." Don't be surprised if a fine follows. But at least Bynum will have gotten his money's worth on some level.
Kobe's and Ron's shooting*
Obviously, a combined 12-for-37 is less than ideal, and the majority of misses were provided by The Mamba (who, in fairness, rightly felt the officials didn't give him enough love). But I include the asterisk because both did enough things well to exclude them from a truly "bad" performance. Kobe snared 10 rebounds, dished five dimes, and canned back-to-back triples to help bust the second half open. And Artest's defense, particularly in the second half, was often tremendous. A real force of energy.
(Plus, Artest proved it's actually possible to put hands on an opponent's neck, then later clothesline another dude without actually getting ejected. The first offense earned a T, the second a flagrant-1, but neither prompted an early shower, which is pretty ironic in light of Drew's situation. Granted, I wouldn't recommend Ron repeating the sequence Tuesday against the Cavs, but these sort of learning moments can't go entirely criticized.)