To lose 10 games in a row in the NBA requires a certain haplessness unique at the NBA level. Even the worst teams tend to win 20 percent of their games. That's one in five, two in 10. To do it twice in the space of 21 games? It almost has to be done on purpose.
Alas, I'm sure the Cleveland Cavaliers, with all of one win in their past 21 games, are doing the best they can, but check out the starting lineup Byron Scott was forced to use Sunday night in Phoenix: Antawn Jamison, Christian Eyenga, J.J. Hickson, Mo Williams and Manny Harris. Off the bench? Ramon Sessions, Alonzo Gee and Samardo Samuels. That's it. Anderson Varejao is out for the year; Anthony Parker has a bad back (he'll be a game-time decision Tuesday); and Eyenga hurt his ankle Sunday, leaving him questionable for Tuesday's tip.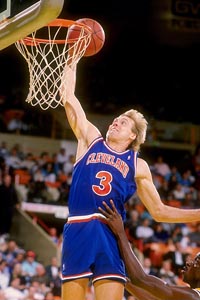 Mike Powell/Allsport
Because the Cavs don't currently offer any standout players to feature in a photo, we offer this vintage shot of Craig Ehlo!
This is a bad team with everyone available. Rob them of "depth," and the Cavs become a traveling band of sacrificial lambs. With the team so clearly in transition in terms short (injuries) and long (post-LeBron rebuilding), the problem goes deeper than a simple lack of talent. Writes John Krolik on TrueHoop's CavsTheBlog.com:
"It's kind of impossible to write about this team right now, because this is not a team with discernible ups and downs, or a series of things it needs to do in order to win games. The team literally has no identity. Its only purpose at the current moment is to showcase the talents of its opponent to whoever may be watching the game. It's time to stop working on the Paper-Mache Winchester Mystery house the Cavs have made this team into and rebuild everything from the ground up, starting with a solid defensive foundation. Right now, this is not basketball."
Not the strongest review, I'd say.
LeBron not only got his divorce but managed to take everything with him. The house, cars, vacation villas, bank accounts and jewelry. It all went to South Beach.
So, like all games against terrible teams, Tuesday's is far more about what the Lakers do. With that in mind, here's what to watch ...
1. Taking care of business. As far as back-to-backs go, Cleveland at home followed by Golden State on the road is about as favorable as they come. Still, although the Warriors are a slower bunch this season than last, they can still turn up the tempo and are a relatively strong team at home. Meaning there could be a little work required in Wednesday's jaunt upstate, and the more rest the Lakers can build into Tuesday's game, the better equipped they'll be to handle it. Mess around with Cleveland, and they risk using energy they'll need, if not Wednesday, then for the other two games this week.
The Lakers have, throughout the season, been a strong first-quarter team, and they likely will get off to a good start against the Cavs. What they don't always get against inferior teams are the big pushes before halftime. The Lakers frequently note how they get every team's best shot, and with Scott's connection to L.A., it's unlikely the Cavs will fold up the tents early, anyway. The Lakers will have to bury them, and it would be nice to get it done before the break. It's certainly doable.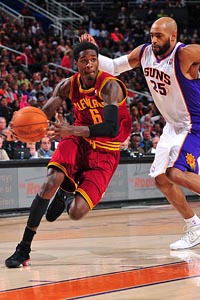 PA Molumby/NBAE/Getty Images
Don't feel bad. We'd never heard of Manny Harris, either, until he lit up Phoenix for 27 points Sunday night.
Avoiding careless turnovers will go a long way toward making it happen. Cleveland ranks near the bottom of virtually every offensive category in the book (save offensive rebounding), so if the Lakers don't give the Cavs free points, Cleveland is unlikely to keep up.
2. Gasol's rebound continues? After Sunday's win over New York, in which Gasol stuffed the box score with 20 points, 14 rebounds, four assists, two steals and four blocks, I asked Phil Jackson whether he thought Pau had turned a corner. "I think so. Just being alert, and thinking ahead. [It's a] process I think he's got to go through; I think he got a little bit numb playing a lot of minutes, and now that he's [playing] shorter minutes, I think it's really helping him be more energetic out there on the floor." Perhaps the most important number in Gasol's night was his 11 free throw attempts, on the heels of a 12-FTA night against the Hornets. He had cracked double digits twice all season to that point.
It's not a perfect measure, but how often a player gets to the line can be a measure of aggressiveness and energy, as well as his ability to work faster (mentally and physically) than the opposing team can defend, all signs of improvement Jackson pointed out. Three of Pau's past four games have been of the quality the Lakers expect and need. Although I'm sure they hope he won't have to rack up many minutes in the process, Tuesday is a prime opportunity to continue building momentum.
3. Second unit evolution. Jackson believes the reserves will quickly evolve as a group, adjusting to the absence of Matt Barnes. Certainly Shannon Brown, with 16 points (including a miracle 3 from the corner to end the third quarter) played well Sunday, as did Lamar Odom (though I still think of him as a sixth starter). But Steve Blake continues to struggle asserting himself, taking only two shots and making neither in his second straight scoreless game. Luke Walton made a couple of nice plays in his seven minutes, but he also turned the ball over once.
Last season, the Lakers had more the myth of depth than the real thing. Barnes helped change that dynamic this season. While he's on the shelf, the Lakers can't afford to devolve very much in that department. Assuming the first item on this list shakes out, it could provide valuable minutes for reserves such as Walton and perhaps even Devin Ebanks and could help get Blake going.