With wins in eight of their last 12 contests, most recently against the Miami Heat, the Clippers are suddenly a team to be taken seriously. Blake Griffin isn't just playing like the runaway Rookie of the Year, but a legitimate All-Star forward. Eric Gordon is among the best guards in the league. DeAndre Jordan is improving. Farouq Aminu and Eric Bledsoe are making contributions as rookies. Even Baron Davis is playing like a dude who cares (which to me absolutely cements Griffin's All-Star credentials, since nobody else has inspired this reaction in 3-4 years.)
A December meeting between the Staples Center roommates was an ugly slugfest capped by Derek Fisher's improbable game-winning layup. Both teams are on a better track, giving the matinee rematch a "must-see" feel. To get a better idea of why the Clips are trending upward, we turned to vice president of basketball operations Neil Olshey. He paid a visit to ESPNLA On Air and offered insight on the team's new dynamic.
The entire interview can be heard by clicking the box to the right, but here are some excerpts:
Olshey, on what's changed over the last 12 games:
"Really, more than anything, it took a while to learn how to win. We were in a lot of games during those first 14 games. I think we lost five or six games by one point. And a little bit of it, we were playing not to lose as opposed to playing to win. You gotta remember, the veteran core we had [experienced] four losing seasons in a row prior to Vinny [Del Negro] coming in. So losing is a habit and it's one we needed to break.
"I think the team meeting Eric Gordon and Blake Griffin called after that Philadelphia loss after we had a double-digit lead kind of raised the bar in terms of how guys are going to deal with each other on the court. We've got a very tight-knit group socially, but they kind of needed to be workers on the floor. And that's what's happened. I think Vinny's done a great job of staying optimistic, being positive, continuing to work.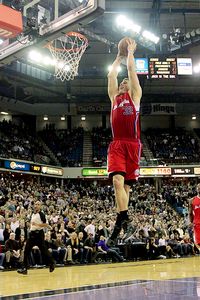 Cary Edmondson/US Presswire
The Clippers are hoping to rise like Blake Griffin.
"The amazing thing is the atmosphere never changed. We were 1-13 and you would have walked in and thought we were 13-1. That was what was important, the team was still competing. They were working. Guys were improving and we needed something to turn it around."
On team's leadership dynamic
"Eric and Blake are the cornerstones of the franchise. From a leadership standpoint, now that Baron is back and healthy and actually Baron again, Baron's the leader because we [were] this great body, with no head. Baron came back and he's kind of the brain of our team. He's the guy that makes sure the guys get the ball in the right spots. I've said this before, all those highlight reel dunks by Blake and DeAndre, there's somebody throwing him the ball to them. He and Eric [Gordon] have found a way to play together. They had issues with that last year because they both like to have the ball, but they've done a really good job of playing in pairs a little bit and complementing one another.
"The leadership, from a building block for the future, it's Blake and Eric, and I think, night in and night out, being ready to go, Baron has a major role in that."
On Griffin's effect rejuvenating Davis:
"This is like a quarterback having a big-time wide receiver. The way that Baron likes to play, Blake complements that. I thought Baron did a great job playing with Chris Kaman. Helped him become an All-Star. He averaged 19 a game. But that was kind of pick-and-pop situations. Baron really likes to get in the lane, throw lobs, be exciting ... Baron has really bought into the fact that Blake and Eric are the future and he needed to find a way to play with them, as opposed to the reverse."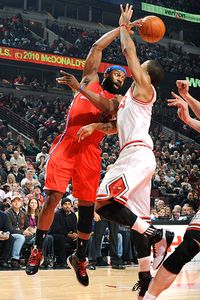 Randy Belice/NBAE/Getty Images
Is it time to fear the beard again?
On the team's unsung hero:
"I think the unsung hero is Vinny Del Negro. I really do. I think that Vinny came into a situation where we had lost for four years. Based on injuries, at one point, he had a starting lineup younger than half the ACC. He knew the organization wanted him to play younger guys. He was open to that, even though most coaches trend towards playing veterans. He's the one that absorbed the losses and a lot of the heat at 1-13, and now that you've got Baron back and you've got the veterans playing again, you can see the contributions that a Farouq [Aminu] and an Eric Bledsoe are able to make in a big-time game in a high-level environment. And I don't think they would have done that if Vinny had just done that back in November when things were going poorly."
Some interesting thoughts from one of the more candid execs in the league. Beyond Olshey's points, here are a couple more to keep in mind:
• Since Dec. 20, Gordon has scored fewer than 18 points just once, and that scoring prowess naturally draws plenty of raves. But his work on the other side of the ball is also pretty impressive. He's turned into among the better wing defenders in the league, a skill set put on strong display this summer.
In the meantime, Kobe Bryant enters this game on quite the efficient scoring roll: 50-plus percent shooting from the field in five of the last six games, and a January at 47.4 percent. His height advantage over Gordon creates an advantage while hoisting jumpers, but Gordon's a strong dude often difficult to post up. I'm curious to see how this matchup plays out.
• In the December meeting, Ron Artest spent the fourth quarter guarding Griffin, and the effect was outstanding. The rookie struggled to get shots off, and Artest stripped him from behind down the stretch to help ice the game. It was a highly entertaining matchup, and both guys are playing better since they last met. I'm hoping there's a rematch at some point in the game.
• Aminu may be contributing, but his shot from behind the arc currently resides on a milk carton. January has featured 12 misses on 13 tries and a putrid 7.7 clip. This wouldn't be a huge problem in a vacuum, except with Brian Cook shelved, the rook is the team's best threat from downtown among those launching regularly. The Clippers don't shoot the ball particularly well from deep as a team (32.9 percent, besting only the Raps). In other words, if they happen to explode from behind the arc, the blame likely lies with the Lakers' attention along the perimeter.