The Lakers, who barely escaped a loss against the Clippers in the season's first meeting between the two teams more than made up for it Sunday, as the LAC outscored them 29-15 over the final seven minutes of the game. A dramatic Derek Fisher finish at the rim wouldn't cut it this time. (A dramatic Derek Fisher Rock'N'Jock eight pointer? Maybe, but not a finish at the rim.)
No question, the Clippers are a vastly improved team relative to the first few weeks of the season, and I'm comfortable calling them the league's best 14-25 team. But they were very beatable Sunday (hence the 12 point third quarter lead for the Lakers, and a seven point lead before the big Clippers' run), and by failing to do so the Lakers added one more game to the list of those they'll need to take back against better competition.
Like the type they'll see Monday, as the Thunder come to town.
After a slow-ish start, OKC has quietly worked its way into a tie with Utah at the top of the Northwest Division, and sit only two games behind the Lakers on the Western Conference playoff ladder. Led by Kevin Durant, on pace to repeat as NBA scoring champ at 28.5 ppg, the Thunder are young, athletic, and as Matt Pinto, radio voice of the Thunder told me and Andy Saturday afternoon on ESPNLA On Air, a more seasoned bunch- if imperfect- than the team put out of the playoffs by the Lakers in the first round last season:
"I think that there's no substitute for experience and this team has a bit more than that. They underwent some injuries issues early which didn't occur at all last season. I think that's made them probably a bit better. They're finishing games much better this season than last season. In games decided by six or less, they're an outlandish 14-3, which is pretty remarkable for a team with the youth on the roster that this one has. On the flip side, they've not been as consistent defensively as they were a season ago. I think they're in the belief that they have a gear they can hit and ratchet up their defensive intensity when the game is in the balance. At this point, they've been able to, for the most part, tap into that and come away on the winning side."
For more insight into the Thunder, I reached out to Royce Young, the man behind the top shelf Daily Thunder blog and hit him with a few questions...
1. The defense seems to have suffered this year relative to last. What's different?
"The big change is that the team isn't consistently good for a full 48 minutes anymore. Last season, the Thunder defended and did it the entire game. This year it comes in spurts. Sometimes it's for five minutes. Sometimes a whole quarter. Sometimes a full half. But they haven't had many nights where it was for the entire 48.
One thing a lot of Thunder fans look at is the departure of defensive coordinator Ron Adams to Chicago. Obviously the players haven't forgotten the schemes, but I think Adams really had a way of holding them accountable. He didn't accept taking even a single possessions off. This season, there are just serious lapses and I think a big part of that is because the team doesn't know how to get snapped out of it."
2. How does the development of Serge Ibaka change the way the Thunder can defend and attack L.A.'s frontcourt, relative to last year's playoffs?
"It's huge because Ibaka gives the Thunder someone than can protect the rim. Ibaka is a pretty good defender, but he struggles some against players bigger than him. It's never for a lack of effort, but his footwork isn't as good as it takes to defend quality scorers on the block.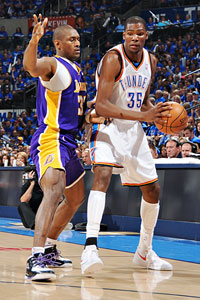 Andrew D. Bernstein/NBAE/Getty Images
Ron Artest harassed Kevin Durant into some poor shooting nights in last year's playoffs. KD can get a little revenge tonight.
The biggest development Ibaka has had this season is the addition of a consistent mid-range jumper. He knocks it down with regularity from 12-18 feet when he's open. So having that option for Russell Westbrook in the pick-and-roll/pick-and-pop game is pretty huge for OKC's offense."
3. How does Jeff Green fit in, both in this matchup and generally? There never seems to be any consensus on whether he's a guy who will be a part of the core going forward, when GM Sam Presti has to start making long term contract choices.
"Really, this is the type of game where Green just isn't very valuable to OKC, especially in his starting power forward position. Don't get me wrong, Jeff Green is a good player. But matching up against Pau Gasol and even Lamar Odom is something Green doesn't do well with.
I think it was Game 3 in the playoffs last season where Green sat virtually the entire fourth quarter because the matchup just wasn't good for him. Against some teams, Green is pretty good at his stretch-four spot because he's a decent inside-out guy. But against a dynamic, gifted post player like Gasol, Green is just overmatched.
I think Green is part of the long-term plan, but for that to happen he might have to be willing to take on a different role in the future. I think Green could be a good starting power forward, but he needs to play next to a more legit big man. Nenad Krstic is a finesse center. Put Green with a good seven-footer that can cover up his rebounding and defensive issues and he might work fine in his current role."
4. The Thunder have been pretty solid on the road. What's one thing that definitely needs to happen for them to win Monday?
"Rebound. They have to rebound.
In games where OKC struggles on the glass, they struggle in general. At times the Thunder can get away with poor defense because of Russell Westbrook and Kevin Durant. Those two can carry a team. At times they can get away with bad offense because the defense can crank it up.
But if they don't rebound the ball, the Lakers might take 20 more shots than them. And give a team like the Lakers that many more looks and it's pretty much impossible to win."
Thanks to Royce for his thoughts. Be sure to check out Daily Thunder for all your OKC needs, and given how competitive this team will be over the next few years, you really should have OKC needs.
One final thought about tonight's game: Turnovers. Obviously the Lakers need to avoid them since TO's can scuttle any team's push for a win, but they'll be particularly damaging against the Thunder, with Sunday's loss representing the cautionary tale. The Lakers only turned the ball over 12 times against the Clippers (14 total team turnovers), but the LAC turned those giveaways into 23 points. Compare that to the Lakers, who converted 11 Clippers handouts into a mere nine points.
Turnovers (along with periodically poor shot selection) fueled the Clippers' 21-13 advantage in points on the break, as well. While they're not a classic fast break team, the Thunder are more than capable of getting up and down the floor, and certainly have the speed and athleticism to take advantage of the Lakers in transition.