Here in LA, stories of shootaround tardiness, practice outbursts, reality television and inelegant word choices from Phil Jackson are enough to qualify as distraction and controversy, and work the media, if not the faithful, into a frenzy.
But this, to use the words of Stanley Motss, played by Dustin Hoffman in "Wag the Dog," is nothing.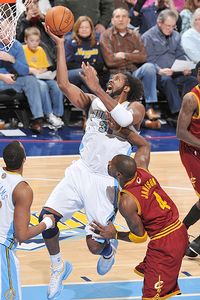 Garrett W. Ellwood/NBAE/Getty Images
The Nuggets have stayed competitive despite a season of huge distractions in part because of Nene, who is playing All-Star-caliber ball.
For real distraction and controversy, head to the Rockies, where the Carmelo Anthony soap opera -- the MeloDrama, as it's known -- has run all season and seems likely to last a while longer, now that the Nets have apparently (at least for the time being) dropped out of trade talks with the Nuggets to acquire the star small forward. Still, despite it all, Denver has remained competitive, particularly on their floor, and hold a 24-17 record and the seventh seed in the Western Conference.
Where the Nuggets land in the spring is a wide-open question, dependent largely on what they do with Anthony. Of more immediate importance is how they'll play Friday night, when the Lakers come to town looking to rebound from a disappointing performance in Dallas and earn a split on their two-game road trip.
To get a better feel for what's going on with George Karl's gang, I consulted Jeremy Wagner of Roundball Mining Company, a one-stop shop for all things Nuggets. He was kind enough to answer a few questions about his hometown squad:
The Nuggets are a perfectly reasonable -- but not dominant -- 24-17 on the season but are awesome at home, at 19-4, tending to maul the opposition in the process. What is it that they do so much better on their floor?
Wagner: The home/road differential has dogged all Denver teams for years, not just the Nuggets. Much of the problem has been a stylistic one, whether it was the Blake Street Bombers for the Rockies, who hammered homer after homer at home but struggled when those homers turned into fly ball outs on the road, or the Nuggets playing at a much more frenetic pace and running opponents off the floor in Denver only to find they were not so successful at rattling teams and getting them to play at their pace on the road.
Under George Karl, Denver has been better on the road, not because they did not run or played differently, but because they placed more of an emphasis on defense. Most fans have a difficult time putting defense and Denver in the same sentence without using a word like "nonexistent," however, the Nuggets have regularly been among the top 10 in defensive efficiency in recent years. Solid defense has enabled them to be more competitive on the road.
This season, Denver has seen its defensive focus and cohesion fall to unsatisfactory levels. The Nuggets are close to falling into the bottom third in defensive efficiency, as you note in your next question, and their opponents are converting on a higher percentage of shots than they have in previous seasons. The cohesion and focus that has been displayed in the past is simply not there this year.
2) The Nuggets are third in offensive efficiency and 18th in defensive efficiency. Are they a better offensive team than they are a bad defensive team? Enough to start piling up wins?
Wenger: I think the proof is in their record. They have played one of the toughest schedules in the league and have a winning record by a safe margin. Denver is seventh in the league in point differential, so their highly efficient offense will enable them to win plenty of regular-season games. However, the porous defense does not bode well for their playoff chances, assuming they end up in the playoffs.
3) Nene has quietly put together an All-Star-caliber season. Not that he hasn't been good before, but what has made him so effective this season?
Wenger: Nene is the same player he has been over the previous two seasons, except for one slight difference: He has learned how to finish more consistently around the rim. In the past Nene would make an incredible move only to shoot an underhanded flip shot and have the ball roll off the side of his hand. As a result, he saw more than his share of makeable shots spin off the rim. This season Nene has finished open looks with more assertiveness, and it shows in his stats. He is converting a high percentage of his shots at the rim, 74.6 percent to be exact, despite a drop in the percentage of those shots that are assisted.
His post game has matured to the point Nene has confidence against any defender. He is comfortable finishing with either hand, and the 15-foot jumper he has worked on for years is now a consistent weapon, helping him at the free throw line as well, where he is converting a career high 76 percent.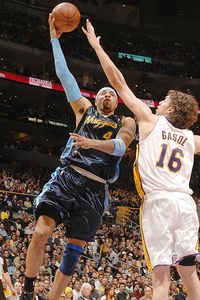 Noah Graham/NBAE/Getty Images
Despite a litany of injuries, Kenyon Martin is still a valuable part of Denver's lineup.
Add it all up and, despite not seeing any noticeable change in his usage, Nene is so efficient he is posting career-high scoring numbers. The Lakers long front line will be a good test of his newfound confidence. Now if only he would rebound like a big, strong, quick, 6-foot-11, 250-pound dude with good hands ...
4) Given the state of his body, what impact does Kenyon Martin still make on the team?
Wenger: Personally, I believe it is remarkable Kenyon has gone through as many physical ailments, nearly all involving his legs, yet remains an incredible athlete who is always in superb shape. Many fans see the tattooed, brash, preening yell machine and label Martin a malcontent best kept on someone else's team. He does not get enough credit for his work ethic. He could have folded up shop after his second microfracture procedure and collected the rest of his sizeable contract. Instead, he rehabbed hard and returned as good as ever. This summer, Kenyon had patella tendon surgery, missing a good chunk of the early season. He's still not allowed to play back-to-back games.
It does appear Martin is starting to lose some of his explosiveness. He's missed a couple of dunks he would have hammered home in the past, yet he remains a very good contributor while on the court, and there is good reason to believe his absence is part of the reason Denver has struggled so badly on defense this season.
He will be on the floor against the Lakers, although LA poses difficult matchup problems for Martin. Pau Gasol is simply too long for Martin to bother, while Andrew Bynum is too big and strong. With Chris "Birdman" Andersen out, look for the Lakers to have a significant advantage in the lane.
5) Bonus Melo Question! So now that the MeloDrama has, at least for the time being, died down (he's not talking, Jersey is in theory "out") do you expect Denver to play better? Or is the lack of closure going to be a problem?
Wenger: It is difficult to imagine a team playing as well as Denver has this year with all the rumors and speculation that they have dealt with since before the start of training camp. Deep down, they know the season is doomed, but except for a couple of embarrassing performances there has been no lack of effort from the Nuggets. I really think it is rather impressive. Still, when even local hero Chauncey Billups has found himself pulled into the morass, there have been clear signs the weight of the rumors are getting to them.
That weight won't be lifted until the trade deadline passes. Fans are growing increasingly restless, even booing Carmelo during the past three or four home games. The team's most consistent performers have been Nene; Ty Lawson-, who typically plays well against the Lakers Arron Afflalo; and J.R. Smith. I don't think it is any coincidence none of the four have had to hear at any point this season about how they were about to be traded.
I expect Denver to continue to play well at home and play hard night in and night out. But as things likely become even crazier as the trade deadline approaches, one would expect to see them flounder more and more under the uncertainty.
Thanks again to Jeremy, and be sure to hit Roundball Mining Company for all your Nuggets needs throughout the season.