As I mentioned in Monday's practice report, awareness was expressed about the commonality between the Mavericks' desperate situation last week, when a six-game losing streak was snapped against the champs, and the Jazz's this evening. Whether this proves mere lip service against a visitor on a four-game skid (all on the road, no less) with 16 consecutive losses at Staples remains to be seen, but at the very least, the issue has been acknowledged. No give-backs allowed.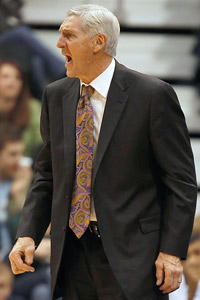 AP Photo/George Frey
Jerry Sloan is not happy these days with his team.
Pau Gasol also noted the importance of this game as a table-setter. It's the kick off for five consecutive home contests, three of which are the Jazz, Celtics and Spurs. From there, it's a seven-game roadie leading into the All-Star break, and only Cleveland qualifies as a bonafide cupcake stop. Tonight marks the start of an undoubtedly challenging stretch, and the Lakerscan't afford to drop a game against a reeling team because they either relaxed (as was the case against Dallas) or never showed up to begin with.
With that in mind, I called upon Spencer Ryan Hall from True Hoop's Salt City Hoops for his take on the Jazz's malaise. Hall expresses optimism at the team's eventual ability to weather the storm, but admits the lack of inspiration prompted by Utah's recent play.
Andy Kamenetzky: The Jazz enter this game on a four-game losing streak. What's been the cause of the skid and how can they fix it?
Spencer Ryan Hall: Any time a team has to face a murderers' row like the Wizards, Nets and 76ers, things are going to be tough, right? I kid because the Jazz just finished what should have been the easiest stretch of the season over the last few weeks. But it just wouldn't be this year's style to do anything the easy way. It looks like the Jazz forgot to pack their second half-game on the recent road trip. I'm just hoping the tendency to fall behind big and roar back late will be a description of the season and not just a few games.
As for a fix, it isn't in Jerry Sloan's nature to tinker with the lineup, but could it get any worse? There have been several games this season when I've had the same number of points and rebounds as some starters after multiple quarters.
AK: What are the fundamental differences between the Carlos Boozer-era Jazz and Al Jefferson-era Jazz?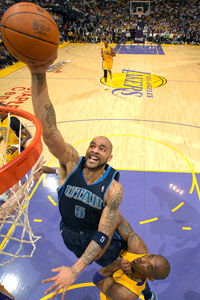 Andrew D. Bernstein/NBAE/Getty Images
The Jazz may not miss Boozer's defensive lapses, but his energy might come in handy.
SRH: What do you prefer? Al Jefferson in a uniform for 82 games or Boozer in street clothes half the season? When healthy, Boozer would probably be a 9 and Jefferson an 8. There's a demeanor difference too. Boozer's beasting on offense was contagious. The softness of the Jazz team lately has me missing an overly enthusiastic "AND ONE!' from Booz.
AK: As a team, are the Jazz better equipped than in past seasons to handle the frontcourt size of Andrew Bynum, Pau Gasol and Lamar Odom, whether on defense or offense?
SRH: Obviously there is no answer for three talented 7-footers, but as Jerry Sloan is fond of saying, that's why we still play the games. I'm interested to see who will step out and compete and rise to that challenge. I don't think there's any reason to think we won't see the Jazz get back into form and play impressively again (other than perhaps about 10 recent games of inconvenient evidence, but still). No better time than now for the Jazz as they have the Spurs coming to SLC on Wednesday night, too.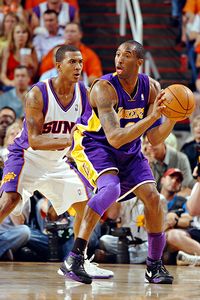 Barry Gossage/Getty Images
Without use of a time machine, this matchup could end up quite lopsided in Kobe's favor.
AK: We just celebrated the five-year anniversary of "81," when Kobe Bryant vs. Raja Bell was a marquee showdown. At this stage of Bell's career, how equipped is he to make Bryant work for his points? Is he at least a better option than the defenders giving it a crack over the last few seasons?
SRH: A Jazz fan on Twitter made a very good observation a while back: At this point the Jazz need a Wesley Matthews stopper, let alone a Kobe stopper.
At this point I don't even care about wins and losses, I just want to see some competitive fire from the guys. Ronnie Price and Earl Watson have been the lone bright spots, and that doesn't bode well for the Jazz's chances. It can't last, though. I think the Jazz turn things around soon and everyone jumps back on board.
AK: Here's to a great game. Thanks to Spencer for the help and insight. He and the blog can be followed on Twitter at @saltcityhoops. For the other half of our exchange, I provided some thoughts on the Laker Nation's collective passion, and whether the team misses Jordan Farmar or Sasha Vujacic.
I found it interesting Hall praised Price and Watson for their strong performances amid a team-wide slump. Neither are exceptional players, but if they share a common trait, it's energy. Both can be heavily counted on for hustle under the worst of circumstances. Thus, Steve Blake and Shannon Brown must remain on their toes to prevent the duo from perhaps sparking an unlikely rally.
And finally, some stats: The Jazz are a mediocre-to-bad rebounding team by nearly every measurement. Only four teams in the NBA have a worse overall rebounding percentage (.486). They're 20th in the league on the offensive glass (albeit with a decent offensive rebound rate). Only the Pistons and Blazers average fewer defensive rebounds each game, and the DRR is in line with the mean. During the November loss at Salt Lake, the Lakers almost tied the Jazz on the glass without Bynum available.
In other words, to paraphrase Don Corleone, should the defending champs fail to dominate the Jazz on the boards, I'm going to blame some of the people in the Lakers' locker room. And that I do not forgive.