"Is it the playoffs yet? No. OK. It's not the playoffs yet, we're still playing regular season games," Lakers coach Phil Jackson said after Sunday's loss to Boston. "We'll get there in time."
Derek Fisher, certainly no stranger to the process of preparing for a playoff run, echoed his coach's sentiments. "I've just played too many seasons and I've been on too many successful teams to get bunkered down on ups and downs over the course of the season that happen to everybody. That's just part of it," he said.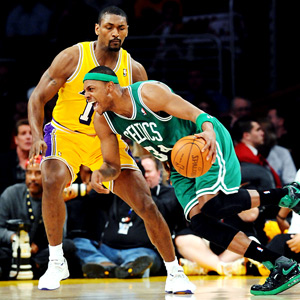 Jayne Kamin-Oncea/US Presswire
The Lakers need much more consistent and productive play from Ron Artest, on both ends of the floor.
So despite the Lakers' high-profile failures in high-profile games, they're not panicking. And they can't. That said, they know there is work to be done.
The Lakers have 34 games remaining in the regular season and if they want to reach a point where they're good enough to win a third straight title, here are five issues they need to address.
1. Figure out how to get Ron Artest right again. After Sunday's game, Andy detailed what was a miserable afternoon for Artest, one of his worst as a Laker. Nine misses in 10 shots, and he had a terrible time checking Paul Pierce, whether in isolation or working through screens. Unfortunately, poor play from Artest has been a season-long theme. It seemed for a while midway through the month things were finally turning around -- Artest seemed to find some stability and confidence in the wake of Matt Barnes' knee injury. He dragged his percentages from the floor out from the depths of awfulness to something much more tolerable.
Artest then provided the sort of signature game he'd lacked all year, swallowing up Carmelo Anthony while scoring 19 points when the Lakers beat Denver on December 21.
But a look at his game log suggests he'd already started backsliding in the three games prior, and in three games since has once again been a non-factor. In those six games, Artest is 11-of-42 from the floor (26 percent), five-for-19 from beyond the arc (26 percent), and is averaging 6.16 points. For those numbers to fly, Artest needs to be dominant defensively, and he hasn't been. At its most extreme, and I think Sunday qualifies, Artest's lack of effectiveness has an ability to obliterate Phil Jackson's rotation and ability to match up with teams effectively on both ends.
Seriousness: On a 1-10 scale, this one rates as a seven. Artest was hardly a statistical monster last season, but by nearly every measurement was better then than now. The Lakers need his influence, particularly defensively, to be at their best.
Solveability: Four. Picking the winning lotto numbers would probably be easier to determine. On any given night, Artest shows flashes of being "that guy," the one opposing offenses fear, and can sometimes cut off half the floor. Most of the time, though, he doesn't. Has he lost a step or two? Is he just out of sorts? Your guess is as good as mine.
2. Change what happens when teams play Kobe Bryant straight. Speaking broadly, the Lakers have generally followed a pattern where Kobe lays low early, distributing the ball and helping establish a rhythm for his teammates, then asserting himself more offensively by looking for his own shot as games go on. It's effective in part because the Lakers have heaps of talent, particularly in the post, and because Bryant commands so much attention, frequently in the form of double teams.
Both Friday and Sunday, though, the Kings and Celtics played the Lakers straight. Kobe was given the freedom to go where he wanted on the floor and find good looks, which he took. The Celtics in particular did a great job putting Bryant in a box, allowing him to be a scorer but playing great off-ball defense against everyone else, helping break L.A.'s rhythm and creating a situation where, as the game went on and Kobe cooled off, nobody was there to help. "I don't think anybody else wanted the ball," Phil Jackson said.
It didn't just happen when Kobe had the ball, but when it found Pau Gasol in the post, or anyone else, really. Boston encouraged one-on-one play, and it was effective. The Lakers stagnated offensively. No cuts, no off ball screens, nothing. As a result, the Lakers were out-assisted by Boston's Rajon Rondo, 16-10. Nobody enjoys watching Kobe measure games to create balance more than me, but if defenses give him high percentage looks early in games he should take them, and ought to be able to without risking the rest of the team falling asleep.
The impact was seen on both ends of the floor, where the Lakers had trouble finding offensive rhythm, while allowing Sacramento to shoot over 60 percent in the first half Friday, and the Celtics a 60 percent figure for the entire game Sunday.
L.A. can't be locked into only one game pattern. When the playoffs roll around, it just won't work.
Seriousness: Five. The less efficient the Lakers are offensively, the worse they play at the other end.
Solvability: Eight. This one's not that hard to fix. Move. Move, move, move. The ball, themselves, just move. Passing and cutting begets more passing and cutting.
3. Inspire the bigger Pau. Gasol has had a few good games against the league's best teams -- he was very strong in Dallas, and played well in one of the two Chicago games -- but has also suffered some high profile failures. Sunday, he played poorly, and was shoved around by Boston's interior players. He wasn't good in the game L.A. lost to Chicago, nor against the Heat. San Antonio wasn't a gem, either. Save the Spurs game, those low points weren't uniformly about lack of opportunity, but lack of performance.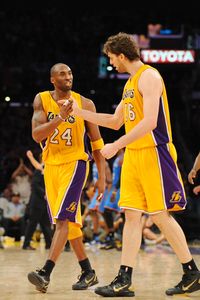 Win McNamee/Getty Images
Pau Gasol's play has been All-Star caliber this year, but in big games he needs to be a bigger support for Kobe Bryant.
As someone who rigorously defends Gasol against those who call him soft and called him the game's best power forward coming into the season, the lows Gasol has suffered this year are disappointing. And while it's too easy to reflexively slap him with Euro-themed epithets when he doesn't perform well, particularly since the aesthetics of a struggling Gasol (all flailing limbs and ubiquitous checks for blood) are unappealing, bottom line is he simply doesn't seem to be playing the same sturdiness as he did over the last two seasons.
Not that Gasol will ever be mistaken for Rick Mahorn, but as a Laker he's been anything but soft. This season, though, there's too often a lack of aggression and surety in his movements on the floor, made more noticeable by the times those things appear. If the Lakers are going to thrive in February in the face of a brutal road-heavy schedule, Gasol has to stand up better to punishment and adversity.
Seriousness: Six. The Lakers can't win a title without a productive Gasol. He hasn't been bad -- we're talking about a guy almost sure to make the All-Star team, don't forget -- just not as good as we expect, and more importantly not in the way we expect.
Solveability: Eight. He's too talented to play without his trademark consistency. As the games grow more important and his game is scrutinized more closely, Gasol's pride will kick in, overcoming physical and mental fatigue. Soft is not a tag he likes, and he'll make sure all the work he's done revamping his reputation over the last two seasons isn't undone.
4. Find defensive consistency. As Andy noted last week, the numbers around the Lakers defense aren't nearly as bad as commentary or fallout from the Jerry West "controversy" would suggest. In absolute terms, L.A.'s D has been very successful in spots, and not all that much different from last year's edition. What they lack, though, is consistency. There's no sense of what the Lakers will get from game to game, possession to possession. As a result, they might lock down on one night, and allow the Celtics to shoot 60 percent on another.
Much of it is due to inconsistencies on the other end, where the Lakers frequently fall into bad habits, despite having one of the league's best offenses.
Seriousness: It's hard to win a seven game series without a consistent defensive identity. Seven.
Solveability: Should be higher -- as the playoffs approach, the Lakers naturally will become more engaged on both sides of the ball, increasing their attention to detail -- but so much is dependent on Artest, who I don't currently trust. Six.
5. Find their legs. There are times when the Lakers just look tired. Not old or over the hill, not past their collective prime, but tired, in the way a team playing deep into June for three straight seasons would naturally be expected to. As Fisher noted after Sunday's game, there's a reason it's rare for any team to reach four straight Finals, let alone win three straight: The grind is brutal, both physically and mentally. What the Lakers hope to do this year is, by any standard, exceedingly difficult. Historically so. They have played more basketball at a higher level than any other team in the league.
This is a bell unable to be unrung.
Sure, Kobe and Pau both took the summer off, while playing with Team USA in the World Championships was great for Lamar Odom's game this year, but it doesn't roll back the games they've already played. The bell can't be unrung. Some nights they're going to seem a step slow. A little tired, because they probably are.
Seriousness: Six. When the playoffs roll around, they'll have more days off, more consistent and workable travel, and so on. Getting there, however, will be tough, and continue the drain. Ultimately, if they lose too many games in between, a poor postseason seed could be a lot to overcome.
Solveability: Two. You can't change history. The best solution for the Lakers is to destroy the weakest teams remaining on the schedule, conserving as much enery as possible for the long haul. And get to bed early.