Before coming up just shy on Saturday against Houston, the Griz were riding a five-game winning streak, which tied the longest roll since 2006. They've also won eight of their last 10 and boast a credible 16-7 record at FedExForum, with one win coming at the Lakers' expense. In other words, building on a victorious start to this monster roadie isn't impossible, but it won't be a walk in the daisies.
Here are some items to watch once the ball is jumped:
Can Pau Gasol's aggressiveness continue?
Ever since Kobe Bryant implored Pau to be more "Black Swan" before a win over the Rockets, El Spaniard's on-court demeanor has been noticeably more forceful. Over his last three games, fantastic numbers have been produced, and Gasol has consistently attacked defenders as opposed to settling for path-of-least-resistance jumpers. That these mid-range shots are well within his range isn't the point. There needed to be a more conscientious effort by Pau to drive against defenders and put them at risk of picking up fouls. These days, he's been putting the ball on the floor, absorbing whatever contact and ratcheting his effectiveness.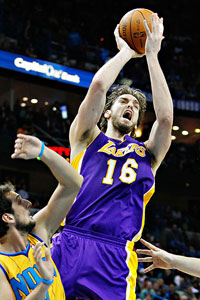 Derick E. Hingle/US Preswire
Spread your wings, Black Swan!
(In adopting this attitude, even his J's have turned feistier. During the New Orleans win, he and an equally red hot David West were trading jumpers in each other's grill, and Pau seemed to enjoy going right back at West whenever the power forward got the best of him. When the dust finally settled, the clear victor was Gasol.)
I'm curious to see, however, if this mind-set carries forth against his hermano and former franchise, which hasn't always been a good situation for him. There were signs this mental block had been overcome during a 19 point win at Staples, but a 19 point loss at Staples featured Pau operating as a listless rag doll. Sandwiched in between was a Graceland performance with 14 rebounds, but inefficient shooting and the inability to take the game over.
Pau vowed after the Houston win to remain in aggro mode 24/7. Keeping to his word in this setting would go a long way to convince fans his bouts with inconsistency this season are truly a thing of the past.
Scorned southpaws
I'll make fun of Lamar Odom The Fragrance Pitchman, but never Lamar Odom The All-Star Hopeful. As I mentioned after the reserves were announced, I wouldn't say LO was "snubbed" in such a deep field, but I definitely shared his disappointment. It's hard to say the guy wasn't deserving, even if others may have rightly edged him.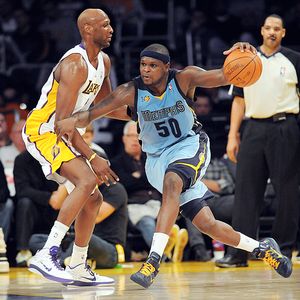 Jayne Kamin-Oncea/US Presswire
It's like Rocky Balboa matched against Rocky Balboa.
The same could be said about Zach Randolph, whose 20 points and 13 boards certainly made a viable case for an all-expense paid trip to L.A. Even more impressive, his splits have picked up each month, and an eye-popping February is in the works: nearly 25 points per night on 58.4 shooting, plus a shade over 14 rebounds.
That's serious production.
The two won't be matched throughout the entire game, but down the stretch, it wouldn't surprise me to see them mano y' mano. It's always fun to watch lefties do battle, particularly when both are capable of providing fits for the other. Z.Bo is a load who can score from anywhere. LO is the more versatile player with the length advantage. Can one outshine the other?
No O.J. Mayo
Mayo is serving a 10-game suspension for a failed drug test (DHEA). Memphis' bench isn't terribly prolific to begin with, and Mayo is the only reserve averaging double digits. In the six games Mayo has missed, there have been three double digit performances off the bench (two for Darrell Arthur, one for Allen) and nobody has reach those heights in the last three contests. Between Arthur, Allen, Greivis Vasquez, and Xavier Henry, the Griz don't have any options I'd feel comfortable relying on for points.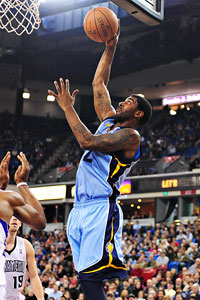 Kyle Terada/US Presswire
Withoug Mayo, Memphis' bench lacks the only reserve averaging double digits.
Then again, things don't always work out as expected.
Allen, who can be an utter disaster with the ball, scored 10 during the Staples debacle. A loss in Memphis featured a dozen from Henry (albeit as a starter), one of four times Henry has notched double digits this season. Throw in the fact Steve Blake and Shannon Brown have been erratic options themselves these days, and it can't be taken for granted the Laker bench will outscore the local reserves, even with Odom in their back pocket and Mayo banned from the building.
Keeping with this theme, newly minted starting shooting guard Sam Young, nicknamed "I have no idea who that is" by many an NBA fan, is averaging 14.3 points on 53 percent shooting over the last three games, with 2.3 steals added for good measure.
Ron Artest vs. Rudy Gay
Ever since (denied) word got out that Ron wanted out, the mercurial small forward has cranked his game up a notch. He scored 13 while limiting Manu Ginobli to 14 on five-of-17 shooting, then without a dynamic player to shade against the Hornets, served as more of a general defensive force (three steals, three blocks). Can he continue the roll against Memphis' uber-athletic wing, who's good for 20 per contest? For what it's worth, Gay's splits reveal a monthly downward trend in his shooting percentages. Perhaps the timing is right for Artest to sink further Rudy's 43.4 percent clip in February.