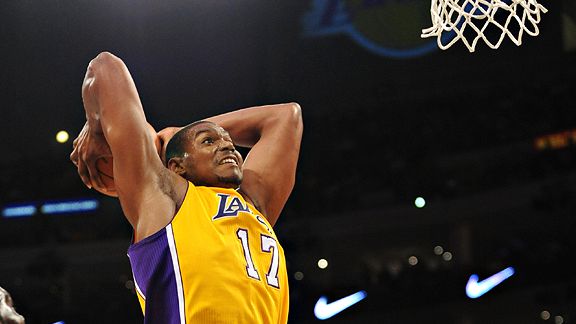 Evan Gole/Getty Images
The trade deadline is coming and the Lakers have been inconsistent. No surprise the Andrew Bynum rumors are popping up again. (See this Melo-for-Bynum report here.)
They're baaaaaaaack!
Last week, with the Lakers struggling, trade talk was put front and center in no small part by GM Mitch Kupchak (and, to a lesser degree, Magic Johnson, although he sold his minority ownership and has no official say). Not exclusively something around the margins, either, but perhaps something bigger.
Which, generally speaking, is code for trading Andrew Bynum.
The rumor du jour- both last week and again rekindled this morning- involves importing Carmelo Anthony for L.A.'s young center, but it could be anyone, really. Bynum's name has been front and center at every deadline and during every offseason, going back to the days before Kevin Garnett made his way from Minnesota to Boston.
Which begs the question: What does unloading Bynum mean for the Lakers?
Doing so in the middle of the season, even for a more established star like Anthony, makes a three-peat for the Lakers less likely. Short the highly improbable scenario of swapping Bynum for another high-end 7-footer, removing him from the equation and integrating (likely) another A-list wing or backcourt scorer, Anthony or otherwise -- reworking how the Lakers operate on both ends of the floor -- fundamentally changes LA to the point it would be tough to jell in time to go all the way.
If the goal of any trade is to win this year, a blockbuster deal involving Bynum isn't the best route. It's more the emergency-chute option, and despite legitimate concerns about the Lakers, they're not at that point. They haven't even jumped out of the plane, yet. The Lakers remain elite as constructed and prominent in any credible championship conversation, and I firmly believe this core deserves a chance to keep the streak alive.
Except teams, like people, don't always get what they deserve. The Bynum Question is a great example of how goals for today and needs for tomorrow may not mesh all that well. The central issue is simple: In the long run, is Bynum a guy with whom you'd be willing to go all-in? From a financial standpoint, as a go-to player around which a team can be built, all of it. After next season, the Lakers have to decide whether to exercise his $16 million-plus option, and in two they'll truly have to fish or cut bait. No matter what the next CBA looks like, a new deal for Bynum is likely to cost a ton of money.
If the answer to any of these questions is no, isn't it in the team's best interest to move him?
My money, my team? I still don't trust Bynum enough to build around him. First, he's yet to show an ability to consistently dominate games in ways franchise players must. It's not all his fault -- the Lakers aren't designed to let him do it -- but while there have been glimpses and the talent is undeniable, the on-court product has been uneven. Mostly, though, it's about his health. At 23, Bynum has already suffered major injuries to both knees, plus trouble with his Achilles tendon and a variety of other maladies.
With his frame and history, as the mileage piles up it's hard to see him evolving into a sturdier player, particularly as the heart of a team's attack, where the minutes and physical demands increase.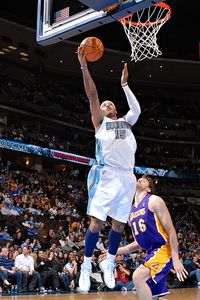 Garrett W. Ellwood/Getty Images
Could Carmelo Anthony be making his way to L.A.?
Meaning if the right deal came along, I'd pull the trigger. Doesn't have to be today, but a credible, constructive offer coming across my desk would be difficult to pass up, even if the timing was less than ideal (meaning it threatens short-term goals). The Lakers shouldn't settle but can't afford to be excessively greedy, either. Anthony, for example, is a flawed star and not my first choice as the franchise's next core element. Dwight Howard would certainly be the ultimate replacement for Bynum, but despite the rumors of interest in LA, he may not become available in a workable fashion. In the meantime, Anthony is a very solid return, arguably as good as it'll get. Melo is a dominant wing scorer, is capable of brutalizing smaller defenders in the post, and in combination with Kobe Bryant, Pau Gasol and Lamar Odom would make the Lakers nearly unguardable.
Defensively, he's not great, and his arrival would likely leave the Lakers at least temporarily thin in the frontcourt, but rarely do trades achieve the Utopian ideal, and all come with risk. In the end, Anthony is an upper-echelon NBA player whose skill set fits well with the guys they have. The enemy of good is always better.
Remember, the concerns perhaps motivating the Lakers to move Bynum are the same other GMs have in trading for him. Finding a favorable swap isn't as simple as it sounds. So while I don't love Bynum-for-Melo, I'd do it.
Moving Bynum is not an easy call. Brutally tough, actually, particularly if the "right" deal comes midseason, when changes in chemistry and continuity are most difficult to address. In the modern NBA, Bynum represents something increasingly rare -- a true, back-to-the-basket center with the athleticism and skill to change games at both ends. If he manages to stay on the court, Bynum still has the potential to be, at worst, the league's second-best center for the next decade.
Moreover, while Bynum's health risks are real, there's a tendency to view his problems in a vacuum, as if the other stars potentially available don't have injury issues of their own. Anthony, for example, has played 70 games once in the past four seasons. Chris Paul suited up for only 45 games last year, and while he's played in each of his team's 52 this season, he is doing so with a brace on his knee the size of a Buick. A collision with the thing dropped Derek Fisher to the ground Saturday night. Not easy to do.
No player, save perhaps the supernaturally durable Howard, comes without significant questions in that department.
As for the question of who fills the void eventually left by Kobe, is there a franchise in sports more adept at finding their next star than the Lakers? Fear of a starless future shouldn't be the primary motivation behind moving Bynum. They'll find a guy, one way or another.
All-in or (at some point) get out. That's the question.
Everyone loves to play armchair GM. We all love plugging names into the Trade Machine and magically enhancing the Lakers' juggernautiness. The Bynum conundrum, though, is the sort of real-life, make-or-break decision with the potential to cost whatever execs are involved their jobs if things go wrong (or make them stars if it all works out). Personally, I'm glad the only fallout for me will come with angry e-mails, perhaps telling me how stupid I am.
After all, I'm already getting those, anyway.