As the trade deadline approaches, I don't expect a blockbuster for the two-time defending champs, nor do I even consider one necessary. But after recent comments from Jerry, Mitch and Magic and stories involving Ron Artest, Carmelo Anthony and Andrew Bynum, the Laker Nation is in overdrive concocting scenarios.
Thus, I did some tinkering of my own on the Trade Machine. And like most fans who use the Trade Machine (let's be honest with ourselves for a moment), I willingly ignored key issues. Whether the incoming player(s) is truly "available." Whether the deal would instantly appeal to the other team. And if the incoming player is in the final year of his deal, I automatically presumed he'll sign an extension with the Lakers.
For one post only, if the Trade Machine abides, good enough.
However, if I'm not gonna be uber-realistic, I'm gonna at least tease some brains. Below are several trades that could theoretically make sense for the Lakers, but you're gonna have to make a tough choice.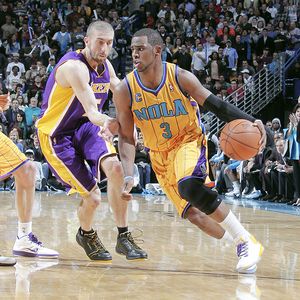 Layne Murdoch/NBAE/Getty Images
If not Melo, how about CP3?
The "What's Being Discussed At The Water Cooler Nearest You" trade
Andrew Bynum for Carmelo Anthony, straight up
With today's news about conversation between the teams, this already-hot talking point among fans has shifted from "red" to "white." Brian already weighed the pros and cons of this scenario, so I won't repeat. (In a nutshell, I probably wouldn't pull the trigger, but I'd be very tempted.) But as long as we're discussing A-Listers with futures constantly speculated...
The "Big For Small, But It's One Heck Of A Lil' Guy" trade
Like Brian mentioned about taking on 'Melo, the identity of the Lakers will be changed. Beyond the size lost, there would need to be backcourt adjustments, with Kobe probably changing the most. To get the most out of CP3's skill set, Kobe would need to play considerably more off ball. Obviously, Paul would sometimes drift to spot up -- and he's become a very good shooter -- but it's pointless to acquire Paul as anything less than a traditional point guard. Even more than the touches given up to keep 'Melo dangerous, Kobe would be required to adapt.
Is it worth the Mamba's while, much less the Lakers'?
The "You Won't Get The Dream Point Guard, But How About A Redo On Ron-For-Trevor" trade
Ron Artest and Bynum for Trevor Ariza and Emeka Okafor
What if the Hornets said Paul was off the table (indulge me), but offered the opportunity for another go around with a young, proven wing in Trevor Ariza? The price? Bynum, plus the considerable money -- about $50 mil over four seasons -- owed to Emeka Okafor. Is Ariza (or the absence of Artest, depending how certain fans view it) worth it? Do you prefer Artest-Gasol-Bynum or Ariza-Gasol-Okafor for a championship run?
The "Chris Paul Booby Prize" deal
Bynum and Ratliff for Steph Curry, Dan Gadzuric, Vlad Radmanovic
If you can't land a whale at the one, might as well hook a barracuda. Like any deal involving Bynum without a legit big man in return (sorry, Dan), the Lakers change. Still, Curry fills several needs at once. A young successor to Derek Fisher. Outside shooting. Play-making. Plus, the Lakers get half a season to make an informed decision before resigning Vlad Rad to a multi-length deal. Maybe the second time around is lightning in a bottle.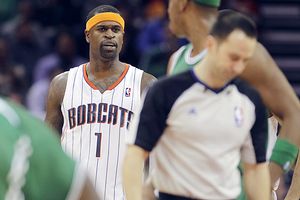 AP Photo/Chuck Burton
Jax has, shall we say, a strong personality.
The "Volatile Wing For Even More Volatile Wing, But You Get To Keep Bynum" deal
Ron Artest, Derrick Caracter and Devin Ebanks for Stephen Jackson
Were it possible to possible to jettison Artest while retaining Bynum, I get the sense a large chunk of the Nation would jump all over it. There's only one catch: Anybody taking on Artest as the big name/big money acquisition would require a pretty sweet incentive. Perhaps some young talent with potential. And perhaps a bad contract heading the Lakers' way.
Allow me to introduce y'all to Captain Jack.
I read the occasional report about teams (most notably Dallas) intrigued by Jax, but I can't imagine there are many. Why? Because the dude is a human volcano. Yeah, he can still play, and any man who "makes love to pressure" won't shrink under the playoff spotlight. Jackson even has championship experience.
But he also makes Ron-Ron look docile-docile. (As I crafted this post, he was getting ejected from a game against the Celtics.) I like 19 ppg and a well-rounded skill set as much as the next guy, but Jackson wears out welcomes fast and will cost $20 mil with the luxury tax when the final year of his contract rolls around in 2013 (age 35). Of course, that's also a year earlier than Ron's contract expires, and he's a more productive player. Is that enough?
Talk amongst yourselves.
The "Blow Your Mind" trade
Andrew Bynum and Ron Artest for Paul Pierce and Kendrick Perkins
OK, everyone's been clamoring for an upgrade at the wing? Well, here you go. Championship pedigree. Proven scorer. Recently ate Artest alive. Despite being a couple of years older, is actually playing younger than Artest. It's admittedly a risk clogging up so much cap space on The Truth newly extended, but PP still appears to have at least a good two years left in the tank. Plus, there's a young defensive center who may not carry the same "franchise" potential as Drew, but can certainly help a team while never cracking a smile.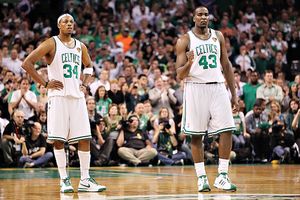 Ronald Martinez/Getty Images
Could you welcome these guys with semi-open arms?
Of course, that means cheering on Paul Pierce, a player y'all really hate. I mean, despise. He took a title from the Lakers and rode around in that wheelchair. Would you be able to wrap your head around such a concept? Is it possible to suddenly cheer for a guy you've cursed viciously since 2008? Even one who might be able to help the cause?
The "How Badly Do You Want Dwight Howard" trade?
Andrew Bynum, Theo Ratliff for Gilbert Arenas
Pau Gasol, Luke Walton for Dwight Howard, Brandon Bass, Quentin Richardson
(Separate deals, because Arenas can't be swapped in a deal with fellow Magicians.)
"Drew for Dwight" is too easy. The answer is "Yes!" and roughly half a second is required to make that call. This transaction, however, requires some thought.
On one hand, the Lakers land the consensus best big man in the league and an unparalleled defensive force down low. There's also a solid big man in Brandon Bass (to either start or come off the bench), a resident tough guy/occasional three-ball threat in Q and and the Lakers shed Luke Walton's contract, a goal Lakers fans obsess over like Gollum and "The Precious."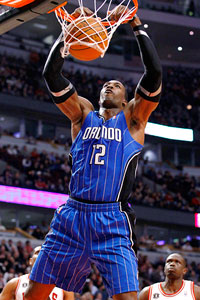 Mike DiNovo/US Presswire
Dwight could be dunking for a long time in purple and gold.
On the other hand, it's not just Bynum trading places, but also Gasol, who'd provide perhaps the ultimate complement to Howard's brute force and is arguably the most purely skilled 7-footer in the entire NBA. There's also the matter of Gilbert Arenas' declining game and knees. Granted, the Lakers have enough second-unit talent so Arenas wouldn't be counted on to carry the day, but what Arenas can provide matters. Considerably, when you take into account he'll run you anywhere from 30-40 per season with the luxury tax hit. You think Lamar Odom is an expensive sixth man?
Still, it's Dwight Howard. Superman can change games like few others in the NBA, and he'd be doing it for the Lakers for years to come.
The "It's Not Personal. It's Strictly Business" trade
Kobe Bryant and Derek Fisher to the Magic, Dwight Howard, Monta Ellis and Jameer Nelson to the Lakers, Andrew Bynum to the Warriors
The lulu.
You'd be trading arguably the greatest Laker in franchise history (let's just say he waived his no-trade clause in a quest to accomplish what Shaq couldn't in Florida), along with arguably the most beloved role player in franchise history. It's unfathomable. It's unspeakable. It's disgusting. But all that aside, you'd be left to get by with a perennial MVP candidate, a budding All-Star and, at worst, a top-15 point guard in Nelson.
Franchise lore would be messed with -- more accurately, spat on -- but from a cold-hearted viewpoint, the haul is pretty unbelievable, especially with an eye on the future. Could you ignore all emotion and everything Kobe and Fish have done for the Lakers in order to trot out Nelson, Ellis, Artest, Gasol and Howard, plus Odom as a sixth man, for the next few years?
Vote in the polls below, and feel free to offer Trade Machine concepts in the comments.
Trade: Melo for Bynumsurvey software
Trade: CP3 for Bynumonline surveys
Trade: Artest/Bynum for Ariza/Okaforcustomer surveys
Trade: Bynum for Curry, Gadzuric and Vlad Radsurvey software
Trade: Artest, Caracter and Ebanks for Jaxonline surveys
Trade: Bynum/Artest for Pierce/Perkinsonline survey
Trade: Bynum/Gasol/Walton/Ratliff for Dwight/Q/Bass/Arenassurvey software
Trade: Kobe/Fisher to Orlando, Bynum to GS, Dwight/Monta/Jameer to LakersMarket Research