With the NBA world buzzing about Carmelo-for-Bynum conversations, the philosophy of trading Drew and other trade scenarios, we thought it was worth addressing five questions commonly tossed our way via the mailbag, Twitter or while on air for 710 ESPN:
1. How would Kobe and Melo coexist?
Off the court, Kobe Bryant and Carmelo Anthony have an established friendship, and neither guy would approve this merger unless sincerely cool with sharing the spotlight. (Or at the very least, sincerely cool before eventually deciding it's not their cup of tea.) Melo would have to understand it's still "Kobe's team," and Kobe would need to avoid feeling threatened by a transparent changing of the guard in the works. But if everyone remains an adult, this shouldn't be a problem.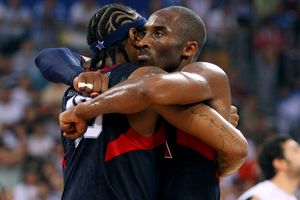 Phil Walter/Getty Images
Kobe and Melo bonded while winning gold.
As for hardwood action, they're definitely compatible, although not without inevitable growing pains. There's not nearly as much redundancy as what LeBron James and Dwyane Wade are negotiating in Miami.
Kobe has considerably more skills as a playmaker, while Melo is deadlier as a pure scorer at this stage of their comparative careers. And with Anthony feeling out his new system and teammates, the transition likely would be easier with Bryant focused more on facilitating, anyway. In a nutshell, I imagine Melo would need to become more comfortable off the ball, and Kobe would need to curb his instincts to work one-on-one as much. Both also would need to sacrifice touches in general. Otherwise, this could replicate stints in which LBJ and "Flash" would alternate possessions dominating the ball, which wasn't pretty.
But overall, I think they'd thrive, even if the process wasn't always smooth. -- Andy Kamenetzky
2. Can the Lakers handle Bynum's absence?
Or more specifically, can Pau Gasol?
Jettisoning Andrew Bynum means Gasol playing 35-plus minutes per game at the center spot, and the physical toll can't be underestimated. Judging by Gasol's exhaustion and waning effectiveness when Drew and Theo Ratliff were unavailable to help share the load at the 5, this scenario taxes "El Spaniard." Even taking into account his increased willingness to absorb contact on both sides of the ball since arriving in L.A., the "bruiser" role isn't natural. Unless a separate deal lands a serviceable big man to play 10 to 15 nightly minutes, the Melo era could initially be brutal on Pau.
Gasol also has talked about his increased effectiveness while operating as a power forward. His versatility -- facilitating, operating in pick-and-rolls, midrange J's, putting the ball on the floor -- translates better with the freedom to play in space, rather than primarily closer to the cup. Plus, with Kobe and Melo on the wing, will Pau ever see the ball again? So beyond the grind, making Gasol a full-time center risks his overall productivity.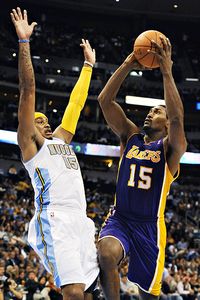 AP Photo/Chris Schneider
Would Melo be an upgrade over Ron on BOTH sides of the ball?
(To a lesser degree, this deal also would make life more difficult for Lamar Odom, whose minutes at power forward also would jump. Granted, there are more options behind him, especially while going small. Ron Artest, Matt Barnes, Luke Walton and even Melo could spell LO in the right matchup. But either way, the Lakers shift from arguably the league's most daunting team to arguably thin up front.) -- AK
3. What would change about the Lakers offensively and defensively?
Anytime a player is imported into a Phil Jackson system, the learning curve issue related to the triangle offense moves front and center, and with Anthony, it would be no different. How much it would matter, though, is an open question. Melo is a dominant scorer, able to put the ball on the floor, catch and shoot, and work out of the post. I suspect the Lakers would add more pick-and-roll to their basic sets, adding Melo/Bryant and Melo/Gasol to their highly effective Bryant/Gasol pairing. Anthony's presence would open the floor for Bryant and Gasol. Toss in Odom's prodigious skill set, and they probably could pick a different offensive system every night and still score 115 a game.
The bigger transition would come defensively. "What separates the Lakers from about 97 percent of the league is their length," says 710 ESPN basketball analyst Dave Miller. "They'd go from 7'0" to 6'8", and lose 285 lbs. and incredibly long arms taking up space in the paint. Phil can't teach size." In Anthony, L.A. would add a guy not exactly known for his prowess on that end. Playing with Bryant in a true championship atmosphere would undoubtedly boost his effort and interest, but the Lakers would have very little to work with in the paint. Without more roster tweaks, they would be very reliant on perimeter D to prevent interior penetration, whether on the pass or dribble. -- Brian Kamenetzky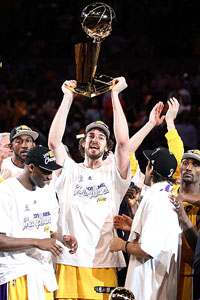 Win McNamee/Getty Images
Could a third straight trophy be lifted after such a drastic midseason change?
4. Do the Lakers become more or less likely to win a third straight title if they make the move?
Less. As I wrote this morning, trading Bynum has to be about whether the Lakers think they can commit to him long term, not as a means to improve this season. Let's be clear: It's not like adding Anthony suddenly makes them bottom-dwellers. He's really freakin' good, and the Lakers would remain contenders. If they had an offseason/full season to adjust to his presence, transform on both sides of the ball and find frontcourt depth, the answer could well be different. Except at this point, the Lakers are down to about 30 games in the regular season.
To make such a drastic change in the construction of the roster and still jell in time to three-peat is a tall order. The team as constructed -- all concerns about home court, consistency and an increased level of competition notwithstanding -- is still at the center of any credible discussion of title contenders. -- BK
5. How likely is it this will happen?
Not very. Reports put the talks at the early stages. Bynum, despite his checkered health record, still has very strong proponents inside the organization, starting with Jim Buss. Plus, there are plenty of viable reasons to keep him around, starting with the answer to No. 4, and adding Bynum's top-shelf talent level and the scarcity of truly dominant post players.
Keep in mind, too, the Nuggets (and Team Melo, for that matter) have a vested interest in finding a second viable trading partner in the Melodrama, or they're hostage to whatever the Knicks are willing to offer. Doesn't mean the rumors are illegitimate, the Lakers are being used, or they can't or won't kick the tires on a trade, but both teams are a long way from signing the paperwork.
There are other questions, too. Importing Anthony without exporting Artest is, at best, problematic. But the bottom line is this: Blockbusters in the NBA are very tough to pull off and are always less likely to happen than more. -- BK