Can the Lakers, to use Kobe Bryant's typical parlance, "keep the train rolling?" Well, the New York Knicks have improved by leaps and bounds over last season, but they're also reeling at the moment. In the meantime, the Lakers have strung together a couple of weeks' worth of quality ball, and Kobe has a habit of flourishing under the Madison Square Garden lights. The second half of a back-to-back is never an easy task, particularly after a hard-fought win like the one in Boston, but the Lakers' chances certainly don't look bad on paper.
To get an idea of why the Knicks are suddenly sputtering, we contacted Jared Zwerling, who covers the Knicks for ESPN New York. Issues include defense inside and along the wing, energy recently lacking and minds occupied by a certain small forward in Denver. No, not Renaldo Balkman. The other guy.
Q: The Knicks are 4-6 in their past 10 games, the most recent loss while hosting an undermanned Clippers team. Is there something specific causing problems? Do you think the Melo Drama plays any role in the struggles?
Jared Zwerling: Actually, the Knicks are 5-11 in their past 16 games, so they're not even that good. After the Clippers loss last night, Mike D'Antoni, Amare Stoudemire and Raymond Felton all pointed to the fact they've been playing with a lack of focus and energy. I think the Carmelo Anthony drama definitely has something to do with that.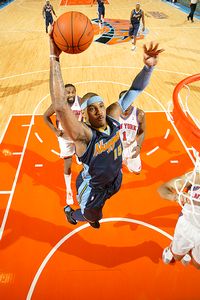 Nathaniel S. Butler/NBAE/Getty Images
Even if the Knicks do get Carmelo, it won't be in time for this game.
For example, Wilson Chandler has said flat-out he doesn't want to play in Denver. Imagine if you're an employee of a company, and were just notified they're relocating to another city in a few months you don't want to go to. That's what Wilson and I think several other members of the team are dealing with to a greater extent. Even D'Antoni wants Knicks fans to stop chanting, "We want Me-lo." I'm sure every player has a feeling of uncertainty about where they're really going to be come Feb. 24 -- or even before.
There are other things on the court, too. On the season, the Knicks have a minus-1.4 first-quarter scoring margin average, which ranks them tied for fifth worst in the league with the Nets. They're not coming out ready to play -- it's as simple as that. They especially need that energy to prevent them from becoming a stagnant, shot-happy team. When they get better ball movement, good things happen for the Knicks. When Felton has a double-double in points and assists, they have a strong winning record.
Defensively, a lack of an interior presence and perimeter quickness has hurt. To the first point, I will say I have been impressed with Timofey Mozgov's energy and rebounding. After him, though, Stoudemire has no support protecting the paint, and it doesn't help that Ronny Turiaf is out with an ankle sprain. But he's really just another energy guy, honestly. Too many times this season, an opposing power forward has gone off on the Knicks. Luis Scola, David Lee, Elton Brand. Even Carl Landry! Kevin Love had an historic 31-point, 31-rebound night!
While there are positive attributes on the wing -- Felton's toughness, Toney Douglas' hustle, Landry Fields' moving without the ball, Chandler's finishing and Danilo Gallinari's aggressiveness -- the Knicks are a step slow, which hurts them on defense. Case in point: Against the Clippers, Baron Davis, Eric Bledsoe and Randy Foye -- yes, Randy Foye -- went off. The Knicks' struggles this season at stopping opposing guards worries me when thinking about the playoffs.
But most importantly, the Knicks can't let Melo go.
Q: Amare was badly outplayed by Andrew Bynum during the Knicks' loss at Staples. If Mozgov starts at center and Stoudemire plays his preferred spot at the four, how much better would he (and perhaps by extension, the Knicks) fare in the sequel? Do the Knicks tend to flourish more going big or small?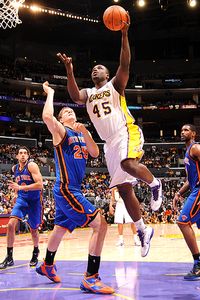 Noah Graham/NBAE via Getty Images
If Mozgov can't stop Derrick Caracter, he could be in for a long night as a starter.
JZ: Turiaf is listed as questionable with a right ankle injury, so Mozgov should get the start at center. While the Russian had two solid games recently -- a career-high 23 points and 14 rebounds against the Pistons, 18 points and six rebounds against the Clippers -- I see a dip in production against the Lakers. They're too experienced and big to allow Mozgov, a rookie just recently getting touches, any daylight. I predict he'll get caught in early foul trouble, trying to limit the Lakers' "Big three." Even if the Knicks bring the energy, I don't see how they'll be able to limit the Lakers' frontcourt. The Clippers scored 58 points in the paint. Can you imagine what the defending champs will do at the Garden?
There's no doubt that the Knicks have flourished when they go smaller -- they're second in the league in points per game -- but their scoring efficiency is simply a nice regular-season stat. To me, a championship-caliber team needs to have two strong inside players -- like the Lakers with Pau Gasol and Bynum -- and if Mozgov can develop and play well alongside Stoudemire down the road, that'll be a great boost for the Knicks.
It won't, however, come tomorrow night.
Q: Beyond Stoudemire versus "Pick a Laker," is there a particular matchup potentially capable of swinging results one way or the other?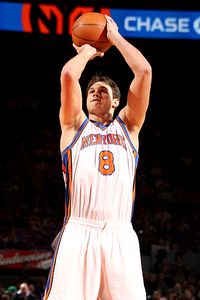 Nathaniel S. Butler/NBAE via Getty Images
Could Danilo Gallinari's presence make a difference for the Knicks?
JZ: The Lakers played a near flawless game in their previous matchup, so the ball's in the Knicks' court to make something happen. A new layer will be the addition of Gallinari, who missed their last game with a sprained left knee. Because of his shooting touch, he'll force the Lakers to speed up their rotation defense so he doesn't get open looks. But the key for Gallinari is to continue attacking the basket like he's been doing.
Landry Fields also has to provide more of a scoring punch beyond his usual intangible playmaking. The first time around, he mentioned some butterflies going up against his idol, Kobe Bryant. But Fields has been driving and looking for his shot a bit more, so a few more points from him will help the Knicks and alleviate the pressure off Stoudemire and Felton to score the most. Speaking of Felton, it's important that he finds his stroke early because lately he's been off at the start of the games, and that's led to the Knicks having poor first quarters, as I mentioned before.
AK: And finally, the prediction.
JZ: Even with the additional points tomorrow from those particular Knicks, the Lakers' dominance in the paint will again be the difference.
Final score: Lakers 105, Knicks 97.