When it was announced Kobe Bryant missed shootaround with flu-like symptoms and would be a game-time decision for Tuesday's contest against Charlotte, I joked with Brian about "game-time decision" being purposely tossed out for dramatic effect, because everyone knew where this was going. We've all seen this movie before.
Act One: Kobe catches the flu for the billionth time in his career. (On a side note, why is this guy constantly sick? Is it because he has kids, and children are little more than germ factories? A refusal to get a flu shot? An unknown, debilitating allergy? This development has always perplexed me.)
Act Two: Kobe play through illness with an effectiveness somewhere between "solid" and "flat out brilliant."
Act Three: Fans ponder whether this performance equals Jordan's "flu game."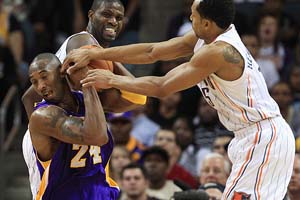 Streeter Lecka/Getty Images
Nothing came easy for Kobe against the 'Cats.
As it turned out, there was no attempt at theatrical flair. Kobe was dead sick -- which may also explain a lack of oomph against Orlando -- and it showed on both sides of the ball and in nearly every facet of the game.
Offensively, he missed 12 of his 20 shots, with ten bricks in succession. He turned the ball over five times, and the tally could have been higher. The attempt to check various Charlotteans proved futile and two frustration fouls were picked up bowling over Bobcats. Just hanging onto the rock was a struggle.
There were bursts of energy and effectiveness, but on the whole, Bryant didn't look like himself. At all.
Lest anybody flip out, I'm not putting this loss on The Mamba's shoulders. Period. Similar to my thoughts about the lagging backcourt against the Magic, I'm much more disappointed by the failure to pick up for Kobe than Kobe himself. Especially considering the inferior competition, the Bobcat curse acknowledged. It was a group effort (or lack thereof) and everybody who stepped on the floor had a hand in the mess.
(As long as we're handing out demerits, I have no idea why Phil Jackson opted to play the starters -- particularly his sick one -- so far into a game so out of reach. That's just begging for an unnecessary injury. If this was a message or punishment of sorts, I'd have preferred a locker room riot act or running them silly during today's non-existent practice.)
Plus, Kobe wanted to compete and felt a responsibility to his team and even those in paid attendance to lace 'em up. I admire that professionalism and wouldn't ever criticize the urge in and of itself.
Still, with that urge comes the onus to measure whether you're truly up to the task, and from where I was watching (in L.A.), this looked like the rare game where Kobe truly didn't have enough in reserve. Bryant didn't address the media afterward, so there's no way of confirming this, but I don't think it's an unreasonable theory.
About halfway through the game, I tweeted that "I admire Kobe's willingness to play through illness, but you have to wonder if he'd have been better off sitting out." The responses received were a predictable rainbow of opinion. Some agreed. Some didn't. And I understand both sides.
On one hand, Bryant has a track record for success under the weather (which may have led him to believe a dandy could be pulled out). And even at less than peak efficiency, inspiration could be taken from that hardhat mentality, which could be greater than the sum of Kobe's parts, so to speak.
On the other hand, if you don't have it, you don't have it, and that can hurt, even with noble intentions. Those missed shots and turnovers accounted for 17 empty possessions, which could be problematic even in a game controlled by the Lakers. At what point do you cross over from "gutting it out" to "hurting the team?" (Assuming you even think Kobe hurt the team at all.)
Is this something Kobe is ultimately responsible for evaluating properly before the game? During the game itself? Should the decision be taken out of hands at some point by PJ, the guy ultimately in charge of who plays?
And if the Lakers had won, would I have even written this post? I obviously can't say for sure. But for what it's worth, the tweet was sent when the Lakers were still in the game and I felt it was winnable.
I'm curious to learn what the LO'L readership thinks. It's probably more of a philosophical question than one containing a right or wrong answer, but either way, chime in.
Do you think Kobe should have sat out the game against the Bobcats?online survey