Not gonna gloss over anything about Wednesday night. It was, from a basketball standpoint, something of an abomination. Credit the Cavs, who showed up to play and salvage some pride after the Lakers laid a 55 point beatdown on them back at Staples... but even with Cleveland's extra incentive the Lakers had no business losing to them.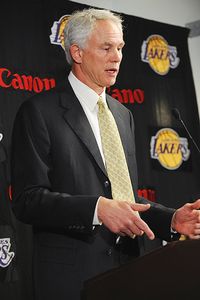 Andrew D. Bernstein/NBAE/Getty Images
Fortunately for Lakers fans, Mitch Kupchak is not likely to make a purely reactionary trade.
In the wake of three straight losses, each increasingly worse, if the questions submitted for today's chat are any indication, the groundswell of support for Mitch Kupchak to, as they say, do something, is growing. Here's the thing on that: If a trade was a good deal last week, it's a good deal now. If it was bad last week, it's still a bad idea today. Trades can't be made in reaction to one game, or a stretch of three or four. Certainly not anything so significant as a deal moving Andrew Bynum, fundamentally altering the future of the franchise for years to come.
The Lakers aren't simply beset only by complacency and lack of focus. Nor is the defensive side of the ball the only place where they need to improve. Only three times in their last 11 games have the Lakers exceeded their season average in points per 100 possessions, in no small part because the team's perimeter game has gone into the tank. Even at the start of the road trip when things looked so promising- seems like weeks ago now- L.A. was winning primarily on the strength of airtight defense.
Doesn't leave much margin for error.
Inefficiency on offense was a concern last season, as well, one the Lakers eventually overcame. This year, though, could they use more juice than they're getting, given the increasing likelihood of playing multiple playoff series on the road? Would additional offense, resulting in cleaner shots, fewer turnovers, and more makes, help add consistency to the D? I ask not to advocate for the Bynum/Melo deal specifically (still a long shot), or any other (I'm honestly not sure what's out there for the Lakers to do, as their options really are limited), just to note the Lakers have multiple areas in which a prudent trade could help.
The most important thing for L.A. is not to be reactionary, using the events of the last four days as the impetus to make a splash rooted more in an antsy need to "do something" than sound principles. Particularly if "something" is a trade they thought was a bad idea a week ago. "Shaking things up" should never be the primary reason.
As much as the Lakers could be improved by a deal, it's still a lot easier to make them worse, particularly as a hypothetical trade grows in scale. Fortunately for Lakers fans, that sort of behavior is well outside the norm for the Lakers as an organization.