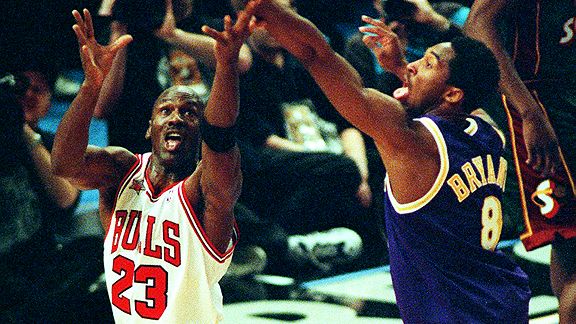 Henry Ray Abrams/AFP/Getty Images
The meeting between Kobe Bryant and Michael Jordan in the 1998 All-Star Game has become an iconic moment in the careers of two players constantly compared to each other.
It's become fashionable in some circles to rip the All-Star Game. It's just a show, it doesn't matter, nothing comes of it.
Are you one of those people? Shame on you. Your jaded nature saddens me.
Here's why you need to be paying attention when the ball is jumped Sunday afternoon at Staples Center.
1. Important Things Happen.
Even if the final score fades into the foggy realm of afterthought- and it generally does- the games themselves deliver more than their fair share of seminal moments. The perception he'd been frozen out of the 1985 game in Indianapolis fueled a rivalry between Michael Jordan and Isiah Thomas lasting throughout their careers, influencing Jordan's decision to speak out against the inclusion of Thomas on the 1992 Olympic team in Barcelona. The matchup between an aging Jordan, in his last appearance as a Bull, and a, shall we say, precocious first-time All-Star in Kobe Bryant was their most memorable. Just ask Karl Malone, who long resented Bryant waving him off on a pick and roll so he could attack M.J. one-on-one.
Few events in sports have had the sort of social and cultural importance of Magic Johnson's appearance in the 1992 ASG. In an era where understanding about HIV and AIDS was far lower than it is today, Magic's 29 point, nine assist performance (after being voted in by fans despite not playing a game that season) sent a message resonating long after the game.
There was the game in '64, when the league's elite talent refused to leave the locker room until owners earned concessions from the owners, including a pension, and almost 40 years later in Philadelphia, when Bryant was booed by fans in '02 after winning his first All-Star MVP (the second one, '07 in Vegas, was better received).
Point being, serious hoops memories are built this weekend.
2. It Answers the What If?
We all know these guys are good. They wouldn't be All-Stars, otherwise. But circumstances- specifically nine other guys on the floor, at least five of whom are more than willing to clutch, grab, and claw stars to a lesser performance- make it tough to see just how skilled they are. The All-Star Game solves that problem, and then some. With defense an afterthought, players can crank up the speed, bust out the playground crossovers and behind the back passes, and generally unleash every trick completely inappropriate for any normal game. It's the NBA's equivalent of Grand Theft Auto- totally irresponsible fun. For one day, players get to steal police cars (pulling up for three on a two-on-none break) and relieve old ladies of their purses (cherry pick to set up an uncontested dunk). It's a meal of deep fried Twinkies, a third trip to the Sizzler buffet, and a couple extra hunks of Chicago deep dish rolled into one.
For three quarters, at least. If the game is tight in the fourth, when the competitive juices of competitive men flow a little harder, guys suddenly get serious, crank up the intensity and try to win the game. Meaning, effort is put forth on both sides of the floor. If the script plays out in reasonably ideal fashion, you get the best of both worlds.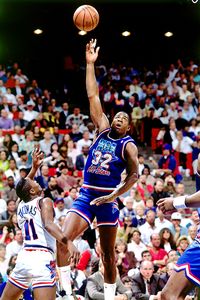 Andrew D. Bernstein/NBAE/Getty Images
Magic Johnson's performance in the 1992 All-Star Game served as a powerful symbol.
Nobody wants to see every game played like an All-Star contest- just ask Golden State Warriors fans- but for one day it's fun, and honors a part of the sport other games can't with any regularity; the free-flowing, creative, unstructured version played in gyms and on blacktops all over the country.
3. No Sporting Event Better Integrates Pop Culture.
The Super Bowl never seems to get it quite right. This year, Christina Aguilera botched the anthem, then at halftime the Black Eyed Peas found themselves surrounded by a bunch of extras from Tron. At least they attempted to find a band in its prime. Recent acts include The Who ('10) and The Rolling Stones ('06) both legendary bands no doubt, and both awful that night. Paul McCartney's performance ('05) made me uncomfortable, while Bruce Springsteen ('09) just looked uncomfortable.
The NBA, however, picks a demographic (young people who keep up with music) and caters to them all day long. In 2004, the last time All Star visited Los Angeles, Outkast and Beyonce totally owned Staples Center. Last season, the Shakira and Alicia Keys put on the sort of show at Jerry Jones' palace in Dallas the NFL couldn't equal last month. When the NBA switches gears, it's with a purpose, as it was in '08 in New Orleans, when Harry Connick Jr. directed a show including Big Easy icons Dr. John, the Neville Brothers, and Branford Marsalis.
Even if the artists themselves aren't your favorites, they make sense and it tends to be a great show, and occasionally even more.
Take 1983 at the Forum, when Marvin Gaye walked to center court, eyes hidden behind dark, mirrored sunglasses. Accompanied by little more than a drum beat, he proceeded to deliver a soulful, R&B-influenced rendition of the national anthem so controversial many connected to the performance figured they'd lose their jobs. Instead, over time it has become arguably the song's most well known performance.
A flash point of debate at the time, Gaye's performance has over time become so beloved that in '04, the NBA paid tribute by inviting his daughter Nona to perform the anthem with him in a moving "duet."
Obviously not every musical moment in ASG history rises to this level, but because the NBA is more closely intertwined with pop culture and music than any other sport in America, the entertainment around the game is generally worth watching.
4. Because It Doesn't Matter.
In the most literal sense. Unlike Major League Baseball, the NBA doesn't try to artificially pump up the "meaning" of its game. The winning conference in Sunday's game will not host Game 1 of the NBA Finals. Why? Because the game is an exhibition and doing so would be stupid, just as it is with baseball and the World Series.
But for Lakers fans, a high-profile exhibition game put on purely for the fun of it- massive corporate advertising push notwithstanding (it wasn't an accident Blake Griffin jumped a Kia Saturday night...)- might be just the thing to help calm some nerves after a disastrous end to the pre-break Grammy trip. It's a reminder hoops is something meant to enjoyed. Passionately followed, too, but if doing so isn't fun, what's the point?
In a season still holding plenty of potential, it's a chance for fans to recharge the batteries, and get excited for a 25-game push to the playoffs. To rebuild some of that early season optimism.
Until something bad happens Tuesday against Atlanta, at least.