Tuesday night, the Lakers kicked off the stretch run with a stellar win over the Hawks at Staples. Dominant on both sides of the ball, they took an early hold on the game, and put it away by halftime. Exactly the prescription to wipe some of the post-Cleveland flavor from the collective mouths of the Lakers universe. Not that they'll get heaps of time to enjoy it. After the game, the Lakers headed to the airport and a flight to the wet, cold, hostile environs of Portland.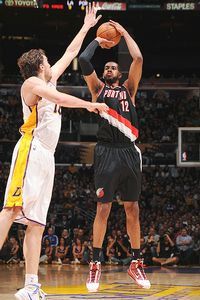 Noah Graham/NBAE/Getty Images
Stopping the red hot LaMarcus Aldridge will be key for the Lakers if they want a win Wednesday in Portland.
While the Lakers did managed to break the Rose Garden Curse last season, they've still lost 15 of 18 in the Pacific Northwest, with only one win in their last 10 tries. Tonight, with the Blazers riding a six-game winning streak and perhaps welcoming back injured guard Brandon Roy to the lineup (pending the results of their morning shootaround), the Lakers are in for another tough test.
Whether Roy plays or not, these days the Blazers are built around LaMarcus Aldridge, who has flat gone off over the last eight weeks or so. In January, Aldridge hit nearly 50 percent of his shots, and averaged 24.9 points and 10.4 rebounds. Strong stuff, enough to help him top the list of All-Star snubs. In nine games this month, though, Aldridge has upped the scoring to nearly 30 points a night (29.1) and the field goal percentage to 57.6.
Aldridge wasn't a major factor in the team's first meeting of the season, a blowout win for the Lakers at Staples (where they tend to dominate Portland) back in early November. That night, the Lakers owned the paint thanks to strong efforts from Pau Gasol and Lamar Odom. Can they do it again?
To gain a little more insight into the state of the Blazers, I hit up Andrew Tonry of Portland Roundball Society- a top shelf source for all things Blazers- who was kind enough to answer some questions:
1. Once again, the Blazers have responded very well despite a ton of injuries. What's been the formula this year?
"Let's start with the constants, the few who haven't been hurt: LaMarcus Aldridge, Andre Miller and Nicolas Batum. Then the guys who stepped up and filled holes admirably: Wesley Matthews and Dante Cunningham. Certainly Aldridge's emergence as a number one option has got to be the most consequential on the court. But the lion's share of the credit is certainly due to Nate McMillan, who's kept the team from packing it in when the sky fell (the two-week span Brandon Roy and Greg Oden went down). McMillan's kept these guys motivated, and his scrappy, grinding style has proved viable."
2. Why has LaMarcus blown up the way he has? What does it mean for a matchup against a big frontcourt like the Lakers?
"Honestly, it's hard to understand how Aldridge has made the leaps he has. According to our pal, TrueHoop's Henry Abbott, players almost never make such leaps at this stage of their careers. The statistical anomaly would suggest that Aldridge will come down to earth. It's worth noting that Aldridge came into camp heavier, a lot of that weight in his core and legs--and he's using it in the post and working harder at getting to the rim. But then again it must be considered that Brandon Roy's style didn't bring out the best in Aldridge, who's really hard to guard, but wasn't leaned on late-game in favor of Roy."
3. During the six game winning streak, from an efficiency standpoint the offense has been outstanding, well beyond season averages. What has changed? Is it something going beyond LM's awesomeness?
"During a number of early-season skids coach McMillan kept banging a drum: the team were simply missing shots. The looks were good, he said, within the system. They just weren't going in. For year's I've been banging my own, similar drum about McMillan's offensive schemes: live by the jumper, die by the jumper."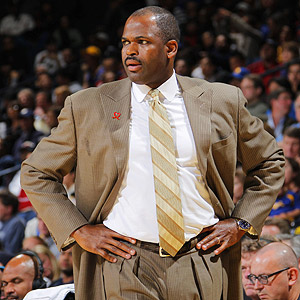 Rocky Widner/NBAE/Getty Images
Could Nate McMillan be a viable candidate for L.A.'s coaching gig next season?
4. What are two matchups you're looking forward to in Wednesday's game?
"I'm always interested in watching Nicolas Batum defend the league's top scorers, so I want to see him get time on Kobe. That said, Batum can guard everyone from one to four, and I could see him on Lamar Odom at times. Gotta keep an eye on whoever takes Aldridge, as he doesn't usually see front lines so big. Also want to be on the lookout for Brandon Roy sightings, as he figures to play for the first time since December 15th. He's expected to come off the bench."
5. Wild Card! Think if a good question you wish I'd asked, and answer it.
"I would've asked: is Nate McMillan going to remain in Portland? Does he want to coach the Lakers? The answer is I don't know. McMillan's contract is up and he doesn't want to talk renewal until the season's end. He's also been staunch about being retained just a year at a time, being judged on his performance in part, but also maintaining flexibility. It's not hard to imagine he'd be looking for a change of scenery after Portland's title-model (core of Aldridge, Roy, Oden) blew up. Certainly McMillan's a guy in demand, what with his work with Team USA and all. But is he an L.A. guy? I can't imagine the uptight McMillan doing the Hollywood dance, especially after Jackson. But he is a man of high ambition, to be sure."
Our thanks again to Andrew for his help.
Honestly, I'd never really thought much about McMillan in L.A., a) because his contract status isn't something I've followed closely, and b) because Brian Shaw is so widely seen as the guy-in-waiting once Jackson walks away, L.A.'s next coach isn't a question generating a lot of buzz. But if McMillan were to become available, it would create an interesting philosophical debate. Obviously he's not "of the family" as Shaw or Byron Scott- a leading candidate before taking the gig in Cleveland- are, but McMillan is a highly respected coach with much more experience in the big chair than Shaw.
He'd be a departure, but depending on how this season wraps, some will argue that's what the Lakers will need. Obviously there's a lot of ground to cover before any decisions get made, making this more idle talk than anything, and Shaw remains the odds on favorite. But should he be available McMillan is definitely the sort of name to which those pining for a Shaw-alternative will point.