No team made a bigger statement at the trade deadline than the Oklahoma City Thunder. In acquiring Kendrick Perkins and Nate Robinson from the Celtics, plus Nazr Mohammed in a separate deal with the Charlotte Bobcats, a message was clear. The Thunder are quite serious about making a deep playoff run, even if it means going through the two-time defending champs. The addition of Perkins -- he of the track record of interior D success against the Lakers -- feels particularly like a step taken to battle the Lakers. If that means sacrificing, among others, Jeff Green, a young player with potential and popular with the brass and teammates, so be it.
The new-look Thunder adds a wrinkle to an already intriguing showdown. (Perkins is still recovering from a knee injury, but the other Thunderians should suited up for Sunday's battle.) After coming up short against in a grueling six game series last season, plus a tough loss at Staples on MLK Day, the upstarts are surely out to stand their ground against the purple and gold. In the meantime, the Lakers are riding a three-game winning streak and are resembling their championship selves.
Something, as the saying goes, must give.
For perspective on the Thunder, we were joined this weekend on ESPN LA On Air by Matt Pinto, radio play-by-play man for OKC. Here is a transcript of the conversation.
On the team's reaction to the blockbuster deal: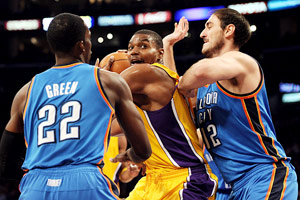 Harry How/Getty Images
Andrew Bynum will be trying to break down two different defenders against OKC.
"We were on the road when the deal came down after a tough loss in San Antonio on Wednesday and then the players learned of the trade on Thursday, and then played in Orlando (Friday). I think they were still a little shell shocked. The majority of the roster is young and has never really gone through any sort of mid-season roster alteration. This group is really unique in that they're really close. They're all about the same age, the core nucleus we're talking about. And it's almost like a college atmosphere. I think the guys you really look to carry the mail took the departure of Jeff Green and Nenad Krstic and D.J. White and Mo Pete really hard. I think they will adjust. They'll need to adjust.
"In terms of what the big picture looks like, once Kendrick Perkins come back from the minor knee injury he suffered early last week, suddenly this team is much tougher. Much more formidable on the interior, which clearly was an area of need. When you throw Perkins' presence and scowl, willingness to take a hard foul, girth and understanding for what it takes to stop some of the big men in the NBA inside, along with Nazr Mohammed's experience, and a big frame and a big body as well, suddenly I think this team, in the big picture, becomes a bit more of a factor and a force in the western conference.
On how well Perkins and Ibaka will jell offensively and defensively:
"That's a good question, because I think this team is going to have to alter it's approach offensively. They've been effective in stretching opposing defenses with Jeff Green's three-point shooting ability and his overall versatility and bounce off the dribble at 6' 9". Nenad Krstic was a pick-and-pop center that could stretch the defense as well. Now all of a sudden, you have a much more conventional looking starting five, so they're going to have to adjust on the fly.
"It's a really good question, one that I honestly don't have an answer for.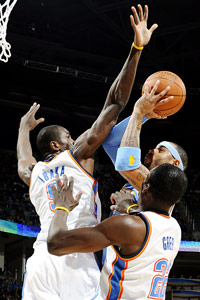 Larry W. Smith/NBAE/Getty Images
Is Serge Ibaka ready for an expanded role?
"Serge Ibaka has a total of 19 games as a starter in the NBA. He's only 21 in his second NBA season. You would expect that he'd be now entrenched as the starting power forward on this team, but Scott Brooks, after (Ibaka) didn't perform particularly well against Orlando in that role, basically said that nothing is a given and Kevin Durant at 6' 10" is capable of playing power forward as well."
On how difficult the adjustment period with new players will be:
"I think the adjustment is as much the psychology of what's going on for the players as it is what will actually take place X's and O's wise on the floor. Strategically, Mohammed can be a pick-and-pop player but Perkins is strictly a pick-and-roll guy that's going to entrench himself right under and around the basket. That's going to be a bit of an adjustment. He's an excellent screen setter, which Kevin Durant and Russell Westbrook will come to love. Strategically, it should fit fairly well, fairly soon.
"I think the tougher part is how do the guys adjust and adapt in terms of what they bring to the floor from a mental standpoint. What their psychological approach is. It's part of the business of what the NBA is about, so they don't really have any choice. Right now, they lead their division. They're viewed as a team that's rising in the Western Conference. I think that's how they perceive themselves. The quicker (the adjustment), the better."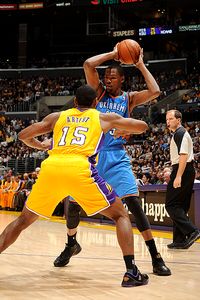 Noah Graham/NBAE via Getty Images
Ron Artest has had Kevin Durant's number head-to-head.
On Kevin Durant's struggles against Ron Artest:
"Well, Ron Artest is the Dennis Rodman of the modern era. He gets away with a ton of stuff. He understands all the tricks. Grabs the jersey. He'll hook arms. He'll use hand checks that are like vice grips, like what Derek Harper's hand checks used to be like. Physically, he knows the nuances that can alter Kevin finding comfort and rhythm. Kevin still is growing into what his frame is. He still, from a muscular standpoint, has a long way to go. He's gotta learn to deal with some of the physicality that Artest doles out. I think that's it more than anything else.
"No discredit to Ron, because the way he plays the game is with reckless abandon defensively and he has earned the opportunity to play the way he does. I'm just shocked every time I watch him play because he commits multiple fouls and at the end of the day he has two personal fouls called on him."
On the Thunder's issues on defense, what they need to do to win the game:
"Well, they've got to find a way to seal the paint and not allow Pau Gasol, Andrew Bynum and Lamar Odom to dominate in the rebound column and to extend possessions like going to get missed shots repeatedly. I think that's the biggest part of what playing the Lakers every game calls for from the opposition. The Thunder want to clear after missed Laker shots and get out and run the Lakers. They were effective doing that in the playoffs a season ago and they haven't lost any athleticism in what these trades have been all about. The formula is still the same. I expect Nazr Mohammed and his big frame will be available to go to battle with Odom, Gasol and Bynum inside.
"I love anytime these two teams collide, because you've got the contrasts. The Lakers' size, length, experience and championship pedigree against the young rising team in the west that continues to progress and has its eyes on big things down the road."
One final thought
I've never been the biggest fan of Lil' Nate. He's talented, but his ability to go on terrifying scoring rolls is often undone by a penchant for shooting his team out of games. Robinson can be exceptionally undisciplined, hotheaded and immature. But the Thunder was really hurting for points off the bench from anybody other than James Harden, who was also the best play-maker among the reserves. Robinson's presence takes some pressure off Harden and creates a brand new dimension for that unit. And if he, Westbrook and Durant are on the floor at the same time, that's a potential nightmare to cover.
The lion's share of attention with OKC's trade has centered around Perkins (in part because of what his absence could potentially mean to the Celtics), but Robinson can swing games in either direction. He's worth notice, for certain.