Only fans with expectations on the unreasonable end of things could complain about L.A.'s first week coming out of the break. Four wins, including three over playoff-caliber teams, capped by Sunday's win against the Thunder at Ford Center.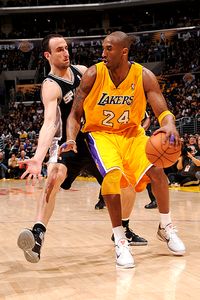 Andrew D. Bernstein/NBAE/Getty Images
Two games against San Antonio this season have provided few highlights for Kobe Bryant.
The Lakers now get a brief break from a rough stretch of schedule before Sunday's game in San Antonio, kicking off a four-game trip against a quartet of playoff teams.
Here's how it plays out...
Game of the Week
Sunday at San Antonio, 12:30 p.m. PT (ABC)
Unless they decide to forfeit the remaining games on their schedule, nobody is catching San Antonio for the top spot on the Western Conference playoff ladder. It's a reality the Lakers are speaking about more openly as they hit the stretch run. So Sunday's game doesn't matter when it comes to seeding (as pertaining to San Antonio), but could very well be a preview of the Western Conference Finals.
Because the Lakers and Spurs are veteran led and playoff tested, they're likely the pair of squads to whom home court is least significant among W.C. playoff contenders. Nor will either team read too much into the results of regular season matchups, so as it relates to looking ahead, it's almost a game better viewed without looking at the score. If the Lakers play a game similar in quality to their last-second loss on Feb. 3, cause for alarm will be limited, even in a loss. Should they get blown out, as it was the first time L.A. visited San Antonio this year, feel free to chew a few fingernails.
A good game whets the appetite for later this spring, when the teams could meet again. In the meantime, like every game they'll play from now until the end of the regular season, it's one the Lakers need to win as they jostle for position with Dallas, Boston, Miami and Chicago behind the Spurs. For that to happen, L.A. needs to find ways to score. In both meetings thus far, the Lakers were held below season averages for offensive efficiency. One big reason is San Antonio's work against Kobe Bryant, who has missed all but 13 of his 45 shots over two games this year against the Spurs.
Obviously if Kobe is more effective Sunday -- it's unlikely he'll be worse -- the Lakers stand a much better chance of winning.
Other Games
Tuesday at Minnesota, 5 pm. PT
Things haven't exactly picked up for Kurt Rambis in his second season with the Wolves. Nor does it appear they'll be picking up anytime soon. Despite winning Sunday night, Minnesota has lost 10 of 13, and while Kevin Love deservedly made the All-Star team, the rest of the roster is more Island of Misfit Toys than roster on the rise. Minnesota president David Kahn has taken to assembling the once-shiny baubles of other squads tarnished for one reason or another -- assuming one of those reasons is not really panning out at the NBA level: Michael Beasley, former building block of the Miami Heat; Darko Milicic; Anthony Randolph; Martell Webster; Sebastian Telfair. All former lottery picks, all disappointing in some way.
Meanwhile, the Wolves have piled up plenty of their own picks, and, other than Love, have done almost nothing with them. Whether PER is your favorite stat, it's likely instructive that Kahn's four most recent draft first rounders -- Wes Johnson, Lazar Hayward, Wayne Ellington and Jonny Flynn -- all come in under 10. Flynn is a moribund 5.9. This while Ricky Rubio is still in Spain, and the third PG drafted in 2009, Ty Lawson, breaks out -- in Denver.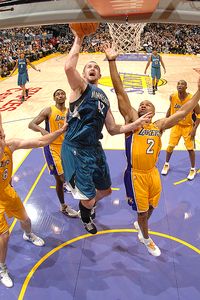 Andrew D. Bernstein/NBAE/Getty Images
Kevin Love can hurt teams from the perimeter and inside. He's a slippery fella on the offensive glass, too.
It's too early to give up on some of those guys, but Minnesota isn't getting an early return on first round investments.
On the floor, the Wolves are bad offensively (24th in efficiency) and defensively (26th). No team turns the ball over more, few teams distribute the ball less effectively (23rd in assists).
There is, however, one thing Minnesota does exceedingly well for a 14-win team: rebound. In absolute terms, the Wolves have grabbed more of them than any team in the league. They're particularly opportunistic on the offensive end, leading the NBA by a fairly wide margin in offensive rebounds. (In part because they have more opportunities than most, thanks to attempting more shots than all but one team yet hitting at a percentage worse than 27 others.)
The big reason is Love, who is by nearly every reasonable measurement the most productive rebounder in the league. Putting a body on him and his teammates when shots go up will be essential.
It won't require the Lakers' best effort to win this game, meaning it's just the type to make fans nervous, given how the team has eased up on nights like this during the season. I'd be surprised if it happened here, though, given the momentum carried into the game combined with an understanding of the damage that could be done.
Friday vs. Charlotte, 7:30 p.m. PT
I don't blame you for not committing to memory Phil Jackson's postgame comments after L.A.'s 20-point loss to the Cats on Valentine's Day, though it wouldn't have required much effort:
"I just have this to say: I'm very disappointed in our performance tonight. I'm embarrassed about what we did. That's it."
And there you have it. For a day or so, it was spoken of by some as the worst loss of the season before Cleveland made that argument moot. The game was disappointing on a few levels. Had the Lakers taken better care of the ball early, they might have put the Bobcats away before things went haywire in the second half. Eight giveaways led to 13 points for the Bobcats (and shorted the Lakers' opportunities to score). More attention to detail and they enter the break tied, or perhaps with a lead, instead of down by six.
Then in the third quarter, the Lakers struggled to score (particularly with a flu-ridden Kobe Bryant fighting his shot and handle) while the Bobcats made a push. Needless to say, the Lakers didn't push back.
Friday's game will mark the fourth for Charlotte without Gerald Wallace, the organization's face since arriving in 2004. Thus far, they're 1-1, though the victory came against Sacramento, so take it for what it's worth. Without Wallace, the scoring burden for an already light-scoring team falls even more heavily on Stephen Jackson. Players like D.J. Augustin and Gerald Henderson are expected to pick up the slack, supplemented by Boris Diaw and whatever scraps a fairly weak bench can muster.
On their own floor, the Lakers can take care of this game reasonably easily with a solid defensive effort and some offensive discipline.