Whenever the Lakers face vastly inferior competition, the game is always much more about what they do as a group than individual matchups within the game or strategies the opposition might throw at them. Certainly it's the case tonight in Minnesota, as the Lakers visit the 14-win Timberwolves at Target Center. As I wrote in Monday's Week In Preview, Kurt Rambis' crew is a smashup of oddly matched parts, short on high-end talent outside Kevin Love.
At this point of the year L.A. can't afford another bad loss, so it's best just to pay attention from the jump and put the game away early. Whether the Wolves cooperate fully is another question. They're a real NBA team with uniforms and a charter jet, have managed to outscore their opponents 14 times, and gave the Lakers a tough run in their first meeting, back on November 9.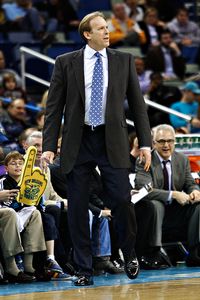 Derick E. Hingle/US Presswire
His second season in Minnesota with the Timberwolves hasn't been much more fruitful for Kurt Rambis than the first.
To help gain more insight into the land of the lupus, we hit up Benjamin Polk and Myles Brown of A Wolf Among Wolves, the outstanding blog dedicated NBA hoops in Minnesota.
1. I know the reviews on Kurt Rambis in Year 1 weren't exactly spectacular. About 3/4 of the way through Year 2, has anything changed? What are the major criticisms/points of optimism? Obviously he's a guy people follow around here.
I personally have three major points of criticism for Rambis. The first is game management, running the gamut from unpredictable rotations and playing time to poor late game strategy--mismanaging the clock, fouls etc. This makes sense considering that he's still a pretty inexperienced head coach.
The second is the way he deals with young players. Given his many years of experience coaching under Phil Jackson on a championship contender, Rambis is not really aware of the amount of teaching and hand-holding that young players really need. The psychological tactics and expectations that work for Kobe Bryant and Derek Fisher and Pau Gasol are simply not the same as the ones that work for a bunch of 21-year-olds. You get a feel for this when you see him screaming at rookies for making rookie mistakes or appealing to the professionalism of players a year removed from high school.
The third is defense. Its hard to know exactly why, but despite the fact that the Wolves are more athletic and talented than they were last year, their defense is still as terrible as always, and in the same ways. They can't defend the perimeter. Their reactions and rotations are slow. Their situational awareness is terrible. We're starting to wonder if it will ever get better.
On the positive side, their ball movement and offensive instincts are really starting to improve. With some exceptions, you can see them becoming more intuitive offensively, making better passes, taking better shots. Finally, I think it's to Rambis' credit that the team has bought into what he's trying to do and hasn't started to self-destruct after two long, hard seasons. Not sure how he's done that, but its impressive.
--Benjamin Polk
2. I mention in our weekly preview how David Kahn seems to be assembling the tarnished once-jewels of other franchises. Guys who haven't, for one reason or another, met expectations with the teams drafting them. Is there any sense of a plan in Minnesota, or are you guys just throwing highly drafted players at the wall to see what sticks?
A little bit from column A, a little bit from column B.
Considering the near constant state of instability since losing Kevin Garnett, it's not an entirely unreasonable course of action. Management seems to have accepted this isn't a likely destination for any top flight free agents, so they've focused their efforts on developing young talent. They appear to be building around Ricky Rubio, acquiring those capable of playing both uptempo and triangle basketball, including multiple players at the same position. While it's a questionable strategy, they have to work with what's available. Their reasoning is that it will inspire competition which allows them to see who's the best of the bunch. The flip side is that it may also stifle players who would thrive otherwise. Who knows?
For now, all that's clear is that despite any jokes to the contrary, this team is still in dire need of a point guard. The Wolves lead the league in turnovers and are near the bottom in assists. Until a decision is made on what to do with Rubio, it's tough to see how they can develop any stability both on the court and in their re-re-rebuilding effort.
--Myles Brown
3. Looking at the Wolves' own draftees, Jonny Flynn has been a major disappointment. Is there concern Wes Johnson won't pan out, either? He's been up and down (with a lot of down, insofar as shooting percentages go).
There's still some grumpy Gus types around these parts who prefer DeMarcus Cousins, but Wes has quieted them a bit with his play of late. Earlier this year he was overly reliant on three pointers, however he seems to have found a rhythm during the All-Star break. He's coming off of his best back to back performances of the season last week with 22 and 17 points versus New Orleans and Golden State, respectively. More effective from mid-range, both in catch and shoot and pull up situations, he's showing signs of a dynamic offensive talent. Equally important, Wes may be the defensive presence we need to deal with the league's top swingmen since Corey Brewer's departure.
Now there's still an itchy trigger finger from deep and he doesn't get to the line as much as we'd like, but there's potential. We like potential. It certainly doesn't hurt to have a mentor like Kobe either. Does it?
--Myles Brown
4. What has to happen for the Wolves to beat the Lakers Tuesday night? Is there a particular matchup people should watch?
The talent disparity is obvious, so it would be nice for the home team if the Lakers struggled through another bout with complacency as they did in their first meeting. Kevin Love showed his first glimpse of a monster season to come with 23 points and 24 rebounds that night, but unfortunately the rematch didn't go so well. Ten days later, he went scoreless for the first time since his rookie year. 46 games later, Kevin hasn't gone without a double double since, so thanks! It'll be interesting to see how the Lakers intend to limit his productivity, especially now that Andrew Bynum has returned.
Which leads to an ever frightening situation for Wolves fans: dependence on Darko Milicic. Minnesota plays some of their best basketball against smaller teams that allow Kevin to log minutes at center, but that's simply not an option against such a lengthy front line as L.A.'s. Darko was signed here for two reasons, his ability to pass/score out of the triangle and his occasional flashes of defensive competency. We've seen both throughout the year as he's put forth impressive performances against San Antonio, Oklahoma City, and even the Lakers, but there's also been nights of the sheepish ineptitude that he's widely known for. We need the good Darko tonight to even stand a chance.
--Myles Brown
Thanks again to Ben and Myles for taking the time. Be sure to check out A Wolf Among Wolves whenever you're feeling Minnesota.