For the first time since Pau Gasol's arrival, the Lakers get a win in Philips Arena. Which is nice, because judging by the buzz, it was all Laker fans anyway.
The Good
Defense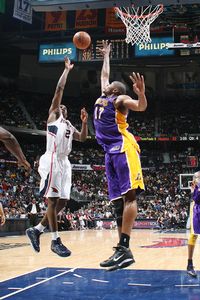 Scott Cunningham/NBAE/Getty Images
Not much doing in the lane against Bynum.
On several counts, it was another outstanding effort from the Lakers. Individually, several players brought their A-game. Andrew Bynum continued his reign of terror, blocking three shots, altering several other shots he couldn't get his paws on, and snagging 12 defensive rebounds (16 in all). Derek Fisher drew a pair of charges (one against Joe Johnson away from the ball), deflected a pass to create a turnover and got a steal while backpedaling in transition to prevent the kind of buckets Atlanta's offense desperately requires. Ron Artest hounded Johnson into a miserable 11 point/14 shot performance. Allowing barely an inch to operate, Ron-Ron's pressure also helped induce the Atlanta wing into three turnovers.
And so on and so forth.
Fruit was also harvested through group effort. The Hawks were held to just 16 third quarter points and the Lakers forced a few 24-second violations. And specifically, two possessions heavy on teamwork grabbed my attention.
First, when the combination of Artest crowding his hip and Gasol cutting off the lane (while still tracking his own man via peripheral vision) forced Johnson to awkwardly give up the ball. Fisher deflected the errant pass, creating a Hawks turnover. Later in the game, Smith got Bynum in the air on a fake, but Kobe came out of nowhere to provide the weak-side block. With little time left on the clock, Gasol provided an outstanding challenge to bother Johnson into an air-balled trey and a 24-second violation.
Time and time again, the Lakers kept the Hawks on their heels and out of rhythm.
Andrew Bynum
Drew patrolling the lane like a possessed watchdog has grown into a commonplace occurrence these days, and it's becoming increasingly evident when he's in this zone, the Lakers become darn near impossible to beat. Over the last few seasons, Drew has "understood" this concept, but perhaps for the first time ever, he truly understands the impact he's capable of offering without touches. Still, the big dog needs to get fed every now and then as a reward for protecting the porch, to borrow the parlance of the last great Laker center.
After preceding games with four and two shot attempts, Drew launched ten, and made the most of the increased touches. 80 percent from the field and 16 points. It's not mandatory for Drew to be this prolific on both ends of the court, but ain't much to hate when it happens.
Pau Gasol/Lamar Odom
The veterans took a back seat to the utter domination that was Andrew Bynum, but it wouldn't be fair to overlook their efforts. Whether because he wasn't feeling it or wasn't getting any calls (Pau's annoyed body language made clear his opinion), Gasol's 14 points on 16 shots lacked the efficiency we've come to expect. Still, 11 rebounds (five on the offensive glass), five dimes, two steals and steady energy are nothing to sneeze at. In the meantime, LO poured in a dozen off the bench for solid support, highlighted by a sequence where he spun on Johnson, then went up-and-under against Smith for a layup.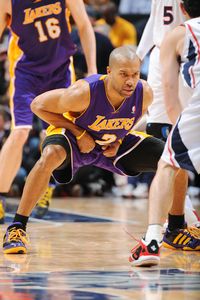 Andrew D. Bernstein/NBAE/Getty Images
Fish had an impact on both ends of the court.
Derek Fisher
Today's recent edition of the Triangle had Fish's ears burning as we addressed a fan's question about whether a low PER should prompt a lineup switch. Fisher responded with 11 points on four-of-eight shooting to complement a strong all-around game. Coincidence? More than likely, but we'll still take the credit for Fisher's performance. That's just the egocentric way the K Bros roll.
Kobe making history... again
A champion from Philadelphia passes a Philadelphia champion. As for other great moments worth celebrating, there was also a clock-beating three-pointer with Smith in Kobe's mug and no space to operate. Well, The Mamba doesn't really need a ton of elbow room. With that downtown drained (to quite the chorus of cheers, I might add), a 96-82 margin was created with just over three minutes to go. The Lakers' eighth straight win was essentially on ice.
Just another 26/6/4 day at the office, you know?
The Bad (relatively speaking)
The first half of the fourth quarter
The final frame began with a 16 point advantage. With five minutes remaining, that cushion had been halved. Ultimately, this drop proved insignificant, between the quarter's strong finish and the grand scheme of things. Plus, good teams make runs and Atlanta qualifies as quality competition. But when you consider the scarce fourth quarter lapses during this streak, I guess this could be deemed disappointing in a vacuum.