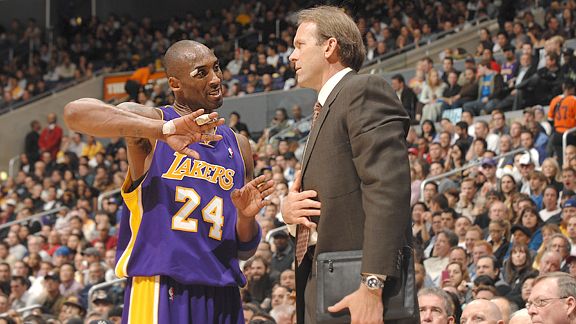 Noah Graham/NBAE Getty Images
Kobe Bryant and Kurt Rambis speak on the sidelines on January 21, 2009 against the Los Angeles Clippers at Staples Center.
"I remember one practice last year, after a game in which he was getting hit an awful lot on his arm on his shots he spent a practice one-on-one with one of the assistant coaches continually hitting him on the arm so he could learn to shoot while he was being fouled at the same time. That's the diligence that he's done every single year, every month, every week. Understanding how he has to play better and overcome any obstacle that's put in front of him, whether it's double teams, triple teams. Understanding where he's being defended on the floor, and how different teams come to trap him. He's always studying and trying to figure out what he can do."
More Evolution of Kobe Bryant:
--Kurt Rambis, longtime Lakers assistant coach, left Los Angeles to become the head coach of the Minnesota Timberwolves before the 2009-10 season.