There's only one way to move forward when an eight-game winning streak ends. Start a new streak. And for the Lakers, the desire to get the "W" train rolling again in Dallas isn't simply a matter of pride or competitive spirit. There are practical implications at hand.
Thursday's fall to the Heat coincided with the Mavs beating the Knicks. Thus, the Lakers are now two losses behind Team Cuban in the quest for the Western Conference's second seed. Saturday's result will swing the standings a full game in either direction. Should the Lakers fall three games behind, the race is essentially over in mid-March.
For more insight on the Mavs, we talked with Jeff Caplan, who covers the team for ESPNDallas. Here are a few items to keep an eye on once the ball is jumped.
K Bros: From a matchup perspective, where do you see the strengths and weaknesses for Dallas against the Lakers?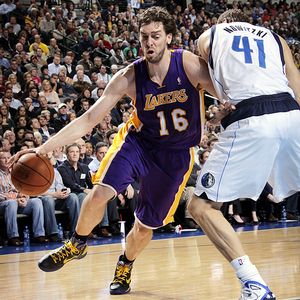 Glenn James/NBAE via Getty Images
Everyone knows Dirk can score? But can he slow Pau and LO?
Jeff Caplan: When the Mavs play teams such the Spurs, Hornets and previously Utah, they can be exposed at the point guard position simply because Jason Kidd just can't keep up with those young, penetrating guards, and it forces the Mavs to put Kidd on the shooting guard. That's not the case with Derek Fisher. The matchup allows Kidd to stay on the point and the Mavs can then get creative with covering Kobe. So chalk that up as strength, defensively and offensively as well.
As for weakness, even though the Mavs have stocked up on 7-footers specifically to face the Lakers, L.A.'s big men, Andrew Bynum and Pau Gasol, are far more skilled inside, and when Dirk Nowitzki is on Gasol, I believe he's crafty enough to make it tough on Nowitzki. And when Lamar Odom is in as well, I'm not sure the Mavs can effectively match up.
K Bros: Corey Brewer was brought into the fold specifically to defend a guy like Kobe. Limited minutes and small sample size acknowledged, how has he looked, and do you think he'll get some chances against Bryant?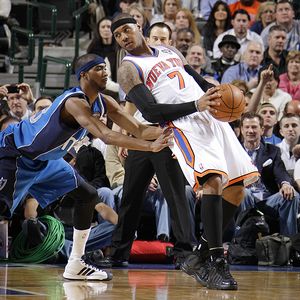 Danny Bollinger/NBAE via Getty Images
Fresh off an assignment checking Melo, the newest Mav will be asked to shadow Kobe.
JC: Brewer was acquired for two reasons: one as insurance if Peja Stojakovic can't stay healthy or just isn't very good. Chalk up both of those already. Stojakovic lasted just 13 games before missing the last two with a stiff neck and it's questionable to doubtful if he'll be ready to play against the Lakers.
The second purpose for acquiring Brewer is to bring in a 6-9 athletic swingman who likes to play defense. It gives the Mavs an extra body to tag-team with Shawn Marion to guard players such as Kobe, Manu Ginobili and Kevin Durant. Brewer has suited up for five games since being acquired. He was surprising a DNP-CD Wednesday at New Orleans, and in the previous three games he averaged just seven minutes. He finally got some PT in Thursday's rout of the Knicks, logging nearly 17 points and scoring seven points with four rebounds and four assists.
More than the stat line shows, he was very active chasing loose balls and just being around the action. He also should some explosiveness driving to the hoop, which the jump-shooting-happy Mavs can use in heavy doses.
K Bros: A lot was made about the potential impact Roddy Beaubois' return. How has he looked and how does he change the Mavericks, good or bad?
JC: His conditioning, or lack of it, has kept him on the bench more than the court in his first 11 games. Still, in averaging 16.6 minutes, he's putting up 9.5 points although he's only shooting about 45 percent from the floor and 32 percent from 3-point land. The Mavs want him to lay off the three and drive more. His minutes should start to go up as his conditioning improves, but how he'll impact the team still isn't really clear.
The hope is that he'll become the player the just haven't had in years, the slashing two-guard who can create for himself and others. So far, that's not been the case on a consistent basis and it will be interesting to see how he fares in a high-pressure game against the Lakers.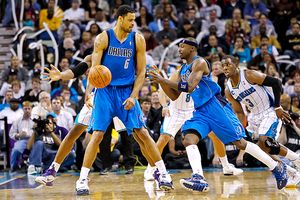 Derick E. Hingle/US Presswire
Terry and Chandler don't like their team being thought of as soft.
K Bros: Rick Carlisle recently referred to his team as "soft" after losses to New Orleans and Memphis, churning up Dallas' history of anti-climactic playoff runs and general reputation as poor under pressure. How legitimate a concern is that for this team?
JC: It's legitimate. It still hangs over their hands, which is why Jason Terry got extremely defensive when told of the "soft"comment. It was a calculated move by Carlisle, who was not happy with the way the Mavs lost a seven-point lead at New Orleans in the final 73 seconds, or how they got whipped on the boards. It stemmed back to Sunday when Dallas gave up 41 third-quarter point to Memphis and blew a 17-point lead.
Ironically, earlier this season after a big win in which the Mavs used defense down the stretch to win a road game, Terry proclaimed that no one will call the Mavs soft again. And a major reason is the acquisition of Tyson Chandler, who immediately took over the team as its emotional and attitudinal leader and defensive anchor.
The soft thing really hasn't been an issue this season. They've used aggressive defense and offensive execution in crunch to win road games at San Antonio, Miami, Boston, Oklahoma City twice and Utah when the Jazz were roaring early in the season. Of course the Lakers will remain the blitz the Mavs put on them on Jan. 19 in Dallas.