A big win for the Lakers, with huge implications in the Western Conference playoff race. Without a W, there was basically no chance for a No. 2 seed. Victory in hand, the Lakers now sit just one game behind the Mavs in the loss column, making matters exceptionally intriguing. There's still work to be done, but at least it's a realistic goal.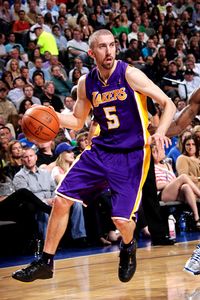 Glenn James/Getty Images
This game was a much-needed sign of life from Steve Blake.
The Good
Steve Blake
Quite possibly his best game as a Laker. On both ends of the floor, Blake looked like the player fans expected when he was signed this offseason.
He was aggressive running the point. Five dimes in all, highlighted by back-to-back dishes to Andrew Bynum and Matt Barnes for easy buckets. He was aggressive shooting the ball, with nine points and a trio of 3-pointers. (No trey was bigger than the one splashed immediately after Kobe Bryant turned an ankle in the third quarter and left for the locker room. Blake's bomb pushed the lead to five and signaled things would remain OK were the Mamba unable to return.) And he was aggressive on defense. Blake stuck to Jason Terry and Roddy Beaubois most of the game like glue on glue. The former Mav was stripped on a drive, while the latter was forced into bad decisions with the ball.
No rotation mainstay has underperformed on a more regular basis this season than Blake. Hopefully, this showing will prove one to grown on.
Andrew Bynum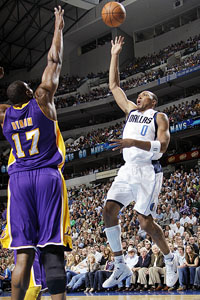 Danny Bollinger/NBAE via Getty Images
Andrew Bynum made life very difficult for any Maverick near the rim.
A ginormous game for the Lakers' most physically ginormous player. From a first quarter concluded with 3-for-3 shooting (six points) and five rebounds onward, Bynum was a monster, ruling the paint and forcing several errant shots from Dallas. He even did an admirable job on possessions faced up against Dirk Nowitzki. The German got the best of Drew a few times, but he gets the best of most defenders. The best you can ask for is a quality challenge, which Bynum provided.
His night wrapped with 22 points, 15 rebounds, and a game-high 37 minutes. Phil Jackson seemed reluctant to take Drew off the floor and I don't blame him.
The only blemish was five misses in nine tries at the free-throw line, but like a iconic Laker center before him, Drew "made them when they counted." With 11 seconds left, a pair was canned to essentially put the game on ice.
Ron Artest
For the game's majority, Artest's performance was more solid than show-stopping. 12 points and eight rebounds in all. Good numbers, for sure, but eyes won't automatically pop in reaction. But with 54.4 remaining in the fourth, he took center stage with one of the game's biggest moments. After Kobe's step-back J against Shawn Marion refused to drop, Artest out-muscled Jason Kidd under the rim to snag the offensive board, then sank a layup and pushed the lead to six points.
Ever the showman, Artest commemorated the achievement by flexing his biceps for a less-than-enthusiastic crowd. This pose has become Ron's signature move of late, and few players are just goofy enough to pull this off without looking like a jerk. (As proof, he busted it last week against my wife's beloved Spurs, and even she laughed.) Is this potentially tempting bad joujou on Ron's part? No doubt. But fun nonetheless.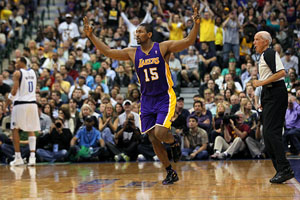 Matthew Emmons/US Presswire
Ron-Ron messed with the crowd-crowd.
The second unit
For all the talk about fourth-quarter execution and shot selection down the stretch of the loss against Miami, the most disappointing element might have been the showing from the reserves. Lamar Odom was merely OK, while Blake, Shannon Brown and Matt Barnes all failed to pick up the slack for their leader. This time around, however, the bench was huge. A slim lead at the first quarter's conclusion was maintained before Kobe checked back in halfway through the second. During the second half, they played even bigger, keeping Dallas at bay while Mamba was on the mend.
Beyond Blake's previously mentioned performance, Brown hit three of his four attempts, including an emphatic running dunk. Barnes pulled down a quartet of rebounds, never stopped moving off ball, and stripped Dirk mid-jumper for a steal. The swipe was rewarded after LO fed him on the run to set up a chance at the stripe. Odom didn't shoot the ball very well, but his energy remained high and he took excellent ownership of the fourth quarter.
Considering the very real possibility of a series or two (or more) on the road this postseason, and the tendency of bench players to fare worse on the road, this collective performance in a tough building against a deep team was a more than welcome sight.
Interestingly, Pau Gasol has been the mainstay center with the reserves for most of the season, but tonight PJ opted primarily for Drew. Whether that was Phil acknowledging Bynum's more effective game or perhaps mulling a rotation change, the decision paid off.
Defense
By and large, spectacular all night.
The Bad
Defensive rebounding
The Lakers held Dallas to 38.6 percent shooting over the first 24 minutes, with just one make in eight tries from 3-point range. Nowitzki had nine points on nine shots. Kidd and Beaubois combined for zero points. Other than Marion, no Mavericks player really did much damage uniting ball and cord. Unfortunately, the lead at intermission was merely six points because Dallas was allowed its way on the offensive glass. Tyson Chandler had a pair and Marion three during the first half. Brendan Haywood grabbed four in just seven first half minutes. There were 12 second-chance points off 10 offensive rebounds, which continually kept the frigid Mavs within striking distance.
Things got somewhat better as the game continued, but the Lakers still let key loose balls land in the host's hands. A better job on the glass was in order. In particular, I expect more than five boards from Pau. (For that matter, I expect more than five boards from Pau in back-to-back games.)
Kobe Bryant's ankle
Kobe's "Ankle Insurance" spot is among the most fun campaigns of recent memory. Of course, broken ankles are all fun and games until a 13-time All-Star rolls his so badly you expect it to snap off entirely. Bryant may be the most "Pain don't hurt" guy in the entire NBA, but even he needed to immediately ask for a 20-second timeout, then tap out.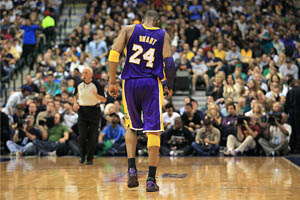 Ronald Martinez/Getty Images
This was a terrifying sight for Laker fans.
As Kobe is often inclined to do, he eventually found his way back onto the court during the fourth quarter. Inspiring stuff, but the concerns linger. It was hard to judge the effects of the sprain, since he didn't shoot the ball very well before the injury, nor after. (Whatever was supposed to come from his post-Miami huck-a-thon, safe to say, didn't happen.) I'll be curious to see how it feels Sunday after a flight and more time to potentially swell, but Bryant even able to take the floor was a very welcome sign.
Derek Fisher
That head down, ball-pounding layup with 28 seconds remaining and the entire American Airlines Center waiting for Chandler to force the impending miss? Pretty much summarizes Fisher's night. Just not terribly effective.
Free Throws
Ways to win tough games on the road typically do not include shooting 63 percent from the stripe. The Lakers pulled it off this once. I hope their luck isn't pushed any further in the future.