The last time the Lakers and Magic met, the results opened the floodgates for a sea of concerns about an L.A. three-peat. After winning the opening four games of a marathon seven-game roadie, the Lakers dropped one in the Magic Kingdom. The 89-75 loss featured little backcourt support for Kobe Bryant (who might have been feeling the effects of an impending flu), inferior rebounding and Pau Gasol being perpetually oblivious to the concept of Dwight Howard getting fed over the top. At the time, the bad performance struck me as teamwide exhaustion, but subsequent losses in Charlotte and (gulp!) Cleveland meant an All-Star break ripe with speculation about what's wrong with the Lakers.
Since the hiatus, the Lakers have won nine of 10 games. Beyond the status of Kobe's sprained left ankle, there is tranquility among fans. Assuming the two-time defending champs can even out the series Monday evening, they'll have three days to get the Mamba's wheel healthy again before a game against the Wolves. (And really, how healthy does he need to be for that contest?)
For a better look at the Magic, I sent a few questions to Evan Dunlap of Orlando Pinstriped Post. Here are a few items to keep an eye on once the ball is jumped. (Also, while watching the game, drop by ESPNLA.com and click on the 710 ESPN live stream link to hear Brian and me do live commentary throughout the game.)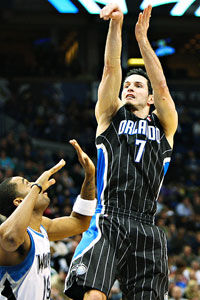 Brace Hemmelgarn/US Presswire
J.J. Redick will be missed if he's unable to go.
K Bros: If an abdominal strain prevents J.J. Redick from suiting up, what are the ramifications? How much does that change the way the Magic operate?
Evan Dunlap: Losing Redick does have a bit of a trickle-down effect in terms of the rotation. Gilbert Arenas will shift to shooting guard for a few minutes per game; he's played the point almost exclusively in Orlando, which is why I say "shift." The Magic can get away with it when the Lakers have Shannon Brown in the game, but when Kobe's in and Jason Richardson needs some rest, they'll turn to Quentin Richardson instead.
Redick is a better player than a lot of people realize; he's developed a solid all-around offensive game despite entering the league as a standstill shooter. And while opposing guards can just play over the top of him at the other end, Redick at least makes them work for their shots by playing intelligent defense, both on-the-ball and off.
As far as strategy without Redick, the Magic will rely on Arenas to create offense from the 2-spot. He'll dominate the ball while the point guard, either Jameer Nelson or Chris Duhon, spots up in the corner. Redick doesn't get nearly as many such chances to run the offense.
K Bros: How much will Marcin Gortat's departure (to Phoenix via trade) be felt in a game against a team like the Lakers with so much size? What is the Magic's approach in attacking size now?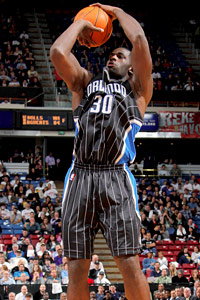 Rocky Widner/NBAE/Getty Images
Offensively, Brandon Bass provides more than enough frontcourt support. Defense can be another story.
ED: Gortat hardly had a role in Orlando's offense, apart from "set screens," when he was here. The Magic will use Brandon Bass and Ryan Anderson, who are natural power forwards by trade, at center. They complement each other nicely, as Anderson stretches the floor to the 3-point line not unlike Rashard Lewis. Bass is a little different. He, like Anderson, is an offense-minded player, but he neither spots up from the arc nor works with his back to the basket. He's a pick-and-pop safety valve and can hit the 18-footer better than most bigs but has a deceptively good dribble-drive game with which he attacks the rim for power jams.
The issue for both players against the Lakers is size (for Bass) and strength (for Anderson), but that's more a defensive problem. Their offensive repertoires are such that they should be able to cope despite the Lakers' famed length.
K Bros: Among the top four teams in each conference, Orlando has the worst road record. Have you noticed any commonalities during their road losses? Issues that typically surface?
ED: It's strange that the Magic have regressed on the road, as they've historically been among the league's better road teams since Stan Van Gundy took over in 2007. They aren't a disaster or anything -- a respectable 18-14 away from the Amway Center after shellacking the Suns by 23 on Sunday afternoon -- but they don't quite have that presence on the road that they used to.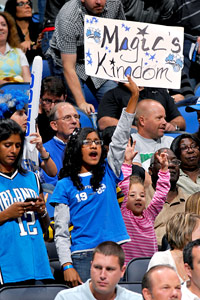 Fernando Medina/NBAE/Getty Images
The fans can make or break the Magic.
The problem appears to come on defense. When the Magic play at home, their opponents manage only 91.6 points per game. But on the road? The figure shoots up to 97.9 points.
I think intensity and engagement play heavily into this problem; the Magic's performance at home and body of work under Van Gundy, demonstrate they can be an elite defensive team. But that hasn't held true on the road this season. As you might expect from a team with Dwight Howard in the middle, the problem stems from the perimeter. When the Magic's defenders get beaten off the bounce, they have to count on Howard to correct the mistake. But if he can't get there in time, or if he's occupied with a perimeter-oriented offensive player, it's Layup City. That's why small guards (think Aaron Brooks on Sunday, or the combination of Shannon Brown and Jordan Farmar in the Magic's last visit to L.A. to play the Lakers) give Orlando such fits.
With that said, the list of players to hang big numbers on the Magic this season doesn't include many surprises. Good players sometimes get theirs anyway, even against good defense. You will notice, though, that the majority of those players did that damage on their home floors. Hmmm.
K Bros: To the naked eye, Gilbert Arenas' stats don't look terribly impressive. Has he been better in Orlando than the numbers indicate, or is this a case where stats don't lie?
ED: Until recently, Arenas had been consistently terrible when it came to shooting; you could count on him to shoot 3-for-8 pretty much nightly. But he appears to have put it together of late, and I do think that's a product of him getting into better shape. He's had three operations on his left knee in the past few years, so his knee and calf are sore almost every day, as I understand it; you'll be able to see Magic physical therapist Ed Manalo massage Arenas' knee just in front of Orlando's bench prior to Arenas' checking in.
Despite his poor individual numbers -- his turnovers are higher than they ought to be, as he's having to acclimate to a new offense and to playing the point almost exclusively -- the Magic have played pretty well with him on the floor, based on the on/off data available at Basketball-Value. It's an issue of fit: He most often appears at the point with Redick at the other guard spot and Anderson and Howard up front. He and Redick can run the break, Anderson and Howard give him two good pick-and-pop (or, in Howard's case, roll) partners. That's a tough group to defend.
I do prefer Arenas to Duhon running the point for Orlando, in spite of Arenas' inferior shooting percentages, because Arenas can handle on-the-ball pressure defense better than Duhon. Plus, he's not afraid to shoot. Opposing defenses played so far off Duhon early in the season, daring him to shoot, but he simply wouldn't do it. Given his percentages, maybe teams should consider leaving Arenas open -- but they can't, because of his overall track record and because he won't hesitate to let fly.