For a recent ESPN The Magazine feature called "Compatibility Test: Is he your Ideal (Team)mate?," our buddy Sam Alipour tested the simpatico nature of new teammates Kevin Durant and Kendrick Perkins. Among the questions asked were "Lakers: Team to beat or old news?" As you can see, the two aren't yin and yang simply because of body type.
Durant: "They're the reigning champions and still playing like it."
Perkins: "Yesterday's news. I don't like Pau Gasol or Phil Jackson. Phil is arrogant. Pau is soft. Kobe tries to bring out his toughness, but he's still soft."
On like Donkey Kong, right?
Actually, I doubt it.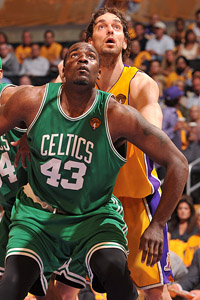 Garrett Ellwood/NBAE/Getty Images
Don't seat these two at the same table for a wedding.
By itself, the comment about Jackson wouldn't even register a blip on the radar. For starters, it's not nearly as biting as whatever PJ would say about Perkins if he bothered trying. Plus, this is the equivalent of calling out the sky as blue and expecting "Oh, no, you didn't!" in return. It's been well established Phil is an arrogant guy. An arrogant guy who's always been pretty cool towards me personally and an arrogant guy I happen to find hilarious, but arrogant nonetheless. 11 rings, a boatload of cash and the most job security this side of Oprah Winfrey's gig as O, The Oprah Magazine's cover girl will often create a certain degree of arrogance. ( Oprah is literally on every cover. You learn these things as a married man.)
Plus, Phil's arrogance explains why he won't care if Perkins describes him as such.
As for Pau, I suppose Perkins uttering the "S" word could touch a nerve, but honestly, I doubt it. While I know Pau grows weary of the "soft" topic, between two rings, three consecutive All-Star bids and numerous instances where he's come up big in the trenches during important moments, he's also fairly secure in himself. Plus, after hearing "soft" for five billionth time, it inevitably transforms into white noise. Is Perk "harder" than Pau? Yup. But to a certain degree, does it really even matter unless they met in the street? Were that the case, with no offense whatsoever intended towards El Spaniard, my money is definitely on Kendrick.
However, since this scenario is exceptionally unlikely to happen, when these guys meet, whether on April 10 or at some point during the playoffs, we already know what to expect despite the discrepancy in bulk and rough and tumble. Possessions where Perkins pushes Gasol off his spot. Possessions where Pau's wide-ranging offense is too much for Perkins to handle. Ever since 2008, when Perkins' physicality overwhelmed Gasol, the script has been fairly well established.
Also, am I the only person disappointed by Perk's dependence on the most played out of cliches as trash talk? Can't you even vary the parlance and call Pau "weak?" A "marshmallow?" "Baby giraffe," as Lakers Late Night refers to those occasional moments when Pau does appear contact-averse? Must we run with the most dead obvious? Should Perk decide to expand his targets, I'm guessing Kobe Bryant is a ball hog obsessed with scoring and imitating Michael Jordan's mannerisms, Derek Fisher is old, Lamar Odom has no right hand, and Ron Artest is pretty out there.
Finally, in a wonderfully ironic bit of timing, I'm writing this as ESPN broadcasts Thunder-Heat from Miami, which included a taped interview with Perkins. In the segment, he mentioned how much his approach to the game was shaped by time around Kevin Garnett. Given KG's rep as someone who never gets in the face of someone who might be an even physical match, I couldn't help but laugh at Perkins talking smack about a mild-mannered power forward and someone in his mid-sixties.
So what say you, Land O' Lakers faithful? Fighting words or meh?