Of all the impressive wins since the All-Star break, in it's own right, a victory over the Timberwolves on March 1 provided for me the most convincing proof of the Lakers being fully rededicated. For nearly three quarters, the Lakers couldn't get their offense going against a team exceptionally challenged on the defensive end. Frankly, they're not great on the other end of the court either, which might have provided an excuse earlier in the season to simply coast and expect a win by osmosis or pedigree. Instead, the Lakers cranked up the D and crashed the glass like madmen, treating the inferior hosts like worthy competition until the scoring eventually came around.
Not much about the Wolves has changed in the last 17 days -- i.e., they didn't suddenly become good -- so a second scouting report within that time frame feels redundant. Plus, the Lakers are a team insistent that it's more about them than their opponents at the end of the day. Thus, here are a few items, largely in the Lakers' own hands, to keep an eye on once the ball is jumped.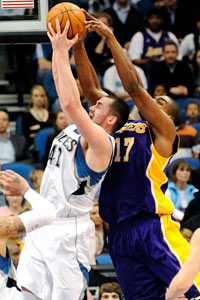 AP Photo/Jim Mone
This battle within the battle could swing the overall outcome.
Andrew Bynum's rebounding against Kevin Love
Bynum's month of March has been, to say the least, fruitful. Particularly on the glass, where the kid has been relentless; 14.6 rebounds on average, with six consecutive games in double figures. Of course, both totals would be higher were it not for the Minnesota game, where Drew grabbed "just" seven. This isn't to say he did a bad job. His numbers were hardly awful, plus the Lakers won the rebounding battle by a margin of 14 (in part because Pau Gasol snagged 17 himself).
Still, it'll be interesting to see if Bynum can maintain his double figures streak while sharing the court with Kevin Love, who's been nothing short of a Hoover vacuum this season. The glass is among the few areas the Wolves consistently excel. They're especially prolific on the offensive glass, where they lead the NBA with a 30.65 rebounding rate. This is in part because of Love's presence, but also because rebounding is their life blood. Frequent misses create frequent opportunities for second chance points, and the Wolves need every opportunity possible. Beating Minnesota on the glass is the equivalent of cutting the head off a snake.
By the way, Bynum gobbling all the rebounds these days has left Gasol with scraps, and while Pau is genuinely happy for his teammate, I get the sense he's not thrilled with his current string of five rebound games. Gasol joked after the Magic game that his rebound averages are still higher than Bynum's on the season and reiterated the pride taken in rebounding. If Pau's 17 rebound performance against Minnesota isn't replicated in the rematch, my gut says something similar is brewing for the very near future.
And speaking of Love...
As our man Dave McMenamin notes, the Double-Double King has been consistently bottled up this season against the Lakers, largely because of Lamar Odom's efforts. Whether that's due to familiarity from a summer spent as Team USA compadres, a good matchup for LO, or (my personal theory) because at the end of the day Lamar is just a better overall player, should this trend hold, Minnesota will have a very difficult time winning this game.
Shannon Brown
A unexpectedly hot topic in Wednesday's chat was the question of whether Shannon Brown will opt out of his contract this summer. Last season, I was mildly surprised when Shannon opted out of his old contract, considering his shooting percentage had fallen off a cliff after the All-Star break. Of course, the torn ligament in his right thumb was common knowledge, so perhaps he assumed other teams would take this into account.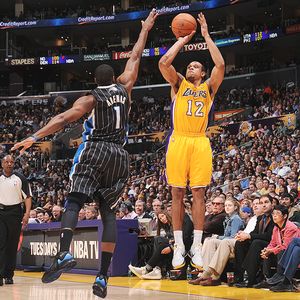 Noah Graham/NBAE/Getty Images
Shannon needs to make more shots and take better ones.
Shannon's plan for this summer remains to be seen, but in the meantime, he's mired in the same shooting slump, except with a good thumb. Shannon's splits reveal a steadily declining success rate, and March has demonstrated no signs of an imminent reversal. 41 percent shooting overall (rounding up), lowlighted by a 23.5 percent clip from Downtown. In his last six games, a pair of treys have been drained in 14 tries. Over the last 10 games, Shannon also has the lowest +/- rating of any Laker with regular minutes, which could be a related matter.
I also think Shannon's shot selection has gotten worse over time. There's too much effort expended creating for himself off the (excessive) dribble -- Shannon's usage rate trails only Kobe Bryant among those in the rotation -- as opposed to earlier in the season, when hay was typically made from catch-and-shoot plays or decisive one/two-dribble pull-ups. Earlier in the year, his growth as a developing decision-maker was phenomenal, but there's been some unfortunate regression.
For Shannon to enter the playoffs on a strong note, he'll need to rediscover not just his touch, but the in-game smarts displayed throughout November and December. Tonight's game feels like an ideal setting to build a foundation. Minnesota allows opponents to shoot a healthy 46 percent from the field and 36.7 percent from deep, all to the tune of a league-worst 106.9 points per game.
Cobwebs
The Lakers have had three days off, including a Tuesday without any practice. While time to refresh the batteries is obviously beneficial and appreciated, the rest carries the potential downside of interrupting a roll. I don't anticipate focus being an issue tonight, even with Portland looming this Sunday, but it wouldn't surprise me if there was some rust evident.
One specific sign could be turnovers. The Lakers have averaged just 9.5 turnovers per game this month, tops in the NBA by a significant margin. While the Wolves rank a respectable 12th for opponent turnovers (14.4) in March, the Lakers' excellence far outweighs that by the visitors. In terms of the matchup, there's no reason for continual miscues this evening.