Monday afternoon, Phil Jackson commented on Lamar Odom's value to the Lakers.
"We made a decision as an organization two years ago to sign Lamar, which put us into a difficult cap situation," he said. "Yet we were convinced that without him, we wouldn't win a championship again. That was a good decision by the organization."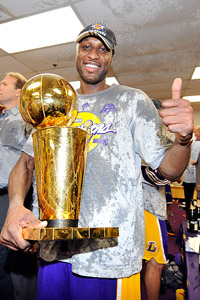 Jesse D. Garrabrandt/NBAE/Getty Images
Lamar Odom has won a pair of titles with the Lakers, but had he not stuck around after the '09 season, the entire NBA landscape might look different today.
But what if they'd gone the other way?
What if Dr. Buss, presented contract figures by Mitch Kupchak, looked to his bank account then L.A.'s projected payroll and screamed, "No mas," or Odom decided to change addresses? While Odom last season wasn't the adjusted plus-minus monster of the '08-'09 title run, he was nonetheless invaluable. Particularly when considering how difficult it would have been to replace him (and by "difficult," I mean "impossible"), as Jackson infers, I'm comfortable saying the Lakers wouldn't have won without him (and, unfortunately for Lakers fans, that the Celtics would).
Without a shot at a threepeat, Jackson might have retired, obviously changing the context of this year's title charge.
But that's just the Lakers. The web widens considerably, right?
Had Odom left L.A., he'd likely have signed with Pat Riley and the Heat, potentially altering the entire future of the league. In this alternate universe in which Miami has L.O. on the payroll, it's less likely the Heat would have been able to clear enough cap space to sign their Big Three last summer. So where does LeBron go? Do 23 jerseys never burn in the streets of Cleveland? Does Dan Gilbert never write his comic sans opus (depriving the world of fantastic columns like this)? Maybe LBJ takes his talents to the Big Apple, instead? Does Amare Stoudemire go there, too?
Where does that leave Carmelo Anthony? Who's to say the Bulls, currently tied with Boston for the top seed in the East, get the pieces they do if James and Chris Bosh- who could have joined James in Cleveland- don't both end up in black and red.
If Miami can't create enough cap room, James, Bosh, and Dwyane Wade don't turn the whole concept of the modern SuperTeam! from pie-in-the-sky chatter during downtime with USA Basketball into reality.* Meaning speculation around the futures of Chris Paul and Deron Williams among others is perhaps very different. To the extent this summer's labor strife will center around the fear held by small and mid-market teams of constantly losing stars to big city power centers in the wake of Miami landing the Big Three, had Odom gone to Miami negotiations could have changed as well.
I'm sure some leaps are being made here -- it's impossible to predict exactly what could/would have happened, NBA salary and roster math is often complicated, and there are variables I'm sure I'm forgetting -- but still, it's pretty amazing to think what might have happened had Odom's negotiations with the Lakers ended differently.
*At least not in Miami -- one writer with whom I swapped emails on this believes the Big Three would have ended up together, somewhere. Except the circumstances allowing them to land in Miami were difficult to replicate. Not sure how another squad could have absorbed all three guys, if one wasn't their own players with Bird Rights attached.