One more game remaining before the Lakers can return to the normalcy that is Andrew Bynum patrolling the lane and wreaking havoc. Sunday's win over the Blazers -- not to mention the first few months of the season -- made it perfectly clear that victories without the big lug are possible . . . but the mission becomes a heckuva lot harder.
Tonight's contest against the Phoenix Suns should, in theory, be an easier go sans Drew. The Suns aren't as good an overall team as the Blazers, nor do they offer a big man on the level of LaMarcus Aldridge. Assuming the Lakers do a reasonably credible job making Steve Nash work and the Suns can't replicate seminal moments in franchise history, the driver's seat belongs to the hosts. Still, there's an onus to drive the car responsibly and sensibly.
For heightened perspective on the Suns, we ran down Michael Schwartz from Valley of the Suns (True Hoop network). Here are a few of his insights:
K Bros: Looking at the stats upon arrival, Marcin Gortat has been eating up Robin Lopez's minutes while playing off the bench, and has also been putting up some nice numbers. How well has he been fitting in and how much, if at all, has his presence changed Phoenix's style of play or effectiveness?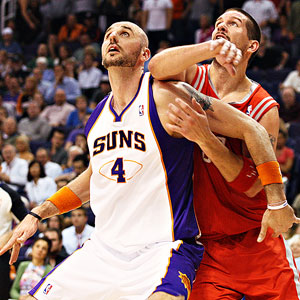 Jake Roth/US Presswire
Gortat wasted no time becoming the Suns' best rebounder.
Michael Schwartz: First off, Gortat is the starter in every aspect except for the fact that Robin Lopez gets his name announced before tipoff. Gentry just likes the way his rotation lines up with Lopez playing the first six minutes, but Gortat plays in crunch time and has been logging over 30 minutes a game the past few months.
Gortat is a fantastic fit for this team because he's a mobile big man whose biggest offensive strength is playing pick-and-roll basketball, which obviously works fairly well with the Suns' veteran point guard. When the Magic rolled into town the other day, Stan Van Gundy said he isn't surprised one bit about Gortat's success because this is the perfect system for him, something Gortat has discussed as well. Aside from some flashes from Hakim Warrick early in the year the Suns really struggled to replace what Amare gave them as a roll man before Gortat arrived, and although Marcin obviously isn't a roll man on Amare's level he has still been very effective.
In that way he really hasn't changed their style because his strengths fit what the Suns have been doing for years, but he's changed the Suns most on the glass. Before he arrived the Suns were a team of mediocre to bad rebounders, and now he gives them at least one player who can hold his own on the backboards every night.
K Bros: Goran Dragic had some success off Phoenix's bench before the trade to Houston. What are the similarities and differences with the Suns bench now that Aaron Brooks is on board? Do he and Steve Nash ever play together?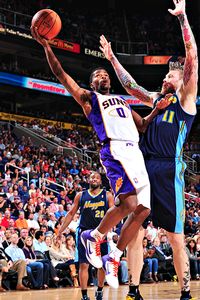 P.A. Molumby/Getty Images
Aaron Brooks' transition in Phoenix hasn't been smooth, but he can score.
MS: Brooks never plays with Nash, and for good reason because that might be the worst defensive backcourt in NBA history. The similarity is that Brooks has yet to find a groove as the theoretical leader of that bench just like Dragic never did this season after his stellar breakout sophomore campaign last season. Arguably the bench's two best games since the trade have come with Zabian Dowdell leading the charge last week in Houston and Sunday against the Clippers. Brooks has enjoyed a few scoring outbursts, but he's deferring a bit too much as he gets acclimated to his teammates and he has readily admitted he has yet to find his comfort level in Phoenix.
In theory, Brooks will provide that scoring punch the bench has been missing all year with Leandro Barbosa in Toronto. The bench has guys who can score, but Brooks is the one player who can rip off eight or 10 points in a row, and that added dimension should make Brooks' bench more dynamic than Dragic's.
K Bros: Is there an X-Factor player for the Suns, a guy beyond Nash who can swing the team's fate one way or the other?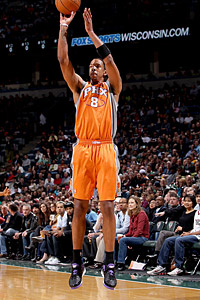 Gary Dineen/NBAE/Getty Images
Shoot, Channing, shoot!!!
MS: Jared Dudley is the intangibles guy, but the X-Factor of late has been Channing Frye. The Arizona product has been playing some of the best basketball of his career, tossing up a 16/3/8.4 line in February while hitting three long balls per game at a 43.9 percent clip, including a pair of game-winners in overtime to end the month. Then he separated his shoulder and the Suns immediately lost four of five in his absence. Frye is so important because of the way he spaces the floor for his teammates even when he's not shooting the ball well, so if Lamar Odom can neutralize him like he did in the West Finals last May, the Suns will be at a major disadvantage Tuesday night.
K Bros: Prediction?
MS: The Lakers are playing so well right now it might take more than the 22 three-pointers the Suns hit in their last visit to pull out a victory. Lakers 108-101.