For Lamar Odom, the emotions immediately following a 139-137 triple overtime win over the Suns were bittersweet. On one hand, he was happy with the outcome , and for the most part, his performance was excellent. On the other hand, Odom committed a critical -- and avoidable -- shooting foul against Channing Frye behind the arc with 1.1 seconds left in the first bonus period. Frye drained all three freebies to force a 121-121 tie and force another five (and by extension, 10) minutes of play.
Even in the face of victory, LO couldn't get past placing his team in such jeopardy.
"I will remember the foul call," said Odom afterward. "I always tell you guys basketball is a humbling experience. Because I can think about throughout the game, 'Yeah, I'm playing good. I'm having a good one.' And then, right before you know it, I'm the dope."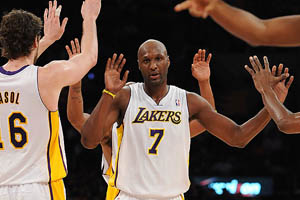 Lisa Blumenfeld/Getty Images
When it comes to supportive teammates, few come better than Lamar Odom.
Had the Lakers dropped Tuesday's contest, I'm certain Lamar would have said afterward to put loss squarely on his shoulders. I know because I've heard Odom express those sentiments on several occasions after a loss featuring his mistake. It doesn't matter if, similar to his showing against Phoenix, the error was a low point among considerably more highs. Lamar won't just volunteer to take the hit. He demands that burden, almost without fail.
Talking with Odom after the game, he shared how this self-critical tendency stretches back to his earliest days playing ball.
"It's funny," reminisced the lefty. "Before I got to college, I remember playing early, when you're just playing for your neighborhood, I've always played on a good team. I've always been on a winning team, a team where I didn't mind being a fall guy for a play or what have you. Just to kind of keep everything balanced out."
It's a habit separating Odom from everyone else on the Lakers.
This isn't to suggest the roster lacks consistent accountability. Back-to-back championships aren't achieved through a lack of collective onus and this isn't a team shying away from responsibilities. Still, I've never heard anybody else make such a definitive declaration after a game: Put it on me. (The closest comparison is Ron Artest telling the media during an introductory press conference to blame him if the Lakers didn't repeat.) A player's finger is never so consistently and publicly pointed in his own direction as Lamar's.
There's a decided irony to this instinct. Nobody preaches the "it's not about me" mantra more than Odom, particularly when framed within the parameters his own scoring column. LO always insists basketball is a game bigger than individual contributions, and wins aren't so simply defined. Yet when it comes to a loss, he'll boil it down to one moment, as long as he's the one at its center.
It's a reflection of Odom's team-first mindset, but also the role he plays for the Lakers.
Over the last few seasons, I've always described the Laker leadership core as a three-headed animal. Everyone takes their cues from Kobe Bryant, the unquestioned alpha dog and standard bearer for intensity and dedication. Derek Fisher is the spiritual leader, the sage veteran whose words automatically command the attention of everyone, including Kobe.
Lamar Odom, however, has always been the Lakers' emotional leader.
It's not by accident LO finds himself in the middle of the team circle formed before every game. He's a people person. The guy who can read his teammates. The one described as the most popular member of the roster. By definition, an emotional leader can sense emotions swirling high and low around him, along with the potential fall out from these feelings.
Thus, he'll take the hit in negative times if necessary. Whether he knows deep down the fault may not be truly or entirely his doesn't matter. The emotions of those around him are kept at a comfortable level, which is the ultimate goal.
"Sometimes it's good to erase," philosophized Odom. "Keep the energy balanced in the locker room sometimes by doing that. You know what I'm saying? Sometimes I might not even be (your fault). But some people can't handle that, you know what I'm saying? Some people can.
"Sometimes, it's (about) what it does for the team morale. It's like when you throw a pass and you hit a guy in the hands with the ball. Sometimes you watch a guy like Steve Nash and he'll say, "My fault." But it wasn't your fault.
"It keeps the energy good."
Just like LO himself.