Andrew Bynum is back! Blake Griffin is in the house! What more could you want, Lakers fan?
Oh, right. A win.
Given the 2-1 series held by the two-time defending champs, plus the way both teams have been playing of late, a victory certainly feels like a reasonable wish. The Clips' 7-4 record in March is certainly solid, but as discussed in this week's edition of The Triangle, the Lakers have been nothing short of a freakin' juggernaut since the All-Star Break. "Juggernaut" should best "solid," all things being equal.
For local knowledge about tonight's neighborly opponent, we turned to Breene Murphy of ClipperBlog (True Hoop network). Here are a few items to keep an eye on once the ball is jumped.
K Bros: How have the additions of Mo Williams and Jamario Moon worked out. Conversely, has Baron been addition by subtraction (as I certainly felt would be the case) or has been missed in certain ways? Both, even?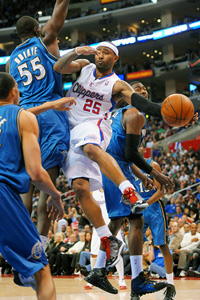 Kirby Lee/Image of Sport/US Presswire
Mo Williams may not be quite passer Baron is, but he's a better fit for the team as a whole.
I'll ignore Jamario, since he'll come up later, and just keep this a simple Mo versus Baron argument. As much as Baron has been a lightning rod for criticism during his tenure with the Clippers, the sentiment on Baron's departure hasn't been as one-sided as you would suspect. There are still many that feel that Baron was/is better for the Clippers than Mo Williams.
Baron did a lot for this team. Even with his early season knee and weight issues, Baron came back to play his best basketball as a Clipper, finding his stardom as Blake Griffin and DeAndre Jordan's alley-oop muse. As it pertains to passing, I can't imagine that Mo will ever surpass Baron.
But even if Baron continued along that path, a larger problem persisted. As much as I like Baron's beard, he was no longer was no longer the face of the franchise. This team belongs to Blake and Eric Gordon. And yet, in pre-game introductions the Clippers continued to announce Baron last, as if he were a star.
Now? No question, the team belongs to Blake and Eric.
However, I think that Mo also fits this team better than Baron. He doesn't need the ball in his hands to be effective the way Baron did because Mo is a perimeter threat. Since joining the Clippers he has shot 40.7 percent from beyond the arc, something that the Clippers could never count on Baron doing.
There has been some backlash with Blake's game, he's been playing way worse, but while I think Mo is partly to blame, fatigue might be a larger factor. Before Blake's triple double against the Wizards, he has been averaging fewer than 7 rebounds a game, upon which Mo has no impact. But Mo also threw two weeks worth of terrible lobs to Blake, and as you've seen from Sports Center, you really have to throw a lob off to not get it to Blake.
There are some signs of improvement there, as I said, Blake had the triple double as well as the 30 point game against the Cavs, but success in basketball is measured by wins. Simply put, the Clippers win more with Mo than they did with Baron. The Clippers are 7-5 with Mo and that includes half the games on the road (3-3) and all road games without Eric Gordon. Compared to Mo's 3 road wins (Charlotte, Boston and Washington) in 12 games, Baron only had 5 road wins in his 47 game tenure (Detroit, Chicago, Sacramento, New York and Minnesota).
Not even considering Mo's age and his contract, he's been better for the Clippers than Baron.
K Bros: Blake Griffin, one late-game surge in the lone win against the Lakers aside, has struggled pretty mightily against the Lakers this season. What about the matchup do you think provides fits?
BM: Pau Gasol. He's long and smart, and with the simplicity of Blake's post game, that's more than enough to keep Blake from exploding. Put Odom on Blake, and the Clippers will go on a run, but Pau simply covers Blake the best, maybe the best in the league.
An underrated defender, though, is Ron Artest. In the first match-up, Artest switched over to Blake down the stretch and came up with some pretty clutch steals. I think he has the strength and the foot speed to slow Blake down for stretches.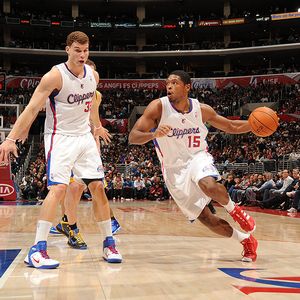 Noah Graham/NBAE via Getty Images
Ryan Gomes is a good role player, but the Clips could use more at the 3.
K Bros: There was a lot of talk heading into this season about small forward being the most glaring weakness and Ryan Gomes, in particular, not being enough to cut it. What does he bring to the table on a game to game basis and specifically, is there something important he may be asked to do in this game? If not, is there a role player who could emerge important?
BM: Small forward was the glaring weakness last summer, and continues to be. I really liked the Gomes signing, thought he was a heady player at a reasonable price that would fit in well as a fourth or fifth option on an up and coming team. He's probably the smartest X's and O's guy on the Clippers and he's always positive.
However, that hasn't translated to much success with the Clippers as he's suffering his worst year of his career. I know there are imperfections with the statistical measure of PER (it rarely accurately measures an intangibles guy like Shane Battier, Gomes, Chuck Hayes, etc.), but it's still a solid measure, at least offensively. Well, Gomes has a 9 PER for the year, way below the replacement level of 15 and 3 points below his former career low. He's still shooting 34.5 percent from beyond the parabola, which is solid, but he was expected to do so much more.
When he's on, he makes his open shots, rebounds and he also facilitates from the perimeter acting as the Clippers "hockey assist" guy. However, I would like to see him play his minutes with the bench squad for a few reasons:
1) Gomes' intelligence could help facilitate the offense when Eric Bledsoe runs roughshod. 2) It would split up (Farouq) Aminu, who I feel would mesh better with the starting unit, and Bledsoe... also known as the "turnover twins."
3) Jamario Moon has played with energy in his minutes since coming over from the trade, providing more defense than either Gomes or Aminu.
Going forward, the Clippers hope that Aminu will flourish, like he appeared he would back in December, but most likely, they'll address the small forward position again this summer.