In 2008, the Golden State Warriors won 48 games, finishing only two games on the wrong side of a very competitive Western Conference playoff race. This, coming one season after notching 42 victories and scoring one of the greatest playoff upsets in NBA history, knocking out a top-seeded, 67-win Dallas Mavericks squad in the first round.
So it wasn't that long ago Golden State was competitive. It just seems like a _illion years ago, right? (Fill in the blank yourself. Suggestions include m, b, z, t, or gaj. I don't want to put words in your mouth.)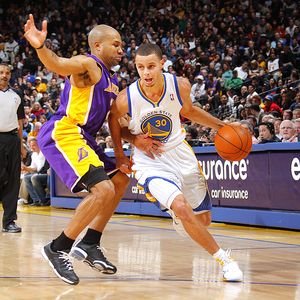 Rocky Widner/NBAE via Getty Images
Steph Curry and the Warriors are 0-3 against the Lakers this season. L.A. hopes to make it a clean sweep Wednesday night.
This year, after reaching a high-water mark of 26-29, the Warriors have lost 15 of 23, which seemingly makes them ripe for the picking, right? Maybe not. Four of those eight wins have come in Golden State's past six games, including a blowout victory over the Portland Blazers on Tuesday night in Portland. They've also won three straight at home, the last being a seven-point defeat of Dallas on Saturday. So while the Warriors aren't good, they're on a relative hot streak these days.
In consecutive losses Sunday and Tuesday, the Lakers turned the ball over a fairly appalling 39 times. Given how important component pace is to any game at Oracle Arena, a matchup against the run-and-gun Golden Staters provides a prime opportunity for the Lakers to reinject a little more discipline into their collective game. Run the offense. Take good shots. Limit mistakes. Keep the Warriors in half-court sets.
Any and all of those things would likely put L.A. back on the winning path.
Or, they could just stay careless with the ball and see what happens. After all, the recipe Tuesday night against the Jazz was similarly simple, and look how that went.
Now, those who frequent this space know we'll typically call on bloggers from other cities to help us learn more about a given night's opponent. This game is no exception. But where normally our respondents at least feign some optimism, today things are a little different. Consecutive losses got you down? Particularly Tuesday's game, one Lamar Odom called "the worst loss of the year" in a year with plenty of strong candidates? Try using up your hoops energy on the Warriors, as our man Ethan Sherwood Strauss of WarriorsWorld.net does 82 times a year.
Judging by his responses, it's not a happy thing, despite the recent (again, it's all relative) success:
1. There was a stretch at the start of the season when it seemed the Warriors might actually be developing a defensive identity (relatively speaking). Now, they're ranked near the bottom in defensive efficiency. Again. Where are the Warriors still going wrong on that side of the ball?

The Warriors are failing due to personnel and strategy. Monta Ellis can't guard 2s, and he compounds the problem with constant freelancing. Despite an ability to wax eloquent on strategy matters, David Lee simply lacks defensive awareness. Keith Smart has the team keyed to overhelp on driving guards, which makes closeouts impossible for a short-armed back court (Curry and Ellis both have T-Rex wingspans).

2. A season into the David Lee deal, how does that look for you guys?

I like David Lee better than I like the deal. The Warriors burned a trade piece in Anthony Randolph, and now must compensate for Lee's defensive issues. Perhaps, if they shop ball-dominant Ellis, Golden State can make better use of the power forward's offensive gifts.

3. The Lakers have three wins over Golden State this season, two of the lopsided variety, one a little closer. What needs to happen for the Warriors to pull off the upset?

The Dubs need to hit a lot of 3-pointers. In other words: They must get very lucky in the face of overwhelming Lakers apathy.

4. The teams haven't met since January. Since then, Andrew Bynum has blown up for L.A., and Ron Artest has become far more productive. What has changed for GSW since the most recent meeting? Are they better or worse?

Nothing changes in Oakland.

The Warriors are at their familiar level of soft mediocrity, like always, like forever.
Thanks again to Ethan for answering our questions. (At this point, I feel I should fly to Oakland just to give the guy a hug.) This is what happens to teams in basketball purgatory, neither awful enough to guarantee high-lottery picks, nor good enough to make the playoffs. And while new ownership provides a sense of hope -- it would be tough to be worse than Chris Cohan, the Donald Sterling of northern California -- Warriors fans have reason to worry things may not improve fast.
Lakers fans hope they have to wait at least one more day.