I've long contended the phrase "must win" should only apply to games with elimination hanging in the balance. Elimination from the playoffs, or playoff contention. That's it. Everything else is a matter of degrees.
Take, for example, today's game against the Oklahoma City Thunder, one of two teams -- the Dallas Mavericks being the other -- the Lakers could face in the Western Conference semifinals. Last season, the Lakers encountered no Western Conference opponent more difficult than the youngsters from the Midwest. The Thunder have only improved this season and what makes OKC a potentially tough out is hardly a mystery.
Their athleticism and speed is envied by most teams, much less the Lakers. Duos are rarely more dynamic than Russell Westbrook and (struggles against the Lakers acknowledged) Kevin Durant. Thabo Sefolosha is among the more skilled wings in the league at the art of making Kobe Bryant work. The fans are deafening. And while Pau Gasol may not care that new Thunderian Kendrick Perkins thinks he's soft, it doesn't change the fact Perk is plenty capable of giving him fits. Ditto Andrew Bynum, for that matter.
On the flip side, the Mavericks are playing inconsistently as the postseason approaches. They lack quality size to battle Bynum, Gasol or Lamar Odom over the course of a series and their wing stoppers for Kobe are either slowing down (Shawn Marion) or unproven in the playoffs (Corey Brewer). Beyond Dirk Nowitzki and Jason Terry, there's not much in the way of dependable scoring. Plus, fairly or not, the Mavs are perceived as a house of cards under pressure. They look like potential mince meat against a team with the Lakers' pedigree, and it'll take more than a two-handed shove of Steve Blake to change that consensus.
By this logic, Dallas is the preferable second-round opponent. The two-time defending champs would be favored against either squad, but all things being equal, let the Nuggets and the Spurs eliminate OKC. (Or tucker them out before the Western Conference Finals, whichever comes first.) A victorious afternoon goes a long way toward keeping OKC out of the Lakers' hair as long as possible. Come up short and Team Durant is breathing down their purple-and-gold necks.
Again, it's not "must win," but the stakes are certainly tangible.
To preview today's action, Brian and I spoke Saturday during ESPNLA On Air with Royce Young of the Daily Thunder blog. (It's also worth reading Arash Markazi's fine article about the way Sam Presti built the Thunder.) The entire conversation can be heard by clicking on the box to the right, but here are a few choice opinions:
On what Kendrick Perkins has brought to the Thunder since arriving at the trade deadline: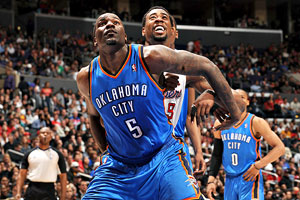 Noah Graham/NBAE/Getty Images
When it comes to the little things like boxing out, Kendrick Perkins holds his new teammates accountable.
"I'd say attitude, number one. That's what everybody in Oklahoma City immediately noticed when he stepped on the floor. ... He kind of provided an accountability measurement that the team didn't have before. ... Scott Brooks called it self-policing. Kendrick Perkins kind of makes sure everybody on the floor is handling their assignments. I remember his very first game that he played in against the Washington Wizards, Serge Ibaka gave up an easy layup and immediately, Perk got right in his face and let him know that he gave it up. And that's just not something that the Thunder had before he got there.
"Other than that, interior defense. The Thunder haven't had a guy that can play one-on-one post defense since the team moved to Oklahoma City. He's freed up Serge Ibaka to roam the lane and try to block everything that goes up towards the rim.
"Rebounding. Defense. Attitude. He's really just kind of changed the whole demeanor of the team, defensively."
On what has been the key to Ron Artest's success defending Kevin Durant:
"First and foremost, Ron Artest is an awesome defender. He really is. Especially man-to-man on Kevin Durant. I remember on True Hoop, (they) did "ideal defenders for each player," and they asked each player. And Kevin Durant's answer two years ago before he got dominated by Ron Artest was Ron Artest. He just said [Artest's length], the way he plays [Durant] physically. He just has a hard time getting around screens like the way he does normally. Ron Artest just gives him no space.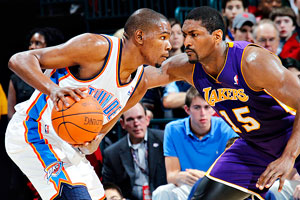 Layne Murdoch/NBAE/Getty Images
Artest has gotten inside Durant's head.
I [also] think that Durant kind of presses against it. He's a great player, but when he knows he's up against the wall, when he knows he's going against a guy like Ron Artest, when he knows he's playing in a big game against the Lakers, I think he kind of feels like, 'I need to elevate my game. I need to play better.' So as a result, he sort of presses a little bit, forces shots that maybe he shouldn't take.
"The combination of those two things I think make it tough on him to perform well."
On Nate Robinson's role upon recently returning from knee surgery:
"Scott Brooks is pretty adamant with his rotation. He doesn't like to branch out from it very much. He's stuck with nine guys all year. Now that Daequan Cook has sort of emerged as a specialist, he's gone with 10 and Nate Robinson just has no room for minutes. Eric Maynor is Russell Westbrook's backup. James Harden is the backup shooting guard behind Thabo Sefolosha and Cook is the specialist.
"I remember against the Clippers about a week ago, the offense totally sputtered in the third quarter and it felt like a good moment for Nate Robinson to jump in and maybe spark them, but Brooks didn't use him. I don't perceive Nate Robinson having much of an impact. Maybe in a playoff series if there's a last desperation effort to try to spark the team, but right now, it's hard to see."