Whenever I watch the Lakers, I do it from a divided perspective: Lakers fan and basketball fan. While I always try to report the action objectively, I've never made my purple and gold blood a secret. I rooted for this squad well before I covered them, and the gig doesn't change my heart. However, I'm also a basketball fan, which allows me to appreciate excellence from the opposition, along with great basketball purely for it's own sake. Many times I've walked away mad after a highly contested Laker loss, but invigorated from the privilege of witnessing it.
With that in mind, last night's loss to the Thunder was undoubtedly disappointing for a championship squad in need of righting a suddenly faulty rudder. But in a vacuum, the exciting game drove home what was already obvious: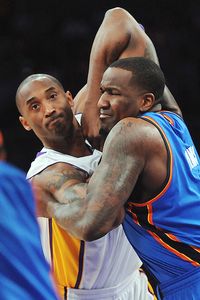 Jayne Kamin-Oncea/US Presswire
And with this bit of nonsense, Kendrick Perkins added to his "enemies" list.
A Lakers-Thunder series would be fantastic.
Even better than last year's excellent opening round showdown. Quite possibly the best the conference has to offer the Lakers from a standpoint of pure entertainment. Among the oodles of story lines and matchups...
- The arrival of Kendrick Perkins, who automatically hates anybody not wearing his uniform, and especially hates anybody wearing a Laker uniform. The center made perfectly clear his thoughts about Pau Gasol, who responded with a terrific performance. Perk also inexplicably decided to put Kobe Bryant in a head lock during the game. Same response, second verse. Whether or not you think it's wise for Perkins to run his yap and rile the enemy, he brings an edge to an OKC team with a confidence more quiet than confrontational.
(Oddly enough, the camera actually caught Perkins laughing on the bench, and as I tweeted, I was seriously intrigued by what punchline could crack up he of the permanent scowl. @stevewarmerdam offered this suggestion: "And then the kitten died." I laughed.)
Oh, and Perk happens to play some of the best interior defense in the league, lest we paint his presence purely about bad blood.
- Ron Artest vs. Kevin Durant: Last night notwithstanding, 2004's Defensive Player of the Year has owned this matchup over the last two seasons. However, Perkins on board means monstrous screens, which in turns means Durant freed more often. The guy only needs a sliver of daylight for his ridiculously quick release, but without the benefit of solid picks, he was typically faced up and dribbling against Artest, which plays -- sometimes literally -- into Ron's hands.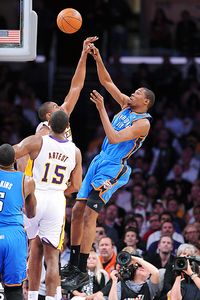 Noah Graham/NBAE/Getty Images
For the first time in eons, Kevin Durant was a highly efficient scorer against the Lakers.
I had anticipated Perks' impact setting screens, but was surprised by how often the Thunder also used Serge Ibaka to good effect along these lines. I never paid much attention to Ibaka's ability as a picker, so I wondered if Durant is similarly aided by Ibaka effectively replacing Jeff Green, hardly known as a banger. I emailed Royce Young of the Daily Thunder and his response is below:
I think that's a great observation. Green was a really weak screener. Ibaka isn't wonderful, but he's better and he's visibly improved since Perk arrived.
I wrote it last night after the game but I think Perk (and Ibaka) were the biggest reason KD finally were able to shake free of Artest. OKC put Durant in motion all night and Perk's screens are always so good that KD found just a little more space than usual coming off them.
I think one thing playing Serge those starter minutes has done for sure is made OKC's offense less improvisational. It's a real set every time down the floor with Durant as the first option coming off a few screens. OKC is even using KD himself to pick-and-pop/pick-and-roll. That's new.
KD wears structure well, it would appear.
- Kobe vs. Russell Westbrook: The Mamba will inevitably spend the lion's share of crunch time checking the speedy point. During last season's playoffs, Bryant was the key to slowing the L.A. native and when dialed in, 24 is still one nasty defender. But he's also grown a year older and Westbrook's gotten a helluva lot better. Over 4-7 games, does anything have to give?
- Phil Jackson vs. Scott Brooks: One coach wants to ride off into the sunset with a twelfth ring in tow. Another wants to prove he's truly ready for prime time. And the respect appears mutual.
- Staples Center fans vs. Ford Center fans: I'm not gonna lie. The L.A. fans can't hold a candle to the Okies when it comes to noise, but there's always time for Angelenos to raise their game.
And so on and so forth.
In my mind, the Thunder are best equipped to provide a series comparable to the Western Conference Finals between the Lakers and Blazers (2000) or Lakers and Kings (2002), two of the more recent instant classics. Then again, these series wouldn't be burned so permanently in our memory banks without being so ridiculously competitive. The Lakers could have easily fallen short in either case. Precarious circumstances make for greater glory, but also a greater risk.
My confidence in the Lakers' chances against the Thunder hasn't wavered with Sunday's results. It was the Lakers' first crack at a very new-look Thunder, and OKC arrived in L.A. on a roll. The timing worked in the visitors' favor, and kudos to them for exploiting the situation. Still, the Lakers have won in nine of the last 13 meetings between these teams (playoffs included), and I'm willing to give a benefit of the doubt to that strong track record, along with the coaching staffs' ability to make adjustments before and during a potential series.
Having said that, I'm not naive enough to deem the Thunder incapable of ending the Lakers' run. It could absolutely happen. If OKC isn't the most dangerous foe, they're certainly close. A title run also is difficult by definition and stands to offer thrills no matter who the Lakers face. If fans just as soon preferred what felt like the relatively easiest draw possible, even if it meant potentially missing out on the stuff of legend, I certainly wouldn't blame them.
At the end of the day, my inner-basketball fan can't help but hope for a Lakers-Thunder mano y' mano, even if my inner-Laker fan (confidently) acknowledges the risks. How do you feel?